Pinot Briefs —Newsletter 9.36
Pinot Days New York City Pinot Days returns to New York City after a hiatus of five years. The event will be held at City Winery on Saturday, January 18 with both a trade and public tasting. Nearly 50 wineries will be participating. Visit www.pinotdays.com for tickets and information.
2013 Burgundy-Report. Bill Nanson presents well over 500 wine notes and profiles of nine new domaines with multiple tastings in his autumn 2013 issue of the Burgundy-Report. Nanson knows his stuff when it comes to Burgundy and the Report is completely independent of the wine trade. He also is the author of The Finest Wines of Burgundy, already in its 2nd edition and translated into Japanese and Chinese. The Burgundy-Report is free. Visit www.burgundy-report.com.
Sommelier Journal to be Revived Publisher and Executive Editor and Owner of TPM Custom Publishing, Meridith May, has announced the acquisition of Sommelier Journal (www.SommelierJournal.com). The journal suspended operations as of October 25, 2013, but is now rebranded as The SOMM Journal. The new editorial board will include renowned wine writers, sommeliers and wine authorities, including Anthony Dias Blue as Editor-in-Chief. Sommelier Journal founder, David Vogels, will act as Consulting Editor. The new format will include more coverage of artisan spirits, coffee, tea and food trends. The first issue will be published in the spring of 2014. Although this is primarily a hospitality industry publication, I have read a number of informative articles in the past and would encourage serious wine hobbyists to take a look.
State of Pinot Noir in New Zealand Jamie Goode has written an intriguing article in Wine & Spirits (February 2014) titled "Age before Beauty: New Zealand's Pinot Noir Challenge." He points out that Pinot Noir vines in many locations are now over ten years old, a critical time since most experts agree that older vines produce wines that speak more of place rather than primarily of fruit. Several advantages of older vines are noted: (1) A mature root system reaches down into the subsoil or bedrock and can express the terroir more effectively; (2) Older vines have larger carbohydrate reserves in the trunk and root system that ensure a better start to the growing system; (3) Older Vines have a better natural balance with modest vigor in the canopy and modest crop levels. The biggest threat to New Zealand Pinot Noir is the grape leafroll virus which can require replanting vineyards just when they are beginning to reach maturity. Steve Smith said, "It's (grape leafroll virus) the greatest threat to New Zealand making wines from old vines, especially for red wines." Grapevine leafroll virus is spread through vineyards by insect vectors, mainly mealybugs. The infected vines produce low-quality wines, yields are significantly reduced, maturation of fruit is delayed, and the life span of the vine is reduced. Once a vine is affected, there is no cure.
Almonds Replacing Grapevines in California Ciatti Co. reported in www.bloomberg.com that grapevines in California are being ripped out as drought is forcing farmers to switch to more profitable and higher yielding crops such as almonds. It is estimated that 15,000 to 20,000 acres of vines are expected to be pulled out. According to the Los Angeles Times (January 12, 2014), California produces 82% of the globe's almonds harvested from 800,000 acres in the San Joaquin Valley. Water is a big challenge for almond growers as well, particularly since California experienced its worst drought in 90 years between January and May 2013.
Oregon Wine Press 2014 Almanac Subscribers to Oregon Wine Press received this annual publication which summarizes the previous year in review, plus offers a directory of Oregon wineries, festivals, lodging, retail, restaurant and industry listings. A to Z/Rex Hill and King Estate Winery remain the top wineries by production in 2013, with an estimated case output of 298,000 and 268,000 respectively. The number of Oregon wineries is now 545, a 17.7% increase over 2011. The total number of vineyards was 905 in 2012 compared to 870 the previous year. Pinot Noir tonnage in 2012 was 28,565 tons compared to 23,762 tons in 2011, an increase of 20.9 percent. Subscribe at www.oregonwinepress.com.
Parker Finds Perfection in Peter Michael Pinot Noir In the latest Wine Advocate, Robert Parker, Jr., gave 8 Sonoma Coast Pinot Noir wines from the 2009 to 2012 vintages produced by Peter Michael scores of 98 or more with three receiving a perfect score of 100. Parker described the 2010 Clos du Ciel ($171) as "a dead ringer for the 1990 DRC La Tache. This could be a game-changing Pinot Noir that sets the wine world upside down given its spectacular quality." Parker also called the 2010 Ma Danseuse "one of the greatest Pinots I have ever tasted....anywhere." Over the years Parker has awarded 100 points to 297 wines.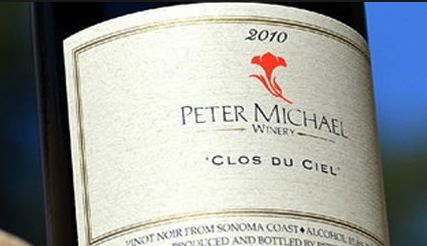 10th Anniversary Pinot Paradise 2014 The Santa Cruz Mountains Winegrowers Association just announced the 10th Annual Pinot Paradise festival will be held on April 11-13, 2014. The event has been moved to the historic Mountain Winery in Saratoga, a fine venue for this festival. Events include local winemaker dinners, a technical session (A Return to Paradise: Wine Making in a Mountain Terroir), a Meet the Winemaker VIP reception, the Pathway to Pinot Paradise self-guided winery tour of more than 30 wineries, and the Grand Cruz Wine and Food tasting. The Santa Cruz Mountain Winegrowers Association is an alliance of more than 70 wineries promoting wines produced from the Santa Cruz Mountains Viticultural AVA. For more information and tickets, visit www.scmwa.com.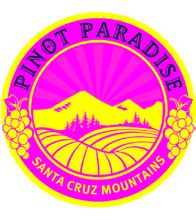 Large Grape Crops in 2013 Wines & Vines (December 2013) reported that the total wine grape crop in 2013 could exceed 4 million tons supplying 3,579 wineries. (The 2012 official California Grape Crush Report found the total crop to be 4.01 million tons from 546,000 acres of grapes). 2013 appeared to be a vintage year for California as well with widespread harvest of exceptional quality wine grapes.The Oregon Wine Board expects Oregon's harvest to reach or exceed the record tonnage of 40,200 from the state's 20,000 acres in 2012. The quality of Oregon's 2013 vintage is still to be determined because of the record downpour in late September.
Movie "Red Obsession: When red became more valuable than gold" A new documentary narrated by Russell Crowe explores the Bordeaux winemaking region of France including its history, its effect on the global economy, counterfeit wine markets, Chinese oenophiles, and the challenges facing the area. There are multiple interviews with wine journalists and chateaux owners. The movie has been very well received by critics, receiving a rating of 95% from Rotten Tomatoes. Available on DVD.
Westchester Wine School Brings French Wine Scholar Program to NYC The French Wine Scholar Study and Certification Program is the most comprehensive and accurate program on French wines, providing current, accurate and in-depth information on the wines and wine regions of France. Developed and administrated by the French Wine Society with the support of the French Ministry of Agriculture, this program is designed for advanced students of wine, whether professionals or serious wine hobbyists. Students of wine who follow this in-depth curriculum and pass the exam earn the French Wine Scholar (FWS) title and can use the FWS post-nominal as part of their professional signatures. The first session will launch February 4, 2014 and continue on ten Tuesdays ending with an exam on June 10. Tuition is $1200 and includes 30 hours of classroom instruction with tutored tasting of over 50 French wines, a 280-page FWS study manual, one-year access to the FWS online study program plus exam registration/sit. For more information, contact Ned Towle via email at nedtowle@westchesterwineschool.com or call 917-921-6268. More information is also available at www.westchesterwineschool.com/frenchscholar.html.
Unusual Pinot Noir Bottle Sighting My neighbor recently returned from Germany and brought back this unusual bottle of Spätburgunder. It reminded my of the old Mateus bottle. A light, elegant, and pleasant drink.

MARK YOUR CALENDAR: WOW Orange County 2014 I have been working with Orange Coast Magazine and the West Sonoma County Vintners to bring the West of West (WOW) Festival to Orange County November 8, 2014. WOW has been held annually in Sebastopol, and has reached out for events in New York (2013) and Chicago (April 9, 2014). Orange Coast Magazine is the premier local lifestyle magazine of Orange County, California, bringing together Southern California's most affluent coastal communities. The magazine debuted "The Wine Dudes" no-nonsense wine blog in 2013 written by Rusty Gaffney and Eric Anderson. The event will be held in The Grand Terrace, Honda Centers all-new 10,000-square-foot indoor and outdoor venue and will include a morning VIP Special Event, "The Sommelier Challenge," and a Wine Tasting Festival in the afternoon featuring extraordinary Pinot Noir producers such as Failla Wines, Joseph Phelps Vineyards, Littorai, Siduri, Benovia, Flowers, Freeman, Hirsch, MacPhail, Martinelli, Soliste, and Patz & Hall. A website for the event will be forthcoming by May.