Tasting Aged Williams Selyem Pinot Noir: Bottled Surprises
Williams Selyem Pinot Noirs crafted by Burt Williams and Ed Selyem were amazingly fruity and complex when young and seemed to age better than most California Pinot Noirs of the 1980s and 1990s. Burt often claimed the wines peaked around 6 to 7 years after release, but most people found it very difficult to avoid drinking them before that time.
At the 2010 World of Pinot Noir, there was a retrospective tasting of ten vintages of Williams Selyem Pinot Noir beginning with the "Burt" years (wines crafted by Burt Williams) including 1991, 1992, 1995, 1996 and 1997, and the "Bob" years (vinified by winemaker Bob Cabral who succeeded Burt at Williams Selyem in July 1998) including 1999, 2001, 2002, 2004 and 2005. The wines were all from the library of Williams Selyem Winery guaranteeing their provenance. My notes from the tasting revealed that the wines made by Burt Williams were still stunning examples of California Pinot Noir with all his wines exhibiting graceful aging except the 1991 vintage which was on the down slope.
The 1985 Williams Selyem Rochioli Vineyard Russian River Valley Pinot Noir is often considered the most seminal wine in the history of California Pinot Noir. This wine won the Sweepstakes at the California State Fair Wine Competition. It was voted the best of the 2,136 wines entered by 416 wineries in 1987. 295 cases of this wine were produced and sold for $16 a bottle. Noted sommelier, Rajat Parr, posted on Instagram on December 18, 2013, that he had tasted the 1985 wine from what looks to be a 750 ml bottle in the posted photograph and commented, "Cheers to all those doubted that CA Pinot don't age!"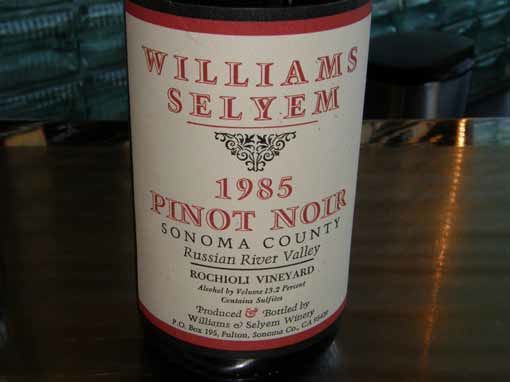 The award Williams Selyem received for the Sweepstakes at the California State Fair Wine Competition is currently displayed at the Williams Selyem winery hospitality center. It was found hanging on the wall at the old winery at Allen Vineyard and restored. When Burt saw it last year at the winery's pick-up weekend, he was surprised to see it, and commented in his usual unassuming manner, "Oh, that's nice."
What were Burt's secrets? First, he carefully chose his grape sources. Second, he was a meticulous winemaker. His technique involved intense sorting, de-stemming grape clusters and adding back 20% to 30% whole clusters to the bottom of his dairy tank fermenters, a 5-day cold soak, inoculating with a yeast he acquired from Martinelli's Jackass Vineyard, initiation of hand punch downs with the onset of fermentation, and no pumping using gravity only or assisted gravity with gas. Free-run juice was sent to barrel, the residual must and juice was bucketed into the press, gently pressed, and added to the top of the barrel. Varying percentages of new Francois Frères oak were used depending on the vintage and the wine.
Periodically, I get the urge to sample older vintages of Williams Selyem Pinot Noir. This is partly out of nostalgia and partly out of curiosity. Storage is everything when it comes to old wine and one must be very cautious buying older vintages of Williams Selyem wine on the secondary market if provenance is not well known. In the last couple of years I have had extraordinary drinking experiences with Williams Selyem Pinot Noir that Burt shared directly from his cellar. The safest bet is magnum format, but these bottlings have become scarce of late.
My tasting reported here and other tastings over the past couple years, would lead me to encourage you to go for it if you find a Williams Selyem Pinot Noir from the early to mid 1990s that has been aged comfortably in a private cellar. 1995 is probably your best bet. As you can tell from my comments here, not all wines will be great, but most are of interest, and some are very giving. The best attitude to take when drinking these old Pinot Noirs is to appreciate them for what they give and not for what they lack.
Most of these reviewed wines came from a private cellar. All appeared to be unfiltered. The wines have become more savory and less fruity over time, closer to the Burgundian paradigm. They are certainly in various stages of decline, but not decrepit by any means. A 1995 Hirsch Vineyard bottling was sadly corked.
In my humble opinion, Burt Williams is the greatest Pinot Noir winemaker of my generation. Why he is not a consultant for one of the many Pinot Noir producers in California is a real head scratcher.