Failla Wines
Ehren Jordan's biography is a fascinating study in life's twists and turns. He grew up in a family of beer drinkers in Pittsburgh, Pennsylvania. While a college student studying art history and archeology at George Washington University, he worked part time in a retail wine store in Washington, D.C.. This experience led him to Aspen, Colorado after graduation, where he worked as a wine steward by night and played as a snow skier by day. During the Aspen off-season, driven by his retail and restaurant experience, and urged on by some of his Aspen restaurant co-workers who accompanied him, Ehren headed farther west to the Napa Valley where he worked his way up the wine business ladder with no formal winemaking experience. Blessed with a wry sense of humor, he proudly credits this with his success, but he is simply a smart guy.
His first job in the Napa Valley was as a tour guide at Joseph Phelps where he met Bruce Neyers, the Vice President of Joseph Phelps. Neyers encouraged his advancement within the company, and Ehren soon became in charge of retail sales and eventually was hired to do cellar work and winemaking.
Ehren then left for Europe for two years to intern with Jon Luc Columbo in France's Cornas region of the Rhône Valley, learning about Syrah and Grenache. When he returned to the Napa Valley, he became a partner and winemaker at Neyers in 1994 (he still produces Failla wines at Neyers' winery which he helped design and build in 2000), and then took the winemaking position at Turley Wine Cellars. Helen Turley introduced Ehren to her brother Larry Turley, the proprietor of Turley Wine Cellars, where Ehren first became Helen's assistant and later the winemaker in 1996 upon her departure. He remained the winemaker at Turley Wine Cellars for 18 years, departing only last year. Turley, of course, was known for opulent Zinfandels resembling liquid Viagra, quite a dramatic departure from the graceful and elegant wines he produces today under the Failla label. That said, the Turley Zinfandels he crafted were still acid-driven wines. Ehren is not really as threatening as his website photo would suggest.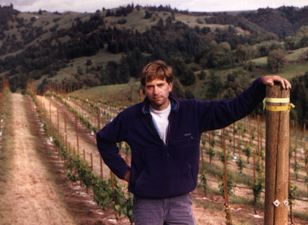 Failla (a Sicilian word pronounced "FAY-la") was founded originally as Failla Jordan in 1998, using the name from the husband-and-wife team of winemaker Ehren Jordan and business manager Anne-Marie Failla. Ehren had spent several years looking for acid-driven, cool-climate Pinot Noir sources. After tasting Marcassin's Pinot Noir from the Fort Ross-Seaview region of the Sonoma Coast, he bought 40 acres owned by pot farmers on what is known as the Gualala Ranch, and between 1998 and 2002 planted 10 acres of organically farmed Pinot Noir, Chardonnay and Syrah.
Failla Jordan's first releases were a Rhône-inspired Viognier and a Syrah. Pinot Noir debuted with a Keefer Ranch vineyard-designate in 1999 and an Oregon Pinot Noir from Willamette Valley's Goldschmidt Vineyard followed in 2001. After three vintages, legal issues over the use of the word Jordan (as in Jordan Vineyards & Winery) forced them to shorten their winery name to "Failla." Failla debuted in the fall of 2002 with a new label designed by Chuck House.
The Failla Estate Vineyard wines debuted in 2006 and include a Rhône-style Syrah, Chablis-like Chardonnay and Burgundian-fashioned Pinot Noir. Additionally, Ehren has tinkered with many grape sources over the years, eagerly searching out marginal, old vine sources in cooler climates which he believes have the potential to be most site expressive. Although he admits that compelling wines are being crafted in California using young vine fruit, he is convinced that the next frontier will be the profoundness that comes with time as the vines age.
The Failla Pinot Noir portfolio has included Keefer Ranch in the Russian River Valley, Hirsch Vineyard, Peay Vineyards, Pearlessence Vineyard, Occidental Ridge Vineyard and Whistler Vineyard, all located on the Sonoma Coast and in 2012, Savoy Vineyard in Anderson Valley. In 2012, Chardonnay sources include Hudson Vineyard in Napa Carneros, Chuy Vineyard in Sonoma Valley, Keefer Ranch in the Russian River Valley and Haynes Vineyard in Coombsville. A solid Sonoma Coast Chardonnay and Sonoma Coast Pinot Noir have also been consistently offered.
Ehren is an admitted Francophile and his personal cellar is filled with French wines, especially Beaujolais which he enjoys drinking on a regular basis. That said, he is critical of the over use of new oak in many modern Burgundies, and prefers a very judicious use of oak, saying, "I am anti-oak. You can never take it away. It is analogous to a flavoring like salt. You want it in the food, but you don't want the food to taste salty."
Look for Ehren at this year's World of Pinot Noir and In Pursuit of Balance events. The Failla wines, which are released twice yearly in the spring and fall, are sold through a mailing list at www.faillawines.com. Tours and tastings are by appointment (707-963-0530). The 2012 Alban Vineyard Viognier, several 2012 Chardonnays, a 2012 Hudson Vineyard Syrah and several 2012 Pinot Noirs have just been released to mailing list customers. Listen to a conversation with Ehren at 2013 In Pursuit of Balance event in Los Angeles: http://www.graperadio.com/archives/2013/03/04/in-pursuit-of-balance-2013-los-angeles/.