Ceja Vineyards: Inspiring Preserverance Leads to Success
The Carneros region is steeped in Mexican history. Mariano Guadalupe Vallejo, the Military Commander and Director of Colonization of the Northern Frontier of California arrived in this region in 1834 to assume control of Mission San Francisco Solano in Sonoma and distribute the mission lands. Thousands of acres of land were supposed to be given those of naturalized Mexican citizenship who promised to develop the land. In truth, the land grants were awarded almost exclusively to Vallejo's relatives and friends. The Carneros region lies within the original boundaries of four of these land grants: Rincon de los Carneros, Entre Napa, Huichica and Petaluma.
The land grants were soon subdivided and sold to American, German, French and Irish settlers in the 1840s. Discontent with the Mexican government began to grow and in 1846, American frontier settlers overthrew Vallejo's forces in the Bear Flag Revolt. As a result, California existed as a republic for a month before being incorporated into the United States.
Approximately 100 years later, in 1942, the guest worker program was initiated and Mexican immigrants came to the Carneros region, becoming the backbone of the wine industry by providing a majority of the field labor. Many braceros toiled long hours as field hands in the vineyards earning limited wages and receiving little or no benefits.
Over time, the value of migrant Mexican workers became recognized, leading to a dedicated effort to provide proper health care and living facilities as well as advancement opportunities. Despite considerable hardship, there were a number of migrant workers who had the skills and passion to succeed in the wine industry and they seized the opportunity. Ceja ("Say-ha") Vineyards personifies one of the success stories that unfolded in the Carneros region.
I spent a few hours with Amelia Morán Ceja recently who hosted me at her beautiful visitor center in Napa Carneros on Las Amigas Road. She is the much-loved public face of Ceja Vineyards, the marketing talent behind the label, and the first Mexican-American women to open a commercial vineyard and run a winery. She detailed her remarkable family history.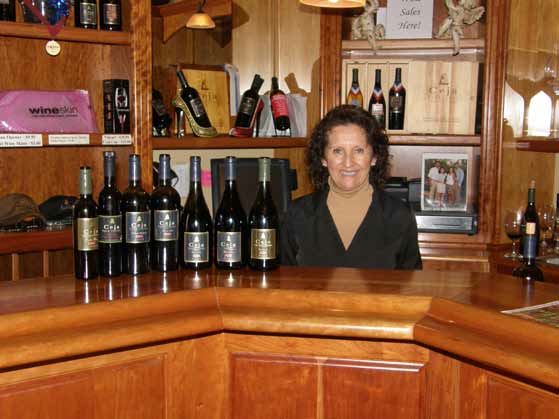 Pablo Ceja, his wife Jaunita, and their six children immigrated to the United States from Jalisco in the Central Highlands of Mexico in 1967 as part of the bracero work program. They were part of the first wave of Mexicans to bring their entire families to the United States. Usually the men braceros came alone and returned home for three months during the winter. To bring their family to the United States, they had to provide evidence that they could support them. The Ceja family initially settled in St. Helena in the Napa and later moved to Carneros, where the family grew to ten children, with all of them working together in the vineyards.
When Amelia Morán Fuentes was 12 years old, she immigrated to the Napa Valley to join her father, a vineyard worker. She remembers clearly what an eye-opening culture shock she experienced, having grown up in a village of 50 to 75 people. There were few Mexicans in Napa then; today they comprise over 35% of the population. Several years later, she would meet Pedro, one of Pablo's sons, while the two were picking Merlot at the Ta Kalon Vineyard in Napa. They had dreams of a college education and owning land upon which they could grow their own grapes.
Amelia and Pedro married after college while they were in their early 20's. Pooling both of their family's resources, they bought 15 acres in Carneros on Las Amigas Road in 1983, planting 13 acres of Pinot Noir there in 1986. Amelia and Pedro founded Ceja Vineyards in 1999 along with Amelia's brother-in-law Armando Ceja and his spouse Martha. Armando is a University of California at Davis trained winemaker and viticulturist who directs the viticulture and winemaking program at Ceja Vineyards and has his own vineyard management company, Vina Del Sol (Vines of the Sun).
Ceja Vineyards now farms 199 acres of vineyards in Napa and Sonoma counties including vineyards on Las Amigas Road in Napa Carneros (Chardonnay, Pinot Noir), Arnold Drive (Chardonnay, Merlot) and Dale Avenue (Viña del Sol Vineyard; Pinot Noir) in Sonoma Carneros, Adobe Road (Chardonnay, Pinot Noir, Sauvignon Blanc, Syrah, Arneis) in Petaluma, and La Loma Vineyard (Cabernet Sauvignon) in Napa. The business is so successful that they plan to double production over the next five years with the aim of producing all wines from estate grapes. Beginning in the spring of 2014, construction will begin on a 23,000-case winery on the Ceja Vineyards Napa Carneros property. The winery will feature a mission-style design in homage to the missionaries who introduced wine to this region with authentic Mexican embellishments added to the exterior. The aerial view of the Las Amigas Road property: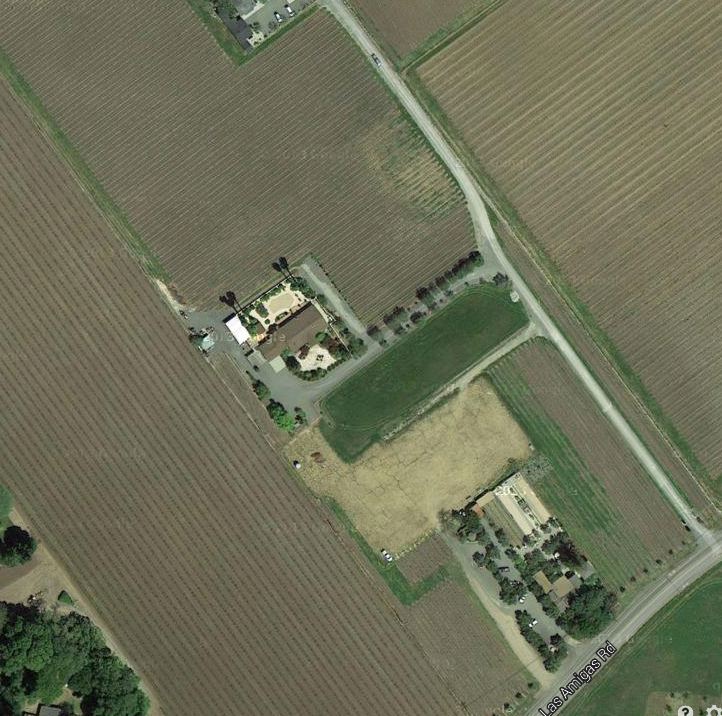 Amelia is a remarkable women who not only is involved in the winemaking, the marketing of the Ceja brand, and the management of the winery, she is an accomplished chef and gardener. Growing up in a small Mexican village, she developed a passion for cooking for the laborers and by age 8 years was regularly helping her mother, the matriarch of the village, in the kitchen and harvesting fresh produce for each meal. She has never lost that passion and inside the new winery will be a large commercial kitchen for weekly cooking classes and special wine and food pairings. Amelia obtained certification as a Master Gardener at University of California at Davis and plans to have gardens surrounding the winery so that fresh produce can be used in the classroom recipes. Amelia and her daughter Dalia have been creating how-to cooking videos for years. These videos, which feature wine and food pairings, are available for viewing at www.cejavineyards.com under "Recipes." The issue of Sunset Magazine (October 2013) that featured Amelia and her recipes was the magazine's biggest selling issue
The winery's logo features a bell with the Latin inscription, vinum (wine), cantus (song), and amor (love). It was Pedro who decided to use a town bell as the trademark for their brand since it fit perfectly with their idea of a mission-style winery.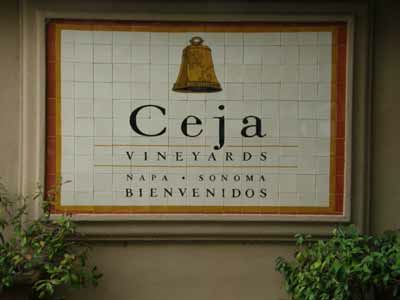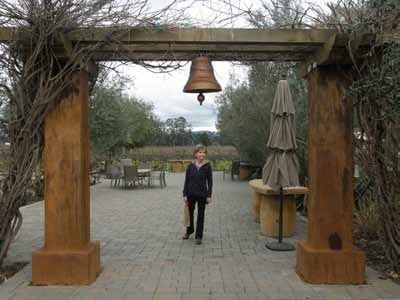 Ceja Vineyards produces multiple varietals including Pinot Noir, Cabernet Sauvignon, Merlot, Syrah, a Proprietary Red Blend, Chardonnay, Sauvignon Blanc, sparkling and dessert Wine. A wine tasting salon, lounge and art gallery is located in downtown Napa at 1248 First Street.
All the wines tasted with Amelia and those later sampled at home were of high quality and are easy to recommend. Amelia remarked, "We are a minority owned and certified winery, but our reputation is built on producing good wines." The balance is spot on in these wines. The Pinot Noirs are sourced from the estate Viña del Sol Vineyard located 5 miles west of the winery's Las Amigas Road hacienda and vineyard. The wines are a field blend of 50% Dijon and 50% Pommard clones. 100% de-stemmed.

2010 Ceja Napa Valley Carneros Estate Chardonnay
13.6% alc., pH 3.38, 1,000 cases, $34. Viña del Sol and Las Amigas Road vineyards. Harvest Brix 24.3º. 100% barrel fermentation with no MLF, aged sur lie 11 months in French oak barrels. · Moderate golden yellow color and clear in the glass. Very aromatic and complex, with scents of lemon pie filling, golden apple, banana fritter, pineapple, nutty oak and ocean air. A very well composed wine with generous flavors of citrus, tropical fruits and pear, bright acidity, a polished and slightly creamy mouthfeel, and surprising length of finish for a Chardonnay. Score: 90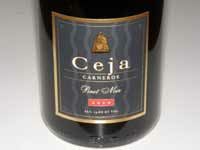 2010 Ceja Carneros Estate Pinot Noir
13.8% alc., 1,000 cases, $40. Ready to release. Viña del Sol Vineyard. 100% de-stemmed. Aged in 10% new and 90% neutral French oak barrels. · Moderately light reddish purple color in the glass. Lovely aromas of fresh cherry pie glaze and baking spices. Elegantly fashioned and very appealing, with bright flavors of red cherries, strawberries, spice and mocha carrying over on a long, juicy, memorable finish. Very approachable with soft tannins, bright acidity and admirable harmony. Score: 90
2009 Ceja Sonoma Carneros Estate Pinot Noir
13.7% alc., 1,000 cases, pH 3.48, $40. Viña del Sol and Dale Avenue vineyards. Brix at harvest 24.7º. Aged 20 months in French oak barrels. · Moderately light reddish purple color in the glass. Shy, but appealing aromas of black cherry, raspberry and toasty oak. More rich sap and structure than the 2010 Estate Pinot Noir, with a core of earth-kissed darker red and black stone and berry fruits accented by notes of tea and savory herbs. The oak is beautifully integrated, the wine is nicely balanced, and the finish has uncommon length. Recommended food match is pozole. Score: 90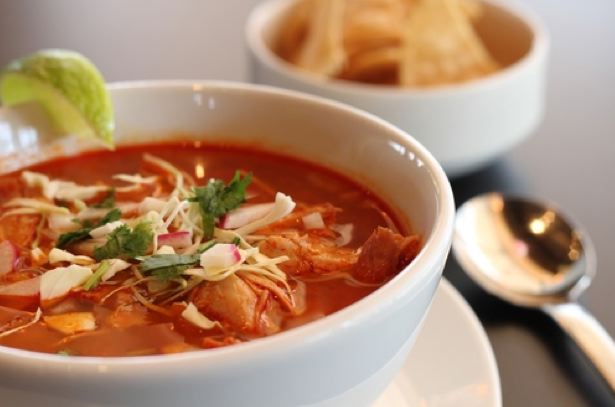 2009 Ceja Sonoma Coast Pinot Noir
13.8% alc., $50. Not released. Sourced from Adobe Vineyard located in the Petaluma Gap. Primarily Dijon clones. 100% de-stemmed. Aged 23 months in French oak barrels. · Medium reddish purple hue in the glass. A variety of aromas emerge over time including red stone fruits, plum, rose petal, dried herbs and smoky oak. Moderate in weight with flavors of black cherry, black raspberry, black tea and sassafras with complimentary oak and spice in the background. The tannins are suave and the finish has some generosity. Score: 89
2009 Ceja Vino de Casa Napa Valley Red Blend
13.6% alc., pH 3.53, 2,000 cases, $20. Viña del Sol Vineyard. Average Brix at harvest 24.1º. 60% Pinot Noir, 40% Syrah. Aged 23 months in French and American oak barrels. · A pleasant, easy-drinking wine with well-integrated tannins, a spark of acidity, dark fruits, mocha and peppery spice. A good food match would be chilaquilles. Score: 87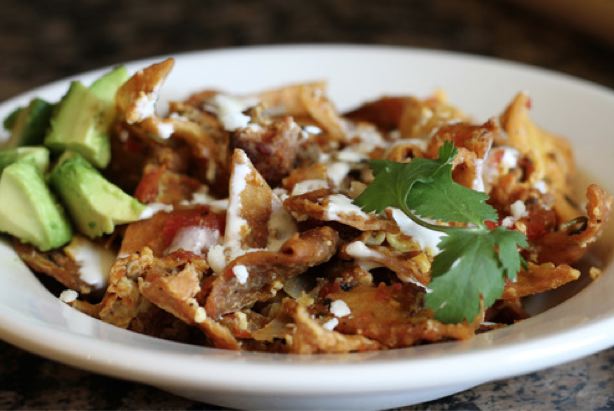 2008 Ceja Napa Valley Cabernet Sauvignon
13.9% alc., pH 3.48, 800 cases, $50. La Loma Vineyard located on the Silverado Trail. Harvest Grix 24.5º. Open top, small vat, cold soaked, extended maceration, gentle punch downs. Aged 34 months in French oak barrels. · Dark reddish purple color in the glass. A moderately rich, nicely aged wine with a slightly creamy core of black cherry, plum, cassis and blackberry flavors with modest complimentary tannins and a richly endowed finish. Very smooth in the mouth, displaying the impeccable balance typical of Ceja wines. Score: 91
2008 Ceja Napa Carneros Dulce Beso Dessert Wine
11.6% alc., pH 3.44, residual sugar 14.6, 600 cases, $40. Viña del Sol and Las Amigas Road vineyards. Harvest Brix 34.2º. Stainless steel fermented, no MLF, aged 14 months in French oak barrels. A botryitized wine composed of 94% Sauvignon Blanc and 6% Semillon. · Moderate golden yellow color in the glass. A thoroughly satisfying way to cap a meal. Complex aromas and flavors of coconut, pear, white peach, honey and roasted nuts with refreshing acidity and a persistent finish. A good food match is Mt. Tam cheese. Score: 89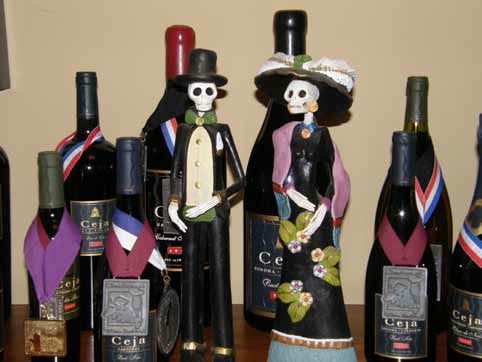 For more reading on Amelia: Rock and Vine: Next Generation Changemakers in America's Wine Country (2013), Women of the Vine: Inside the World of Women Who Make, Taste and Enjoy Wine (2006), and Sunset Magazine ("Best Wines for Mexican Food, October 2013).