E16 Pinot Noir: A Pleasant Surprise
E16 Wine Company takes its name from 3rd generation winegrower Robert Jones' estate vineyard that is located off El Dorado County Highway E16 in the Sierra Foothills appellation of Fairplay. Today, Jones goes beyond El Dorado County lines to secure select blocks of Pinot and Chardonnay for his E16 label.
Jones grew up working in his grandfather's vineyard in the Central Valley. After a career in technology, he decided to continue his family's legacy of winegrowing, and in 1990, he started his own vineyard in the Sierra Foothills. He has three labels: FIREFALL Red Blend, Zinfandel and Grenache Blanc, V Red Blend from the Santa Cruz Mountains, and E16 Pinot Noir and Chardonnay sourced from multiple regions. Jones' photo below left.
Winemaker Daniel Moore, who was an early champion of the Russian River Valley and became known for outstanding wines he crafted at Martinelli and Lynmar, produces the E16 wines in Sebastopol in a facility geared toward super-premium Pinot Noir production. His 30 vintages of experience enables him to craft exceptional wines and I was enthusiastic about the entire 2012 E16 Pinot Noir lineup. Photo below right.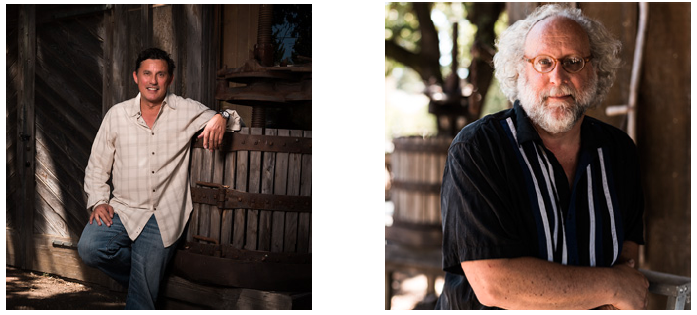 Visit the website at www.e16wines.com for more information and to purchase the E16 wines which are reasonably priced considering the quality.
This was my first encounter with this winery and the wines were a pleasant surprise. I remember Moore when he was at Lynmar many years ago and thoroughly enjoyed the Pinot Noirs he produced there.

2012 E16 Santa Lucia Highlands "Upper Bench" Pinot Noir
14.4% alc., 270 cases, $35. Sourced from the upper reaches of Escole Vineyard. Single block of Pommard 4 clone. Aged 11 months in French oak barrels. · Medium reddish purple color in the glass. The nose really attracts attention with vivid aromas of fresh cherries, strawberries, and sandalwood. Soft, even pillowy on the palate with middleweight flavors of red cherries and red strawberries, accented with a hint of cola and oak. A very refined, elegant interpretation of Santa Lucia Highlands fruit with a sleek finish. Score: 92

2012 E16 E16 Selection Sonoma County Pinot Noir
14.5% alc., 600 cases, $35. Primarily a blend from Trenton Road and Bowland Ranch vineyards. 20% comes from Anderson Valley and the Santa Lucia Highlands. Aged 11 months in French oak barrels. · Moderately light reddish purple color in the glass. A lovely nose you could nibble at with bright aromas of red cherry and strawberry. Light to mid weight core of cherry and strawberry fruits with a complimentary backing of spice and an echo of oak. Silky in the mouth, holding up nicely over time in the glass, offering a pleasing kick of citrus on the finish. Score: 89
2012 E16 Russian River Valley "Trenton 1880" Pinot Noir
14.2% alc., 320 cases, $45. Sourced from Singler Family Vineyards owned by Pete and Karrie Singler. The 1880 designation pays homage to the year the first grapevines that were planted in the town of Trenton next to this vineyard. Clone 667. Aged 11 months in French oak barrels. · Moderately light reddish purple color in the glass. Exceptional aromatic explosion of Bing cherry, cardamom spice and cedary oak aromas. Really delicious spiced cherry bombast with plenty of spring and vibrancy. Mild tannins, bright acidity and a cherry-driven, mouth watering finish of uncommon length. My only nit is that a hint of heat shows up on the finish. This wine really draws your attention. Score: 92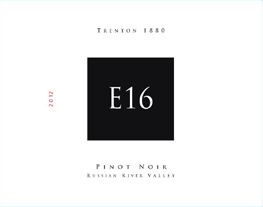 2012 E16 Bennett Valley Bowland Ranch Bennett Valley Pinot Noir
14.4% alc., 295 cases, $40. 3 blocks of Pommard clone from grower Chris Bowland. Aged 11 months in French oak barrels. · Moderate reddish purple color in the glass. Another aromatic bombast with scents of black cherry, earthy flora, and spice. A refined, silky wine that is harmonious, picking up interest over time in the glass. The tasty, mid weight flavors of black cherry, black raspberry and cola are accented with oak and persist noticeably on the suave finish. Score: 91
2012 E16 Anderson Valley "The West End" Pinot Noir
14.7% alc., 220 cases, $50. Sourced from a single vineyard located at the extreme north end of the Anderson Valley. Clone 667 and Pommard. Aged 11 months in French oak barrels. · Moderately dark reddish purple color in the glass. Penetrating aromas of blueberry, black cherry liquor and a hint of mint that comes and goes. The nose becomes somewhat muddled and loses interest over time in the glass. Mid to full-bodied, very ripe black cherry, blueberry and pomegranate fruit flavors with an undertow of oak and a backbone of soft tannins. Plenty of sweet, luscious, juicy fruit that is hard to ignore, but the wine is a touch cloying. Score: 88