Pinot Briefs —Newsletter 9.40
Talk of Grand Cru Vineyards in Oregon Katherine Cole recently posted on wine-searcher.com an article titled, "Oregon's Five Grand Cru Sites of the Future." Because of the interest of Burgundians in Oregon's Willamette Valley, she makes a case for the Willamette Valley being the New World equivalent of Burgundy and a natural consideration is which sites are possibly of grand cru level. Her five choices include Abbey Ridge Vineyard, The Eyrie Vineyard, Jessie Vineyard (Cristom), Maresh Red Hills Vineyard, and Thomas Vineyard. She does admit leaving out many other possibilities, including 24 others, but curiously fails to mention Shea Vineyard. For now talk of a vineyard classification in Oregon is just that, talk.
Carneros Wine Alliance Has a New Marketing Focus Carneros has been left behind of recent in promoting the region's outstanding wines. A recent successful 2014 Annual Barrel Tasting Event on March 25 at ZD Wines barn confirm the new commitment to raise the level of awareness of the excellence of particularly Carneros Pinot Noir and Chardonnay. New leadership of the Carneros Wine Alliance, which includes T,J, Evans of Domaine Carneros, Anne Moller-Racke of The Donum Estate/Stemmler Winery, Brandon deLeuze of ZD Wines and Alison Crowe of Garnet Vineyards, among its 25 members, want Carneros in the conversation when California's top regions for Pinot Noir and Chardonnay are discussed.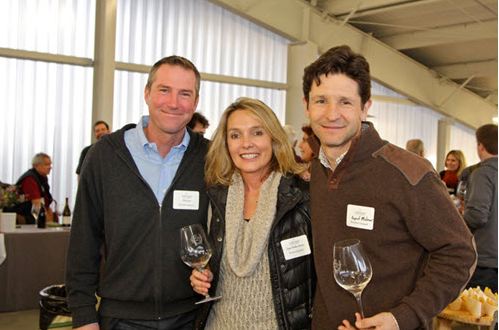 Foley Family Wines Buys The Four Graces Foley Family Wines has acquired The Four Graces, a producer of premium Pinot Noir, Pinot Gris, Pinot Blanc located in the Dundee Hills of the Willamette Valley. The purchase includes the tasting room and the 540acre Black Family Estate Vineyard in the Dundee Hills, and the 41-acre Doe Ridge Estate Vineyard in the Yamhill-Carlton AVA. Foley owns more than 15 wine estates in the United States and New Zealand, but this is his first foray into Oregon.
Ste. Michelle Acquires Eola-Amity Hills Property Ste. Michelle Wines has bought 298 acres formerly owned by CalPERS in the Eola-Amity Hills AVA, including the 119-acre Willakia Vineyard. Ste. Michelle plans to incorporate the Pinot Noir and Chardonnay from this vineyard into their Erath label which they acquired in 2006. Along with Atlas Vineyard Management's recent acquisition of 683 acres including Cooper Creek and Fern Creek in the Willamette Valley, about 4,200 acres of vineyard land has changed hands in Oregon and Washington in the last year.
Nike Cork Trainers This is the latest fashion accessory for winemakers and winery owners. Nike has released a line of training shoes as part of the NIKEiD Air Force 1 series that buyers can customize with the limited-edition cork upper or go all over, or complement the cork with premium leather accents. The trainers can be made with light or dark cork along with a number of other customizing features. Prices range from $190-$200. The cork option is only available for a limited time for men and women in both the high and low top design. Visit www.nike.com, if you are a wine geek.
Pop Chart Lab Offers Napa & Sonoma Wine Maps The infographic company, Pop Chart Lab offers two maps for navigating the wineries of Napa and Sonoma, spotlighting over 500 wineries and vineyards in Sonoma and over 700 in Napa. Zoomed-out pockets help identify exact locations of wineries in densely populated areas. The California Wine Country Set is offered in 18" x 24" poster format in framed or unframed options ($54). A decorative addition to the den at home, but not helpful when you are on the road in these regions. Visit www.popchartlab.com.
James Ontiveros & Matt Turrentine Buy Large Santa Maria Valley Acreage Lewis Purdue reported in Wine Industry Insight what was confirmed by Michael Fritz of Farmland Letter that Ontiveros and Turrentine (Grapevine Capital Parnters, a San Luis Obispo venture launched in 2012)) along with Harvard University's endowment fund, acquired a 7,623-acre cattle ranch for $10,080,000 in northeast Santa Barbara County. The specific funding details are available to subscribers of Wine Executive News. Harvard has farm land holdings throughout the world, including a Dairy Farms Partnership in Central Otago, New Zealand. James recently told me that the region had sufficient underground water aquifers to be successfully farmed despite recent climate changes and drought conditions.
Hanzell Vineyards President Takes New Role In June 2014, Jean Arnold Sessions will transition from her role as President of Hanzell Vineyards to Board Director and Brand Consultant. Jean Arnold Sessions has been with Hanzell Vineyrds since 1999, and was appointed President in 2002, taking over for Bob Sessions, now Winemaker Emeritus.
Brooks Builds New Winery Construction has begun on a new 12,000-square-foot winery and tasting room on the Brooks Estate property, adjacent the winery's estate vineyard and close to the current facility. Completion is expected by harvest 2014. The project was put into action by Managing Director Janie Brooks Heuck and Winemaker Chris Williams. The new grounds will feature gardens where they will grow biodynamic preparations for the estate vineyard. Founded in 1998, Brooks is a winery and biodynaically-farmed vineyard that continues to reflect the vision of Portland native Jimi Brooks.
Third Generation Bacigalupis Recognized Katey Bacigalupi and Nicole Bacigalupi Derrico, granddaughters of Charles and Helen Bacigalupi, have been selected from dozens of nominations from Marin and Sonoma counties to the 8th Annual List of "Forty under 40," announced recently by the North Bay Business Journal. With collective sales, marketing and agri-business degrees, the Bacigalupi twins are day to day managers of the winery and vineyard operation started half a century ago by their grandparents, Helen and Charles Bacigalupi.
New Pinot Project at Alban Vineyards John Alban has had a fanatical pursuit of Rhone varietals. A 4.5-acre block of estate vineyard was planted in 1997 to Pinot Noir and Chardonnay. Located on a steep north facing hillside, it is known as North Vineyard. As the grapes have matured, the potential of the site became evident. In the 2012 vintage, Alban Vineyards is offering a North Chardonnay and North Pinot Noir to its mailing list for the first time.
China Loves High Priced Wines According the www.thedrinksbusiness.com (April 14, 2014), China is now second to the United States as a buyer of high-priced wines. The Chinese, including buyers in Hong Kong, splurged 430% more on expensive wine between the years 2008 to 2012. China is now the world's biggest consumer of red wine, overtaking France last year. Over 90% of the wine consumed in China is red, presumably because of the perceived health benefits.
New Books on Burgundy There are three new books on Burgundy that are all worth your interest. The Climats of Burgundy: A Unique Millennia-old Heritage (Bernard Pivot, et al.), Histoire des Hospices de Beaune: vines, domaines et donateurs (Marie Thérèse Berthier & John-Thomas Sweeney, $75), and My Favorite Burgundies (Clive Coates MW, $60).
New Wine Book from Alder Yarrow Yarrow collaborated with photographer Leigh Beisch to post an ongoing photo essay on aromatic and flavor components of wines in his blog, Vinography. The series of essays have been collected into a book, The Essence of Wine. Can be pre-ordered at www.vinography.com (hardcover is $70 and eBook is #35.)