Alquimie: "The Drinks Are On Us"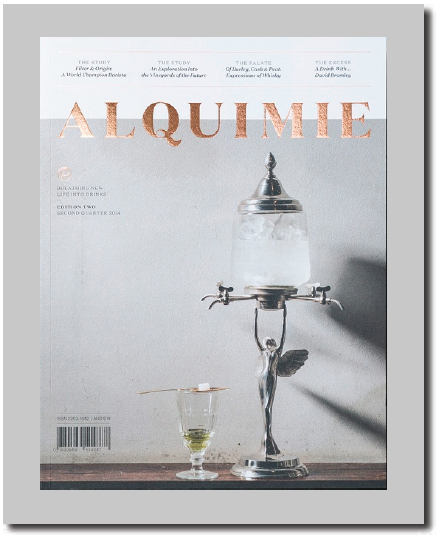 The Brits and Aussies take their wine very seriously and each country now has a distinguished publication directed at the aesthetics of wine. The World of Fine Wine, published in the UK and the pioneer in this wine publication genre, has now been joined by Alquimie, an Australian offering published four times a year under the direction of Editor-In-Chief Joshua Elias. Edition Two was released in the second quarter of 2014.
Alquimie is both educational and philosophical, enticingly readable, beautifully photographed, and professionally composed. Unlike The World of Fine Wine, Alquimie has a more expanded horizon of imbibeworthy subject matter. The current issue covers microbrews, spirits, and even coffee, water ("When the Clouds Touch the Ground") and milk ("What Ever Happened to Real Milk"), as well as French truffles ( a gorgeously photographed coverage at Cioccolato Lombardo in Prahran, Australia).
It is the superb wine articles that are the heart and soul of the magazine and the most important reason to subscribe. The current issue covers Chianti ("Classico No More?), Portuguese grape varieties ("Um Cacho de Uvas), South African Chenin Blanc, the Australian Vineyards of the Future program, the 2008 Second Growth Bordeaux wines ("In Search of Claret"), and Pereira D'Oliveira Madeira ("100 Years Between Drinks").
The current edition of 172 pages is almost completely devoid of advertising. In essence, the magazine is a book in disguise and worthy of keeping on your shelf for reference.
Alquimie's Manifesto is of great interest and reflects the thoughtfulness and intent of this journal. The four tenants are as follows: (1) Perception goes far beyond desirable taste, (2) The context in which we drink is as important as what we drink, (3) The creation of drink informs our understanding of it, and (4) To understand the value of alcohol, we must first appreciate each other. To expand the fourth tenant, the authors say, "It is our responsibility to drink with a conscience. A conscience that respects the quality of what we drink and when we drink it. It is how we drink....it is why we drink. It is how we choose to live."
Subscriptions are $100 for four editions including worldwide postage and handling. Visit www.alquimie.com.au.