International Pinot Noir Celebration: Oregon's Venerated Pinot Bacchanal
The granddaddy of Pinot Noir festivals continues to attract pinotphiles from around the world to the tiny, bucolic campus of Linfield College in McMinnville, Oregon, for continuing education in Pinot Noir. There is no homework or written tests, and no dreadful lectures at 8:00 A.M. in the morning. Just an abundance of great Pinot Noir paired with the delicious bounty of Oregon, accompanied by plenty of joie de vivre among the luminaries of food and wine who join the celebration.
The first International Pinot Noir Celebration (IPNC) was held in 1987 when a group of Oregon vintners gathered to figure out a way to promote Oregon wine. Since then, the IPNC has brought together 14,000 Pinot Noir lovers, fueled by an unabated love for their go-go juice.
The IPNC has hosted over 200 winemakers from France, and many from New Zealand, Australia, Italy, Germany, Switzerland, Austria, Canada and South Africa, along with hundreds of Oregon and California winemakers. The emphasis is always on quality (wineries are accepted to participate based on merit) and stylistic diversity, with many new winery faces appearing each year.
This year there are 74 international Pinot Noir winemakers. Wineries from Oregon include Archery Summit, Bergström Wines, Chehalem, Domaine Serene, The Eyrie Vineyards, Scott Paul Wines, Stoller Family Estate, and Westrey Wine Co. Participating California wineries include The Donum Estates, Drew Family Cellars, J Vineyards & Winery, Navarro Vineyards, Patz & Hall, Rhys Vineyards, and Siduri Wines. Among the most well known featured international wineries are Mission Hill Family Estate (British Columbia, Canada), Domaine Ambroise (Prémeaux-Prissey, France), Maison Joseph Drouhin (Beaune, France), Bodega Chacra (Rio Negro, Argentina), Villa Maria Estate (Marlborough, New Zealand), and Wooing Tree Vineyard (Central Otago, New Zealand).
There is no judging of wines at the IPNC for the festival is a pure celebration of Pinot Noir, offering the Pinot Noir enthusiast the opportunity to discover new producers and rub shoulders with established winemakers of repute that they may have only read about.
David Lynch, a James Beard Award winner in journalism and contributing wine editor and author of The Wine Insider's Guide for Bon Appétit, will keynote the 28th IPNC held this year on July 25-27. He is a hilarious writer and speaker and also a noted San Francisco restauranteur who launched Quince and now owns St. Vincent.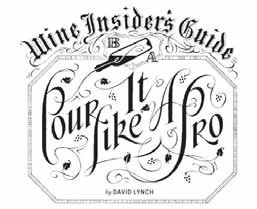 Noted British wine book author and blogger Jamie Goode will moderate the Grand Seminar titled "Doors of Perception." Not only at the IPNC, but also all over the world, a revolution is underway. Wine drinkers are becoming savvy about their own tastes, and individual preferences now rule our selection of wines. Professor Hildegarde Heymann of University of California at Davis recently reported a study from the Department of Viticulture & Enology involving wine sensory character, quality perception and preferences by consumers, wine-judging panels and wine experts. The results suggested that consumers are better off trusting their own preferences to choose wines they like rather than depending on the advice of so-called experts. The seminar panel is composed of those who think about wine but are not critics and offer a different perspective on the perception of wine. Each panelist will chose a Pinot Noir that speaks to them and include it in the discussion. Seminar guests will arrive at a deeper understanding of how they view wines, how that perception is a reflection of them, and why that matters.
Seminar panelists include Harvard historian of science Steven Shapen will provide a cultural perspective of wine. Wilderness perfumer Hall Newbegin will offer a fresh take on aromas of place. Elaine Brown's wine cartoons will show how a wine can be brought to life through her imaginative drawings. Stephen Tanzer's International Wine Cellar critic Josh Raynolds will help guest become fluent in the language of wine. Chef Frank Stitt, who writes the wine lists for his trio of Birmingham, Alabama restaurants will introduce food into the picture. Professor Jordi Ballester from the Université de Bourgogne will bring his unique views on sensory evaluation and Loire-born New York sommelier Pascaline Lepeltier of Rouge Tomate will discuss wine and food pairings. Of course, winemakers will be on hand to add their voices to the conversation.
The afternoon educational classes, termed "University of Pinot," will feature a wide range of options this year. The courses include Sensory Science 200: The Physiology of Taste with Josh Raynolds; Chemistry 201: Dropping Acid with Elaine Brown ( how adding acid to wine affects balance); Climatology 312: The Future of Cool Climate Viticulture with Vajra Stratigos and Greg Brown; Field Study 301: Distilling Terroir with Hall Newbegin; Geography 300: Loire Valley Pinot with Pascaline Lepeltier; Regional Studies 225: The New California Wine with Jon Bonné; Pairing Tea and Cheese with Steven Smith; and Matchmaking 220: Smoke and Mirrors, a food and wine pairing seminar with Ben Dyer and Jordan McKay.
Praised as a showcase for the Northwest's famed farm-to-table cuisine, the IPNC will host 50 chefs from the northwest's most revered restaurants. On Friday evening, the IPNC will celebrate the wealth of female talent in the culinary world at the Grand Dames Dinner. Featured chefs are Stephanie Pearl Kimmel of Marche, Kristen D. Murray of Maurice, Holly Smith of Cafe Juanita, and Cathy Whims of Nostrana.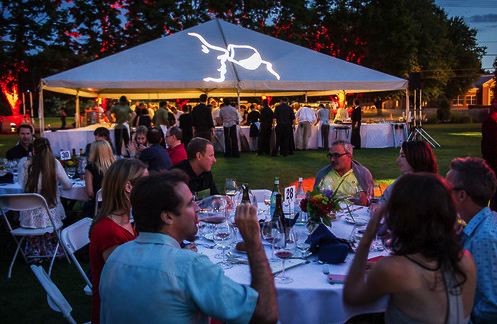 The Saturday night Northwest Salmon Bake is a long-standing tradition at IPNC and has been called "the most entertaining meal at any wine event in the world." Held in a lantern-lit oak grove on the Linfield College campus, wild Chinook salmon is cooked native northwest style on wood stakes over a wood-fired pit. Featured chefs are Ben Dyer, David Kreifels and Jason Owens of Reverend's BBQ, Tommy Habetz and Nick Wood of Bunk, and Jason Stoller Smith from Timberline Lodge. Four incredible dessert chefs will top off the evening: Elizabeth Beekley of Two Tarts, David Briggs of Xocolati de David, Jami Curl of Quin, and Jamie Lewis of Blue Raeven Bakery. This dinner is also a no-holds-barred opportunity for pinotphiles to bring their best stuff to share, and as you wonder among the tables, you can taste an incredible array of wines simply by asking.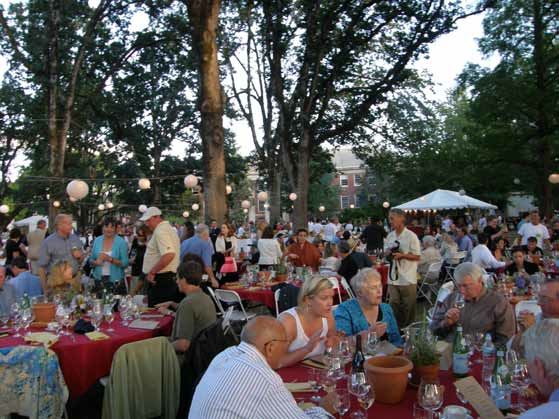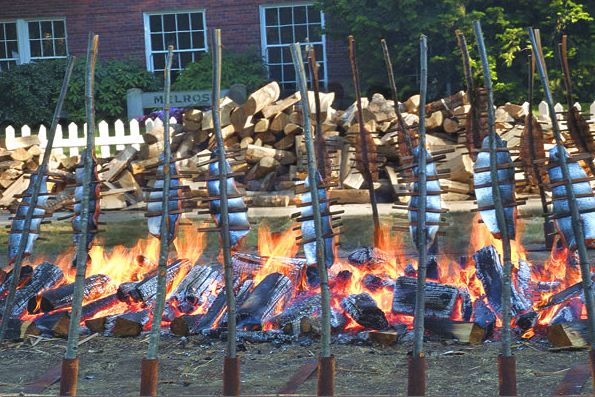 Noted sommeliers travel from all over the country to pour wine at the elaborate meals. They are formally attired until the last morning of the event when they typically dress up in conjunction with a theme and frolic.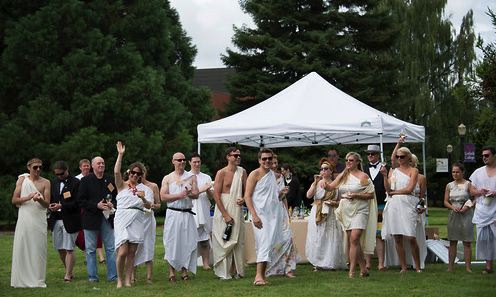 I am getting excited just thinking about this year's IPNC. I have been attending the celebration almost every year for 20 years, and I can honestly tell you this is the most memorable wine festival I attend. Along with the noted speakers and marvelous chefs, the celebration has a relaxing and festive atmosphere that sets it apart from all over wine events. Whether tasting Grand Cru Burgundy or strolling through Willamette Valley vineyards with the grower who planted them, I find myself happily unwinding in picturesque Oregon wine country.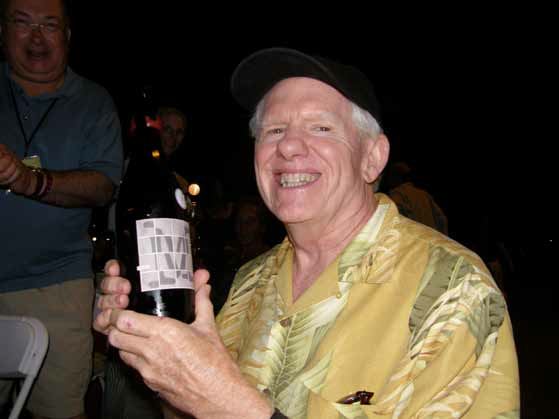 When Lewis and Clark arrived at the mouth of the Columbia River that divides Oregon and Washington states, the foul weather led their group to call this region Point Dismal. I am sure they would be startled today to see the expansive vineyards that now dot the Oregon landscape and to taste the magnificent Pinot Noirs that are now an Oregon trademark. During July, Oregonians put aside the memories of dismal winter rain to revel in the sun that shines on McMinnville, the IPNC, and the wonderful gift of Pinot Noir.
Tickets for the full weekend event include exclusive access to all seminars, tastings (the 2011 vintage will be poured at the afternoon outdoor walk-around tasting on Friday and the 2012 vintage will be poured by participating wineries on Saturday), tours and activities, as well as all meals over two days and the Sunday Sparkling Brunch Finale. Weekend tickets are $975 per person. Two additional "Post Grad" seminar options will be offered to weekend guests for a separate fee: Raiding the IPNC Cellar with Jamie Goode and Master Class on the Aroma of Color (perceiving color through aroma). Tickets are sold on a first-come, first-served basis and a limited number of tickets remain.
For full details, contact the IPNC at 800-775-IPNC (4762) or visit www.ipnc.org. The IPNC is easily accessible from Portland's International Airport by a leisurely 45-minute drive. Accommodations in the Willamette Valley are somewhat limited so it is important to make plans to attend now. I would be happy to assist you in any way by contacting me at prince@princeofpinot.com.
An additional event, Passport to Pinot, is held on Sunday afternoon July 27, and is a condensed version of the IPNC. All 74 wineries will pour, 15 local northwest chefs will prepare culinary treats and IPNC will be pouring a selection of aged Pinot Noir from their library. This is also a popular event, held in the beautiful Oak Grove of Linfield College. The Passport to Pinot is a separate event and not included in the full weekend festivities. A separate crowd, mainly Oregonian Pinot Noir fans, attend, but it is open to anyone.