Beckham Estate
Andrew and Annedria Beckham have a charming vineyard property in Sherwood, Oregon, in the Chehalem Mountains, where they grow grapes for their wines that reflect the site and individuality of the vintage. Their tasting room, constructed by Andrew, is inviting and the hosts are very warm people. Both Andrew and Annedria are energetic people with him managing the vineyard and crafting the wine, and she, with three children in tow, managing sales and marketing. This is a family winery in the truest sense of the word.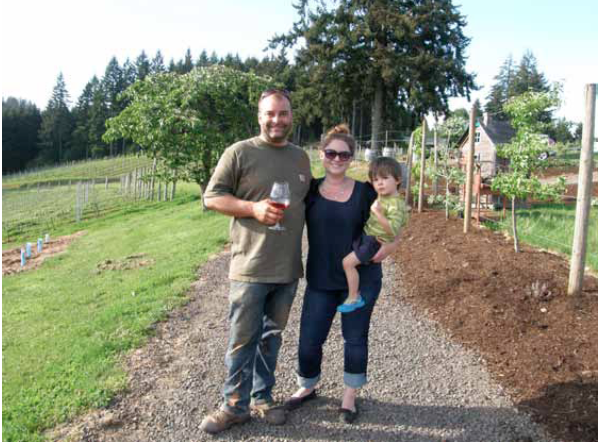 Andrew never set out to grow wine grapes or become a winemaker. The property, surrounded by heavily forested Chehalem Mountain woods on the flank of Parrett Mountain, was originally acquired by the Beckhams to allow Andrew, a ceramist and ceramics teacher, to have a large clay workshop for his craft. A neighbor across the street had a small vineyard and drew Andrew into the romance of winegrowing. The Beckhams soon had a 6.5-acre vineyard of their own adjacent their home. The south, southwest and southeast facing vineyard was planted to Pommard, Wädenswil, 115 and 777 Pinot Noir clones at an elevation of 412-568 feet in volcanic and Loess soils. Andrew learned about viticulture from neighbors and volunteering to work in other local vineyards. The harvests from the first two vintages in 2007 and 2008 were sold.
Andrew's winemaking mentors were Mike Halleck of Carabella Vineyard and Jim Sanders of Aubichon who made their wines at Union Wine Co. in Tualatin. The first Beckham Estate Pinot Noir was produced in 2009.
Andrew is one of several winemakers in California and Oregon who are experimenting with fermenting and aging wine in clay vessels or terracotta amphoras. Annedria had seen an article in a magazine several years ago about vinification in amphoras and this not only piqued Andrew's interest, but seemed a perfect fit given his accomplished background as a ceramist. A recent article in Wines & Vines, "Winemakers Give Clay a Close Look," May 2014, featured Andrew as well as other proponents of amphora vinification. Fermenting and aging wine in amphoras is exposing the wine to earth (clay), and not unexpectedly, gives wines a distinct mouthfeel. Andrew's amphoras are still in the experimental stage, but he is quite enthusiastic about the future prospects. Andrew plans a second label, A.D. Beckham for wines vinified in amphoras and the first release will be a Pinot Gris in July 2014.
In 2013, Beckham Estate Olivia's Rosé of Pinot Noir was released (<70 cases, $18) and is nearly sold out. A Beckham Estate Pinot Noir Blanc, a saignée of Pinot Noir, was also released (<70 cases, $22).
In 2011 and 2012, three Pinot Noirs were produced from estate fruit: Sophia's, Estate and Dow's. The wines are reasonably priced considering the high quality. Visit the website to buy wines at www.beckhamestatevineyard.com., or better yet, visit on Saturdays 11:00-5:00 and by appointment for an intimate tasting experience.