Sips of Recently Tasted California Pinot Noir & Chardonnay & Outliers
I prefer not to simply list wine reviews without including context since wine reviews by themselves don't tell the whole story. However, lately, I have been inundated with wines to review, and have had a heavy wine region and wine event travel schedule. For that reason, this issue will be devoted to reviews only and the quality of the wines will have to speak for themselves. I have in the past written extensively about practically every producer whose wines are included here, so refer to the Winery Directory for more background information. Anderson Valley wines will be reviewed in the next issue which includes highlights from the Anderson Valley Pinot Noir Festival.
2012 Banshee Marine Layer Sonoma Coast Pinot Noir
13.0% alc., 200 cases, $50. A blend of the best Sonoma Coast vineyard sources including Coastlands, Rice-Spivak, Hellenthal, Emmaline and Jack Hill. Winemaking consultant is Ross Cobb. Aged 15 months in 10% new French oak. · Moderate reddish purple hue in the glass. Aromas of black cherry and coffee-scented oak. Satisfying mid weight core of dark red cherry and raspberry fruit with some finishing length. Impressive balance and harmony with good integration of oak and juicy acidity. Score: 89
2013 Bonny Doon Vineyard Central Coast Vin Gris De Cigare
13.0% alc., $12, screwcap. The pink analog of Le Cigare Volant. A blend of red and white Rhone varieties. · Light orange coral color in the glass. Aromas and flavors of strawberry, raspberry, peach and melon in a clean, crisp and dry style which is tasty and satisfying. This wine does what a Rosé should do: refresh Score: 88
Brick & mortar was established in 2011 in Napa Valley by friends Jordan Rasmussen, Matt Iaconis and Edward Brown under the MSix Wine Group LLC Company title. Matt Iaconis is the winemaker. This was my first exposure to the wines which were excellent.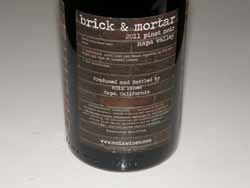 2011 brick & mortar Napa Valley Pinot Noir
13.3% alc., 84 cases, $44. Released on Oct 1, 2013. Extended cold maceration until native yeast began a spontaneous fermentation in open-top barrels. Some whole cluster. Aged 20 months in once-used French oak barrels. Bottled unfined and unfiltered. · Moderately light garnet color in the glass. Large scale aromas of cherry glaze with a compliment of smoky oak. Delicious core of spiced black cherries with a hint of clove and cola. Broad in the mouth and nicely balanced with suave tannins, integrated acidity, and a polished, aristocratic mouth feel. Score: 92
2012 brick & mortar Napa Valley Chardonnay
14.1% alc., 128 cases, $38. Released from MSix Wines on October 1, 2013. Whole cluster pressed, aged in 25% new French oak barrels in natural caves dug deep into the hills in Napa Valley. Primary and secondary fermentations lasted upwards of 4 months. Lightly fined and filtered. · Light golden yellow color and clear in the glass. Subdued, but pleasant aromas of lemon tart, pastry cream and nutty oak. Nicely composed with charming flavors of lemon, peach and pear with a kiss of oak. Silky in the mouth, with lingering fruit presence on the uplifting finish. Score: 90
Brooks Note is a Marin-based winery focusing on Pinot Noir. Winemaker Garry Brooks and his spouse Joanne, planted a small vineyard in Sonoma in 2002. Both were working in technology, but it soon became evident that their passion was with grapes. In 2004, Garry left the lucrative world of technology to pursue his dream of making wine. He worked part time at Ravenswood while earning a degree in viticulture and enology from University of California at Davis. He made his first Pinot Noir at Acacia in 2007 and later moved on to Kosta Browne, working with Michael Browne and Shane Finley for two years. He then joined Dutton-Goldfield as assistant winemaker working under Dan Goldfield. Dan introduced him to the unique vineyards of Marin County. Garry and Joanne launched their commercial label in 2011. Visit www.brooks-notewinery. myshopify.com to join the mailing list.
Kosta Browne wines are extremely popular. The winery does not have a tasting room since they sell all their wine direct to consumers and have nothing extra to pour. The winery is closed to the public. Large format bottles are for charity auctions only. The wines are sold twice a year (spring and fall) to a mailing list. Currently, there is an extensive waiting list, which comes with a 2 to 3-year wait for a spring allocation of appellation wines and a 5 to 6-year wait for a fall allocation of single vineyard designate wines.
Martin Ray Vineyards and Winery has been known for large production, reliable table wines at reasonable prices, under the Martin Ray, Courtney Benham, and Angeline Wines labels, often distributed to major high volume wine retailers. More recently, the Martin Ray label has taken on a more sophisticated redesign and the three 2012 Pinot Noirs reviewed here indicate there is a new commitment to ultra premium winemaking under the Martin Ray tag. The wines are more prestigious in presentation including a heavier bottle. Consulting winemaker Dan Goldfield brings experience in Burgundian varietals to the organization whose head winemaker is Bill Batchelor assisted by Lindsey Haughton.
Mike Sinor acquired his family's first vineyard property, the 112-acre Bassi Ranch and 30-acre Bassi Vineyard, in 2013, representing the culmination of 23 years of hard work in the local wine business currently with both Ancient Peaks Winery and Sinor-LaVallee. The vineyard, located just 1.5 miles inland at Avila Beach, was planted in 2000. The 2013 Pinot Gris and the 2012 Syrah (80% from Bassi Ranch Vineyard) are the first estate wines from Sinor-LaVallee. Starting with the 2013 vintage, Sinor-LaVallee will be producing a majority of wines from their Estate Vineyard including mostly Pinot Noir along with small volumes of Chardonnay, Pinot Gris, Albarino and Syrah. Mike has been a tireless promoter of the San Luis Obispo winegrowing region as well as significant contributor to the success of the World of Pinot Noir event. The Sinor-LaValle front label has Mike's thumbprint on the left and his spouse Cheri's on the right, and the kids' thumbprints are on the back label. The website is www.sinorlavallee.com.
Beginning with the 2012 vintage, Talbott is bottling all of its wines under screw caps. Winemaker Dan Karlsen is now focusing on more sheltered sites, where the wind doesn't toughen the Pinot Noir skins. He has also re-trellised the cordon arms of the vines to ensure even ripening and has eliminated all kicker canes. In the winery, Dan designed and built a room dedicated to open-top fermentation. He also built a custom punch down device. Dan does about 150 individual fermentations each vintage and then evaluates every lot blind.