Recent California Winery Visits & Tastings
Inman Family Winery, Russian River Valley
Kathleen Inman, CoProprietor & Winemaker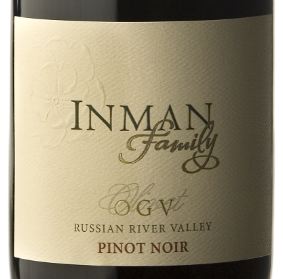 2010 Inman Family Winery Olivet Grange Vineyard (OGV) Estate Russian River Valley Pinot Noir
12.5% alc., pH 3.61, TA 0.55, 308 cases (40 cases left), $68, screwcap. Clones 114, 115, 667, 777 and "828." 50% whole cluster fermentation. · Moderate reddish purple color in the glass. Hi-tone scents of Bing cherry, baking spices, savory herbs and sandalwood. More savory and herbal than the 2011 vintage which is more fruit driven. Very elegant and smooth, with a delicious array of red cherry and berry fruits that offer good intensity on the mid palate and length on the broad finish. Score: 92
2009 Inman Family Winery Olivet Grange Vineyard (OGV) Estate Russian River Valley Pinot Noir
13.4% alc., $68. 4-day cold soak, 20% whole cluster native fermentation, aged 10 months sur lie in French oak. · Moderately light reddish purple color in the glass. Aromas of fresh Bing cherries, raspberry, and baking spice leap from the glass and persist over time. Great overall harmony, with a charge of delicious cherry and berry fruits accented with spice. The tannins are noble, and the fruitdriven finish is uncommonly persistent. Score: 93
2012 Inman Family Winery Russian River Valley Endless Crush Sparkling Brut Rosé
12.0% alc., pH 3.0, TA 0.81, 309 cases, $56. Disgorged March 14, 2014, released April 2014. Very slight dosage (1%). 100% OGV Estate fruit. · Light pink color with a good bead in the glass. Highly aromatic featuring aromas of fresh-picked strawberries, red cherries and peach. A special wine that offers intense strawberry and cherry flavor which embraces the mid palate and returns in waves on the dry finish. Score: 93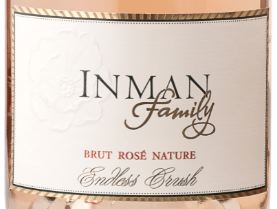 Inman Family Wines is open for tasting Thursday through Monday at 3900 Piner Road in Santa Rosa, CA. There is a charming farmhouse adjacent the winery available for rent. The website is www.inmanfamilywines.com.
Lynmar Estate, Russian River Valley
Shane Finley, Winemaker

Note: Some 2012 wines were vinified by Bibiana Gonzalez Rave (BGR), along with consulting winemaker Paul Hobbs. Rave left Lynmar in 2012. Some wines were vinified with both Rave and the current winemaker, Shane Finley (SF), and some were produced by Finley only. (The initials BGR and SF indicate the winemaker(s) for each wine)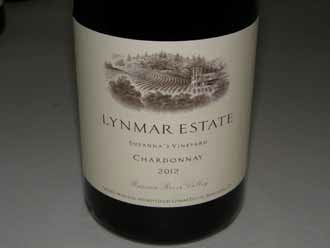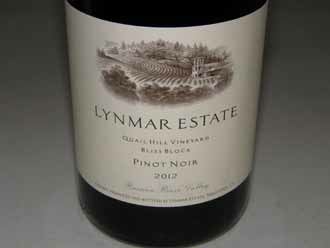 Dunstan Wines, Sonoma Coast
Kenneth Juhasz, Winemaker
2012 Dunstan Durell Vineyard Sonoma Coast Rosé of Pinot Noir
13.0% alc., 92 cases, $25 (sold out). Grapes picked a little earlier from a certain block in the Ranch House Block. Grapes were lightly crushed by foot before pressing to neutral French oak barrels for 6 months. Winemaker Kenneth Juhasz. · Light orange color in the glass. Lovely aromas and flavors of strawberry and blood orange with good body and intensity. Thoroughly enjoyable. Score: 89
2011 Dunstan Durell Vineyard Sonoma Coast Chardonnay
13.3% alc., $45. Aged 14 months in 40% new French oak barrels. No malolactic fermentation. · Bright yellow color and clear in the glass. Aromas of buttery pear, lemon curd and caramelized oak lead to a silky palate of pear, white peach lemon, and stony minerality. Bright and thirst quenching. Score: 90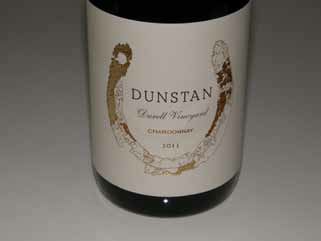 2012 Dunstan Durell Vineyard Sonoma Coast Chardonnay
14.1% alc., 400+ cases, $45. Release September 20, 2014. Aged in 30% new French oak barrels. No malolactic fermentation. · Very fresh nose redolent of lemon curd, nutty oak and salt air. Crisp and bright on the palate with good intensity of lemon, nectarine, pear and honey flavors Score: 93
2011 Dunstan Durell Vineyard Sonoma Coast Pinot Noir
14.5% alc., 316 cases, $55. Bottled 14 months ago and just released. Composed of 5 clones grown in volcanic soils. · Moderate reddish purple color in the glass. Endowed with hi-tone aromas of fresh cherry, strawberry, spice and a hint of oak. Rather exotic tasting with mid weight flavors of cherry, raspberry, other wild berries, red plum, and peppery spice. Silky with complimentary barrel management. Score: 90
2012 Dunstan Durell Vineyard Sonoma Coast Pinot Noir
14.2% alc., Unreleased. Same vinification as the 2011 vintage. Aged in 40% new French oak barrels. Bottled 1 month before this tasting. · Moderate reddish purple color in the glass. Subdued, but pleasant aromas of red cherry, loam and spice. Delicious with obvious potential, featuring vivid flavors of raspberry, cherry and spice. The oak is fully integrated and the fine-grain tannins are only modestly imposing. Terrific charm with a glorious cherry-driven finish. Score: 93
Photos below are of the Ranch House Block surrounding the owner's home at Durell Vineyard. Planted in 2005 by owner Ellie Phipps Price, it is located at the southern end of the vineyard on an east-facing slope. It is subjected to cool coastal fog in the morning and warm, breezy afternoons. The vineyard is more densely planted than other area of the vineyard. All Dunstan wines come from this 8.5-acre Ranch House Block at Durell.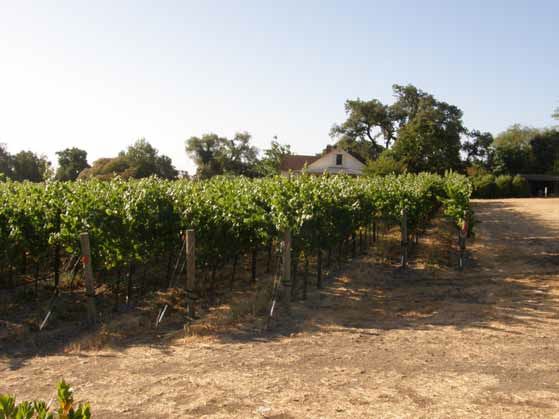 En Garde Winery, Sonoma Valley
Proprietor and Winemaker Csaba Szakal
It is a rarity to discover a winemaker of Hungarian origin crafting Pinot Noir along with other varietals in Sonoma Valley. Csaba grew up in a family that had made wine for four generations in Hungary. He successfully made Rosé and white wines in his garage using grapes from his grandfather!s vineyard, but yearned to seek a career in technology. He left Hungary in 1996 for work as a computer programmer in Silicon Valley. Csaba met his wife, Sandy Scott, a CPA who had grown up in Sonoma County, and because of her exposure to wine, urged him to make wine again.
Csaba began crafting wine again in his home garage in 2001, using Merlot grapes sourced from a Dry Creek vineyard in Healdsburg. The wine, which was aged in (surprise!) Hungarian oak barrels, won a gold medal in an amateur wine competition. By 2007, he had decided to start a commercial label, En Garde, in a leased space in Livermore. In 2010, the couple quit their jobs, with him crafting the wines and she managing the business side of the winery. Three years later, the family moved to Santa Rosa where he pursued fruit sources. A stylish tasting room was opened on Sonoma Highway in Sonoma Valley, and Csaba now makes his wines at the nearby Mayo Winery facility where I tasted barrel samples with him.
The first Russian River Valley Pinot Noir was released from the 2008 vintage and currently there is a Russian River Valley AVA blend and an AVA Reserve blend. The first vineyard-designated Pinot Noirs will be released from the 2012 vintage. Csaba crafts a number of other excellent varietals, including a 2012 Albarino ($28) that I am particularly fond of. His Cabernet Sauvignon and Bordeaux-blend wines have won numerous awards.
The 2010 and 2011 vintage Pinot Noirs have previously been reviewed in the PinotFile. The 2010 vintage wines are riper, with more purple and black fruits. The 2011 wines are brighter, with redder fruits and spice. I am particularly fond of the 2011 Reserve which is mellow with vivid red fruits, spice and a very long finish. The 2012 wines tasted from barrel will be released in the late fall 2014.
2012 En Garde Olivet Court Vineyard Russian River Valley Pinot Noir Barrel sample. Martini clone. Still tight with oak dominating, but good mid palate attack, long finish, fine-grain tannins, and the telltale dark chocolate of Martini clone.
2012 En Garde Starkey Hill Russian River Valley Pinot Noir 25% "828," 25% Pommard, 50% 23. Vineyard is owned by spouse's best friend. Invigorating nose offering aromatic cherries and spice. Very elegantly styled with refined tannins and a pleasing spice-driven finish. A winner.
2012 En Garde Reserve Russian River Valley Pinot Noir Martini and Starkey selections. A barrel selection. The biggest, most intensely flavored wine with a knockout nose of fresh stone and berry fruits and exotic spices. The oak is already nicely integrated. The finish is incredibly long and satisfying.
I don!t consider myself an expert when it comes to other red varietals, but the Malbec (10% Petit Verdot) and the Petite Sirah sourced from Livermore and aged in American oak were both great wines. Clearly, Csaba is a very talented and versatile winemaker.