Broadley Vineyards Scores Big in 2012
Broadley Vineyards is a family owned winery established over 30 years in the hills west of the town of Monroe, Oregon, producing distinguished wines since 1986. Technically, Broadley Vineyards is in the Willamette Valley, but lies on Highway 99 halfway between Corvallis and Eugene, outside of the more publicized sub-appellations of the Willamette Valley which are located in the northern Willamette Valley.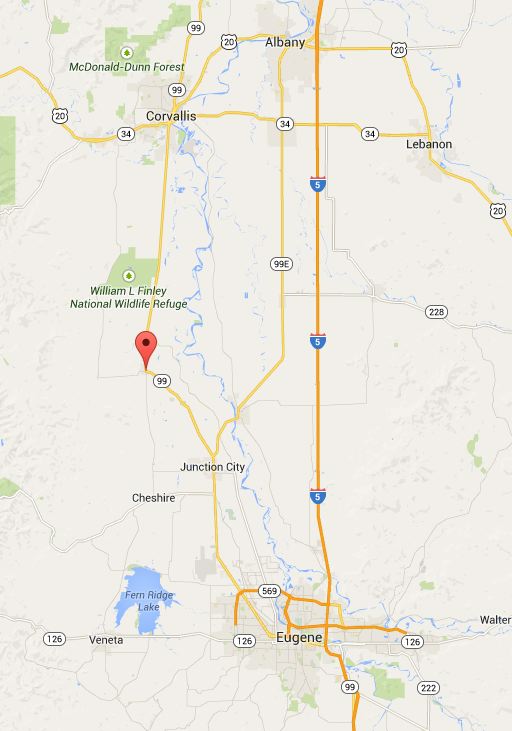 Craig and Claudia Broadley launched the winery in 1982, and are now joined by son Morgan, daughter-in-law Jessica, and two grandchildren Olivia and Savanna. Like so many Oregon vintners, they were from California, and had developed a likening for Pinot Noir. California vineyard land was too expensive, and Oregon seemed like the right place to grow Pinot Noir...cheaper. They found a unique site on a hillside in Monroe, established vines, and by 1994 had earned a reputation for ultrapremium estate Pinot Noir.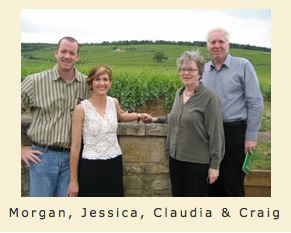 Broadley Vineyards is a relatively warm site known as the "banana belt" within a cool climate. The 30 planted acres offer many different exposures, elevations and soil types leading to different flavor characteristics in the wines from the different blocks. The grapevines are planted in an unusual eastern and northeastern aspect to protect the vines from storms that traditionally arrive from the Southwest, and to prevent over ripeness of fruit. Soils are volcanic with good drainage without excessive vigor. Another unique aspect of the vineyard is the use of the lyre trellis system, splitting the canopy into two walls of grapes.
The planted clones are diverse. Pommard and Wädenswil were first planted in the early 1980s, but over time a number of Dijon clones were added.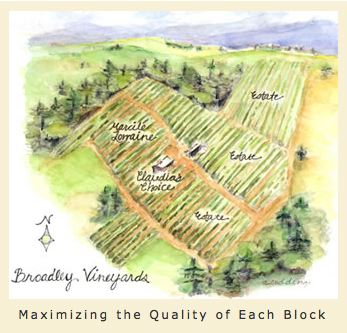 At the winery, Morgan Broadley's winemaking is distinguished by partial whole cluster fermentation, significant fermentation in wood containers, and the absence of rigid fermentation temperature control. The wines are aged in new and one to two-year-old used French oak barrels and always unfined and unfiltered.
The winery's 2012 harvest report describes the growing season as dry and a nearly perfect harvest. The crop was small, but produced wines similar to those from the 2008 vintage in size and depth of flavor.
I have never visited Broadley Vineyards, but based on my tasting of the remarkable 2012 Pinot Noirs, I am going to make a beeline to the winery on my next Willamette Valley visit. The winery's tasting room is open Thanksgiving weekend and a late April open house, otherwise by appointment at 265 S. 5th Street in Monroe. The website is www.broadleyvineyards.com.
Beyond the wines sampled here, there is a 2012 Jessica Pinot Noir (clones 667 and 115 from a protected northeastern mid slope of the estate vineyard, $50), and a 2012 Claudia's Choice Pinot Noir (from the oldest vines in the estate vineyard, $50).