Longplay
I recently visited Todd Hansen, proprietor and grower of Longplay Wine, at his quaint Newberg, Oregon tasting room. Todd developed an interest in wine while serving in the American diplomatic corps in France, Chile and South Africa.
In 2005, Todd bought the 54-acre Lia's Vineyard (re-named after his daughter Lia) that had formerly been part of Rex Hill's Jacob-Hart Vineyard. Rex Hill changed ownership and parts of the Jacob-Hart Vineyard in the Chehalem Mountains was sold to Todd and Olenik Vineyards, with Rex Hill retaining ownership of some of the vineyard. Neighboring vineyards include J. Christopher's Appassionata Vineyard and Adelsheim's Quarter Mile Lane Vineyard. The vineyard is about four miles northwest of Newberg.
Lia's Vineyard plantings originally date to 1990, with subsequent plantings in 1993, 1999-2002 and 2009. The dry-farmed vines include 25 acres of Pinot Noir (eight clones of Pinot Noir: 114,115, 667, 777, "828," Pommard, Wädenswil and Mariafeld), and a little over 2 acres of Wente clone Chardonnay. The original (1990 & 1993) Pommard, Wädenswil and Wente Chardonnay are own-rooted and subsequent plantings of these clones and selections were propagated from own-rooted cuttings. Soils are primarily Jory with a transition to sedimentary around the 400 foot contour. Elevation ranges from 380 to 560 feet.
Longplay is a three-man operation, with Todd doing the marketing, sales, compliance and farming, Javier Marin, owner of JM Vinegrower LLC, (the long time ex vineyard manager at Shea Vineyard) managing the vineyard, and winemaker Jay Somers of J. Christopher wines crafting the Longplay wines at his facility across the street from Lia's Vineyard. Aron Hess was the winemaker from the inaugural vintage in 2007 until 2010, replaced by Jay Somers with the 2011 vintage. Somers shepherds the Longplay wines with Todd's decision making input, and as such, Longplay wines are distinct from J. Christopher wines.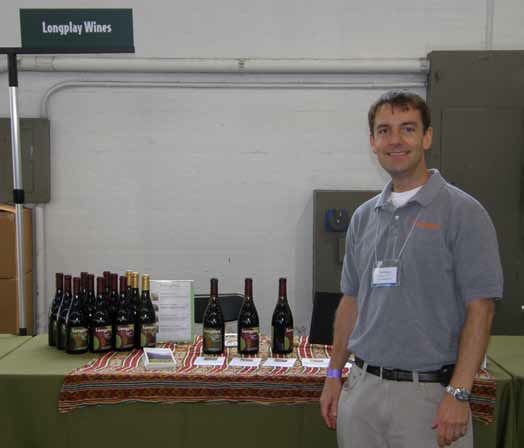 Todd is a vinyl LP fan and a graphic of a record on a turntable is displayed on his labels. Todd's philosophy and analogy between wine and music is explained in detail on his website and reveals the insight into the label's name. He emphasizes that his wines take an old school approach, meaning "analog wine for a digital world."
All Longplay wines are estate grown. Commercial yeasts are avoided with Pinot Noir but used with Chardonnay, and there are no additives used. Sugar and acid adjustments are employed when necessary. Chardonnay is fermented in neutral oak barrels and Pinot Noir in 25% or less, usually 15%, new French oak barrels. 80% of the estate vineyard fruit is sold to other vintners, including White Rose Estate, Seven of Hearts, J. Christopher and Patricia Green.
Todd staffs the Longplay Tasting Room himself Fridays, Saturdays and Sundays from 11:00 to 5:00. Other days and times can be arranged by appointment. Special openings and events are listed on the website at www.longplaywine.com. The wines can also be acquired online through the winery's website store.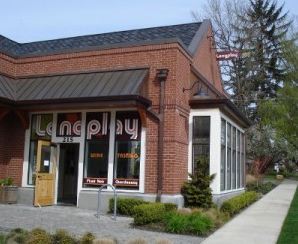 I tasted a number of Longplay wines with Todd from the 2011 and 2012 vintages, two markedly different growing seasons that resulted in contrasting wines. The Longplay wines are quintessential Willamette Valley in character, with modest alcohols and extraction, bright acidities, and subtle nuances. The winemaking at least gives the vineyard a chance to express itself. The wines are modestly priced and are particularly suitable for accompanying food. The 2012 wines will be released in early 2015.