Demystifying Whole Cluster
Eric Hickey, the winemaker at Laetitia Vineyard & Winery in California's Central Coast has employed whole cluster fermentation for about a decade and has crafted some impressive whole cluster fermented Pinot Noirs. Recently, Hickey discussed the use of stems in winemaking in a release that I thought should be passed along.
As most readers know, whole cluster fermentation involves the use of the entire bunch or cluster of grapes, including the stem, in alcoholic fermentation. The winemaker can vary the amount of whole clusters included in the fermenter. The goal is to tone down fruit characteristics and add another dimension to the wine.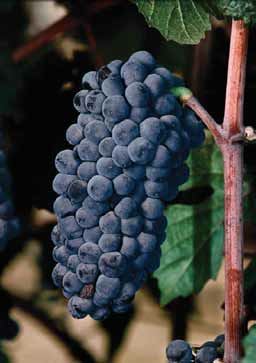 In Burgundy, whole cluster fermentation has been used for centuries, at least in part due to the convenience of tossing entire bunches into fermenting vessels and the lack of de-stemmers. The hallmark of whole cluster wines, a signature burnt tobacco note entwined with fruit aromas and flavors, became synonymous with Pinot Noir from the Old World.
New World winemakers have used this method for many years, but fruit-driven and de-stemmed Pinot Noir became popular in the 1980s and 1990s. Today, many winemakers are moving away from "pure-fruit" Pinot Noir by fermenting clusters whole to impart complexity, tannic grip, and a lift on the palate.
Hickey currently uses anywhere from 30% to 70% whole clusters in a given batch with the remainder made up of de-stemmed grapes. The use of whole cluster fermentation began as an experiment for Hickey, and he found through trials over the years, that specific clones and sites do best with whole cluster fermentation. In the 2012 vintage, Hickey used clones 115 and 2A for a 100% whole cluster Pinot Noir. He notes that there is an extra layer of structure in whole cluster fermented Pinot Noir wines, and "when it's at its best, there is a dusty chalkiness to the mid palate."
Hickey leaves the intact bunches to rest in the fermenter rather than crushing them immediately. This anaerobic environment allows fermentation to begin within each individual berry as yeast penetrates the skin wall under the pressure of carbon dioxide, a process called carbonic maceration. "When fermentation takes place inside the berry, you tend to get very high levels of delicate red fruit and floral aromas," said Hickey. "In the case of the whole cluster technique, the high fruit tone is a good counter balance to the earthy tobacco characters the stems provide."
Consumers have been enamored by whole cluster fermented Pinot Noir. Hickey says, "It usually appeals to those who prefer a Pinot Noir with more power, structure and less pure red fruit on the nose.
The 2012 Laetitia Whole Cluster Pinot Noir is currently offered at $40. Visit www.laetitiawine.com.
2011 Laetitia Estate Whole Cluster Arroyo Grande Pinot Noir
14.7% alc., 330 cases, $40. 45% whole cluster during maceration and fermentation. · Moderate reddish purple color in the glass. A captivating nose alive with scents of rose petals, red plums, cherries, peppery spice and slight stem. The flavors are echoed on the mid weight palate with hints of conifer, stem and oak vanillin in the background. The fruit is nicely married to soft tannins and the wine finishes with good generosity. Score: 90

2012 Laetitia Estate Whole Cluster Arroyo Grande Pinot Noir
14.2% alc., pH 3.78, TA 0.59, 420 cases, $40. 45% whole cluster maceration and fermentation. Aged 11 months in 50% new French oak barrels. Previously reviewed April 19, 2014 and notes are from that review. · Moderate reddish purple color in the glass. You better be sitting down when you drink this knock out wine. Copious aromas of black cherry, spice, rose petal and other exotic flower scents. Reminds me of a classy woman's perfume. Seamless and sensual on the palate, offering a festival of spice black cherries and black raspberries with perfectly integrated tannins and acidity, and a long, supple finish that leaves an impression. Everything good about whole cluster is exemplified in this beauty that has that magical je ne sais quoi that makes people go ga-ga over some red Burgundies. Score: 95