Lucienne: Very Special Pinot Noir from the Santa Lucia Highlands
Lucienne is an estate winery within the Hahn Estates umbrella of wines launched with the 2005 vintage. Owned by Nicolaus Lucien Hahn, the winery's name is derived from two sources - Nicky Hahn's middle name Lucien, but in the feminine form to honor the mountain range where the vineyards are located, Santa Lucia. The Santa Lucia Mountain range was named by Spanish Padres who came to California to build a series of missions in the eighteenth century. The padres probably saw the luminescence of the mountain range and called it Santa Lucia (lucia is from the Latin root lux meaning light).
The goal at Lucienne is to produce premium Pinot Noir in small lots from special blocks of exceptional estate vineyards. The inaugural release in 2005 included a Santa Lucia Highlands appellation bottling and a Lone Oak single vineyard designation. Doctor's Vineyard was soon added as a vineyard-designate and in 2012, four vineyard designated Pinot Noirs were offered from Lone Oak, Doctor's, Hook and Smith vineyards, as well as a Lone Oak Vineyard Chardonnay. The location of Doctor's and Lone Oak vineyards is seen in the map below.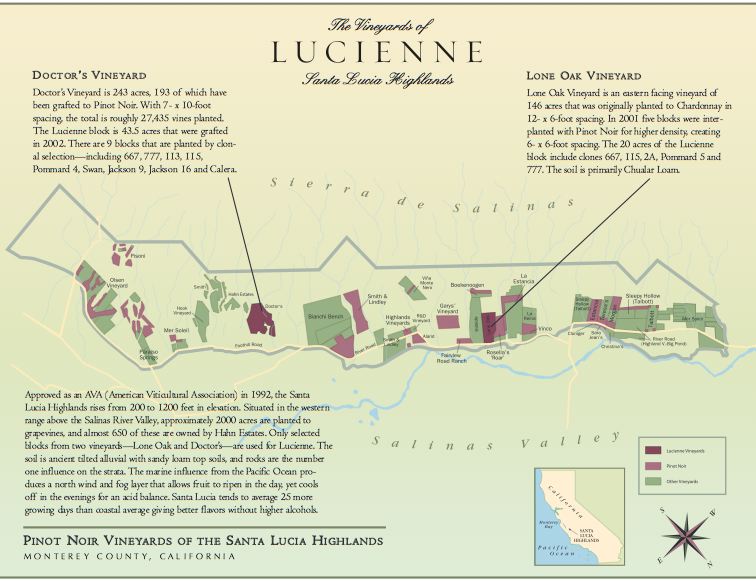 The winemaker since the inaugural Lucienne release has been Paul Clifton, the Director of Winemaking and General Manager at Hahn Estates. Paul grew up in the Monterey Bay area and came to wine from a firefighting career. In 1996, his pursuit of becoming a professional winemaker began at Bernardus Winery in Carmel Valley where he was mentored by Don Blackburn, a well-known Pinot Noir vintner who has passed away. Paul worked his way up the ladder at Bernardus, from cellar rat to cellarmaster. In 1999, he became the assistant winemaker at Byington Winery in the Santa Cruz Mountains. To further his knowledge of cool climate viticulture, he attended Lincoln University in New Zealand and received a postgraduate degree in viticulture.
Upon returning to the United States in 2003, he began working at Hahn Estates with winemakers Adam Lazarre and Barry Gnekow. In time, Paul became the Director of Winemaking at Hahn Estates and brought the winery's Pinot Noir program into prominence. His current winemaking assistant is Greg Freeman.
Paul is rather shy and unassuming and he underplays his considerable accomplishments. A peek inside his personality is revealed in the "Winemaker Up Close & Personal" feature at the end of this issue.
The consistent winemaking processes in crafting the Lucienne vineyard designates are fermentation in small open-top tanks, an initial 3-day cold soak, gentle manual punch downs, and free-run press off the skins.
The four Lucienne Pinot Noirs reviewed here are available from the winery's website store at www.luciennevineyards.com. The wines can also be tasted at the Hahn Estates tasting room in Soledad which is open daily. These are beautifully crafted wines that will find fans among those who seek out well-endowed and ripe-fruited Santa Lucia Highlands Pinot Noir. The wines strut out plenty of charming, sweet fruit propelled by modestly high alcohols, a reflection of the 2012 vintage.
2012 Lucienne Smith Vineyard Santa Lucia Highlands Pinot Noir
14.5% alc., pH 3.80, TA 0.63, 1,149 cases, $50. This vineyard is south of Doctor's Vineyard and at a higher elevation is less affected by early morning fog than any of Hahn's vineyards. Clones are Calera, Jardini and Mt. Eden. Harvest Brix 26.2º. Aged 12 months in 42% new French oak barrels. · Moderately light reddish purple color in the glass. Very appealing scent of dark red strawberries, blackberries, black currant and spice are echoed on the palate which is very polished. This wine is silky smooth and seductive, with impeccable oak integration. The finish is the most generous and lengthy of all the four 2012 Lucienne Pinot Noirs. I would rate it even higher, except for a slight sense of heat on the finish. Score: 92
2012 Lucienne Doctor's Vineyard Santa Lucia Highlands Pinot Noir
14.5% alc., pH 3.78, TA 0.63, 640 cases, $50. This vineyard consistently produces the most robust fruit that translates into wines that show intense dark fruit flavors and significant tannins. Clones are Jack 16, 777 and 667. Aged 13 months in 50% new French oak barrels. · Moderately deep purple color in the glass. The initially shy nose becomes more exuberant over time offering aromas of dark berry compote, black cherry, black currant and oak-driven toast and vanilla. The wine offers the most intensely sappy fruit in the 2012 lineup, with pleasing flavors of blackberry, black cherry and black currant. The tannins are well matched and supportive, and the mouthfeel is smooth and accommodating. The wine becomes more expressive over time in the glass. When tasted two days later from a previously opened and re-corked bottle, the wine was still aromatic with plenty of slightly spicy and smoky berry and cherry fruit, and a silken smooth texture. Score: 92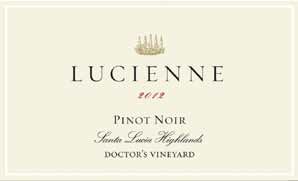 2012 Lucienne Lone Oak Vineyard Santa Lucia Highlands Pinot Noir
14.5% alc., pH 3.76, TA 0.60, 588 cases, $50. Clones are 667, 115 and Pommard 5. Harvest Brix 27.5º. Aged 13 months in 40% new French oak barrels. · Moderately light reddish purple color in the glass. Comforting aromas of cherry, strawberry, red currant, wilted rose petal and sandalwood. A bit lighter in weight, featuring redder fruits including strawberry, cranberry and cherry. Smooth in the mouth and on the finish, with plenty of oak at play in the background. Score: 90
2012 Lucienne Hook Vineyard Santa Lucia Highlands Pinot Noir
14.5% alc., pH 3.85, TA 0.60, $50. The first Hook Vineyard designate.The farthest south of Hahn's four SLH vineyards. Clone 115. Aged 14 months in 40% new French oak barrels. · Moderately light reddish purple color in the glass. Hi-tone aromas of black cherry, strawberry, cardamom spice, and subtle smoky oak. Mid weight flavors of red and black cherry, raspberry, plum and red licorice really explode over time in the glass. A riff of smoky oak adds support, the tannins are nicely balanced, and the mouthfeel is silky. Plenty of sweet fruit surfaces on the generous finish. Still flavorful and soft on the palate the following day from a previously opened and re-corked bottle. Score: 91