A New Wave of Outstanding Print Wine Magazines
Who says print is dead? Just when many magazines are being discontinued, newer, more sophisticated and informative print publications are appearing. Regarding wine, the standbys have been Wine Spectator, Wine Enthusiast, and Wine & Spirits.For my money Wine & Spirits offers the most interesting reading not burdened down by pages and pages of ads and lists of scored wines you never heard of or will never try. The newest issue of Wine & Spirits concentrates on the art and science of wine tasting and is very well composed.
There is a new breed of wine publication that has grabbed my interest lately by offering accomplished writers, timely topics of interest, as well as in-depth articles of historical importance, and less emphasis on scored wine reviews. Following is a summary of the wine magazines that I can highly recommend, and ones that I keep on my bookshelf for reference.
Alquimie Now released is Edition Three of this superb publication. Published in Australia, but distributed worldwide, each edition is essentially a book of well over 160 pages with very little advertising clutter. As I noted back in April, Alquimie is both educational and philosophical, enticingly readable, beautifully photographed, and graphically designed with flair. Published four times a year under the direction of Editor-In- Chief Joshua Elias, Alquimie's core of wine articles are the heart and soul of the magazine but there are other horizons of food and drink that are explored as well. In the latest issue, along with a superb story, "Cerasuolo di Vittoria - A Cherry in the Wilds of Siciliy," about a trip to explore the wines of Siciliy, there is an article titled, "Roast for a Season, Drink for a Year," that portrays acclaimed coffee enthusiast James Hoffman and his journey from office monkey to word barista champion. Every time I receive a new edition of Alquimie in the mail, I excitedly sit down with a glass of good Pinot Noir, and read my heart out. For me, the writing is more grounded and understandable than some of the esoteric ramblings in the English (UK) version of this genre, The World of Fine Wine. Subscriptions to Alquimie are $100 for four editions including worldwide postage and handling. Visit www.alquimie.com.au. ★ ★ ★ ★ ★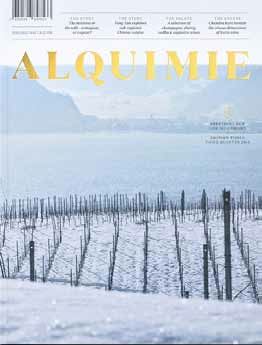 The SOMM Journal This journal is a reincarnation of the discontinued Sommelier Journal now owned by TPM Custom Publishing. The original journal suspended operations on October 25, 2013, and is now rebranded as The SOMM Journal. The new editorial board includes renowned wine writers, sommeliers and wine authorities including Editor-In-Chief Anthony Dias Blue and Editor-At-Large Randy Caparoso. The first issue was published in the spring of 2014. Although this is primarily a hospitality industry publication and covers artisan spirits, coffee, tea and food trends as well as wine, there is much to hold the attention of wine enthusiasts. The latest August-September issue has features on Sicily and its rising wine industry, the South West France AOP of Saint Mont, Jordan Winemaker Rob Davis, the wines of Crete, the wines of Ribera del Duero, vintners tackling challenges in South Africa, the women winemakers of Ferrari-Carano, and the determination of Texas vintners. Reports on SOMM camps, where groups of sommeliers spend dedicated time to certain wine regions, allows the reader to live vicariously through vivid reports. Consumer subscriptions are $52 per year. The digital format can be accessed free at www.sommjournal.com. ★ ★ ★ ★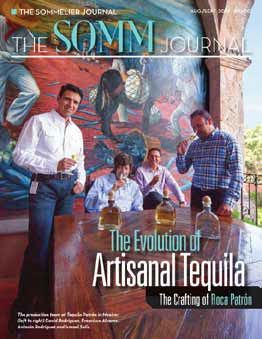 The Tasting Panel This wine journal is published by the same company as The SOMM Journal and the Editor-In-Chief is also Anthony Dias Blue. The majority of the articles are one page in length, covering a wide range of topics related to wine, beer and spirits. There are food and cocktail recipes, wine reviews by Anthony Dias Blue and others, and a fair amount of whole page advertising of alcoholic beverages. In the latest issue, I was most interested in the short articles related to wine that included features on Stony Hill Vineyard, Artesa winemaker Mark Beringer, Cuvaison winemaker Steve Rogstad, and Sanford winemaker Steve Fennell. Consumer subscriptions are $36 per year. The digital format is available free on the website at www.tastingpanelmag.com. ★ ★ ★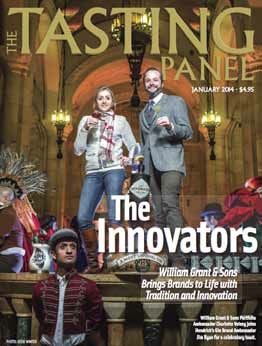 Other print wine publications I can recommend include Oregon Wine Press (★ ★ ★ ★) and The World of Fine Wine (★ ★ ★ ★ ★).
There is one relatively new online wine magazine worth mentioning called Grape Collective at www.grapecollective.com. Weekly emails offer articles from a host of contributing writers including Senior Editor Dorothy J. Gaiter who conceived and wrote The Wall Street Journal's wine column, "Tastings," from 1998 to 2010 with her husband John Brecher. The online journal tells the stories behind the bottles and allows readers to buy the wines that are written about right on the website: a mixture of journalism and commerce. All wines covered have to be available for purchase by Grape Collective from a wholesaler. I recently read with interest an article about the women winemakers of Burgundy. ★ ★ ★ ★