Australia Pinot Noir Needs No Bush
Every wine drinker with even rudimentary wine knowledge can recite the popular and noble varietals of Australia that include Shiraz, Cabernet Sauvignon, Semillon, Riesling, Chardonnay and "stickies" (Tokay and Muscat), but few know of or have even tasted Australian Pinot Noir. Although 60% of Australian wine is exported, the small production of Australian Pinot Noir is eagerly consumed by the country's insatiable wine drinkers and very little ever reaches our shores. About 50% of all Pinot Noir produced in Australia is sold directly to consumers at wineries' tasting rooms (called "cellar doors" in Australia) or through a mailing list, with the balance evenly divided between restaurants and wine retailers.
Pinot Noir has been grown in Australia since 1834 when plantings were established in southeast Australia (southern Victoria) using cuttings brought to the region from Tasmania. By 1890, Victoria produced more than 50% of Australia's wine, with some of the annual output blended and shipped abroad under the name of "Australian Burgundy." Phylloxera devastated the wine industry by 1920, and recovery was led by fortified wines and plantings of classic French varieties in the 1970s and 1980s. Sporadic successes with Pinot Noir appeared in the 1970s, but some plantings were situated in warmer climate sites resulting in wines with stewed flavors that mirrored the early experience with Pinot Noir in the United States.
With time, several iconic Australia Pinot Noir wineries emerged including Bannockburn, Bass Phillip, Bindi and Giaconda, all of which were located in the cooler microclimates of Victoria, particularly in the regions in the "Dress Circle" of Melbourne, including Geelong, Macedon Ranges, and South Gippsland. Several prominent Pinot Noir produces also gained notoriety in the Mornington Peninsula, the most southerly region for Pinot Noir in Victoria, where plantings were first established in the 1980s.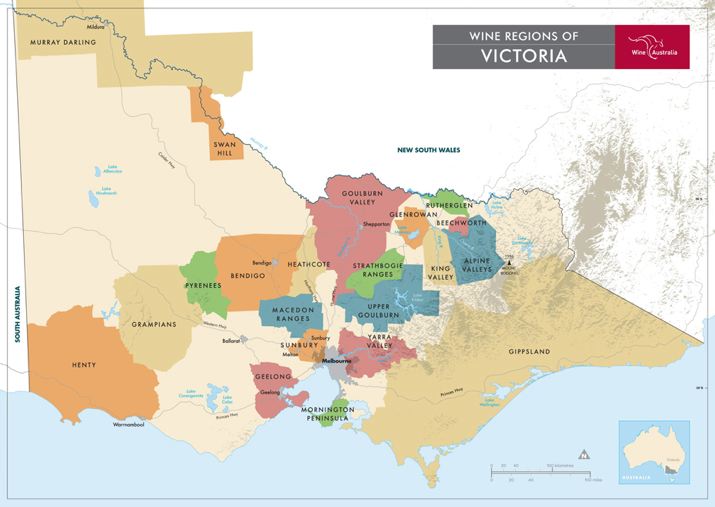 The Mornington Peninsula growing region is of special interest because the area's unique maritime climate is similar to Burgundy's humid climate, providing an extended autumn with a relatively late harvest so that grapes ripen fully with high natural acidity and fine tannins. The Mornington Peninsula is surrounded by water resulting in relatively high summer humidity. The vineyards benefit from low vine stress, abundant sunshine hours, and plentiful rainfall during the winter and spring (growing season rainfall is 12.5-15.2 inches). Heat degree days from October to April are 1080-1570.
Today, the Mornington Peninsula has more than 200 vineyards, most of which are less than 10 acres, and over 50 wineries with cellar doors. Although Chardonnay, Pinot Gris and Shiraz have a small presence, Pinot Noir is the Mornington Peninsula's signature wine. The Victoria region is the largest producer of Australian Pinot Noir by far, with the Mornington Peninsula having the most Pinot Noir vineyard acreage at about 2,300 acres. and annual production of about 160,000 cases (depending on vintage).
In Australia, there are 16 significant clones of Pinot Noir planted, most on their own roots. The most common clone is one unique to Australia known as the "Mother Clone," and designated MV6. It is said to have come from Clos Vougeot, and has a floppy canopy, small bunches and berries, concentrated plumy and meaty characters, and very good structure. It performs well as a stand-alone clone as well as a foundation clone in blends. Other clones include D2V5 (UC Davis origin, aka Wädenswil or UCD 1A), D5V12 (UC Davis origin, aka UCD 20), GSV15 (UC Davis origin, aka D2V6), G8V7 (UC Davis origin, aka UCD 15), H7V15 (UC Davis origin, aka UCD 22), 8048 (UC Davis origin, aka Wädenswil or UCD 2A), G8V3 (UC Davis/Swiss origin, aka UCD 14), Mariafeld (UC Davis/Swiss origin, aka UCD 23), 18GM (German origin, aka UCD 13), Pommard (UC Davis origin, aka UCD 5 and UCD 6), and Dijon clones 114, 115, 386, 521, 667, 777 and "828" (UC Davis/ Dijon Burgundy origin). The Davis clones were used in many of the early Pinot Noir vineyards, while the Dijon clones make up most of the newer plantings.
Trellising is most often vertical shoot (VSP), although quite a few growers use some form of Lyre or Scott- Henry. Most vineyards yield between 2 and 3 tons per acre. Very little irrigation is used once the vines are established to promote deep root systems and the roots can go very deep. With small producers, most of the vineyard work is hands-on by the owners who perform pruning, trimming, leaf pulling, shoot thinning and spraying, while teams of Asian immigrants farm larger vineyards. Few producers use biodynamic principles. Harvest runs from the end of March to early June annually.
Richard McIntyre of Moorooduc Estate defined the typicality of Pinot Noir from the Mornington Peninsula. "There are two main unofficial sub regions of the Mornington Peninsula. The more northerly sub region ("down the hill") is warmer and drier with poorer, soils, and the more southerly sub region ("up the hill") is at a higher altitude and cooler. The best wines from both sub regions have complex aromatics, good mid palate weight and length and fine tannins. The primary fruit aromas and flavors are in the spectrum of cherries, raspberries and plums with the "up the hill" wines tending to red fruits and the "down the hill" wines to darker fruits. Savoury complexity is common, and as vine age increases, we are seeing more tannic structure in the wines, to an unusual degree for new world Pinot Noir. In terms of longevity, the almost universal use of screwcap closures do not allow the ingress of significant amounts of air into bottles, meaning there is virtually no inconsistency and premature oxidation of the wines. One would expect the more recent Pinot Noirs to live ten to fifteen years."
A map of the Mornington Peninsula with soil types and locations of several of the wineries whose Pinot Noirs are reviewed in this issue follows (available for download at www.mpva.com.au). Soils are mainly either sedimentary or volcanic basaltic, the latter holding water much better and eliminating the need for irrigation. As you can see from the map, the "Down the Hill" more northerly region has primarily sedimentary soils and the "Up the Hill" more southerly region has mainly volcanic soils.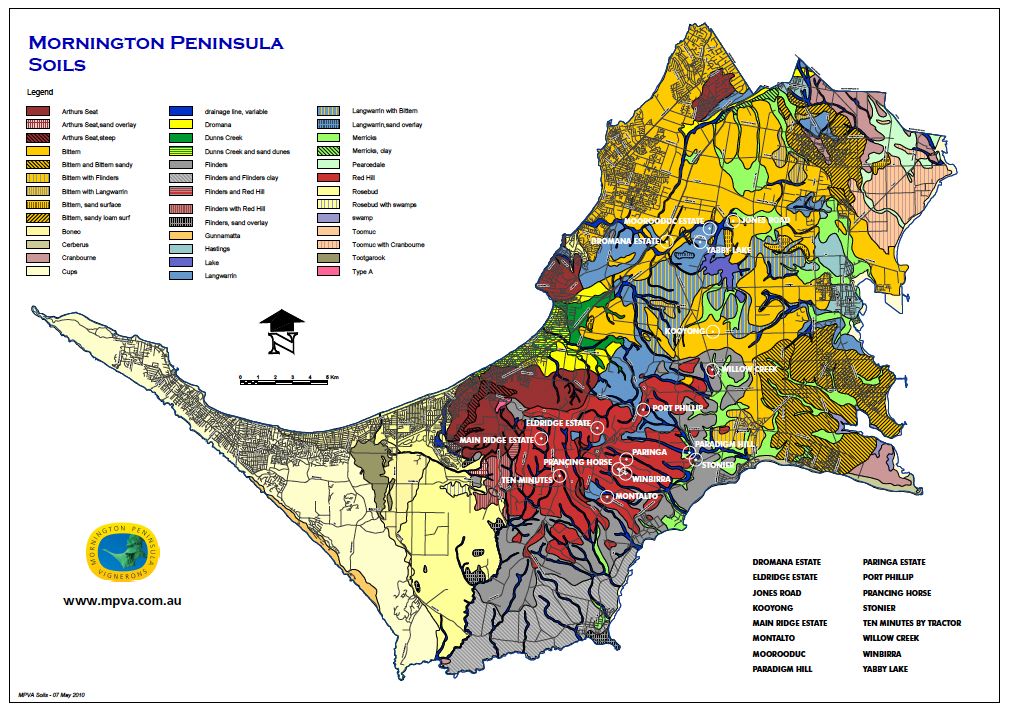 The biggest challenges to growing Pinot Noir in Victoria are birds (netting is required), cool snap at flowering causing poor fruit set, frost in some areas, and rain at harvest. A concern is the uncertainty about climate change. The climate in recent years has been warmer than ten to fifteen years ago which has improved wine quality, yet further significant warming could be problematic.
Winemaking in the Mornington Peninsula is traditional with most vintners using the same de-stemmer that allows whole berry fermentation. Both air bag and hydraulic basket presses are employed. Most wines are made from de-stemmed grapes although small amounts of whole cluster are added to some wines. Fermentation is usually with indigenous yeasts and is carried out in stainless steel or plastic open top vats. Elevage is in French oak barrels of which about 30% are usually new and from multiple coopers (Kooyong uses only Francois Frères). About half the vintners inoculate for malolactic fermentation in barrel. Most wineries use mobile bottling lines.
My good friend, David Lloyd, the proprietor and winemaker of Eldridge Estate in the Red Hill region of the Mornington Peninsula, collected a baker's dozen of 2012 Pinot Noirs from the Mornington Peninsula region and we tasted most of the wines together recently while he was visiting the United States (note the photo below). The 2012 vintage was comfortable for growers who experienced little disease pressure. James Halliday, noted Australian wine critic, said, "I cannot remember a vintage having received such hyperbolic praise right across the board, covering all regions and all varieties, as there is for 2012. The only sour note is the low yields, seldom less than 20% below average, and for some half of the average." In the Mornington Peninsula harvest occurred from late February to early April in 2012.
David points out, "We have a large number of vineyards in a relatively small region that show a large diversity of wine styles due to their location and soil type." Our tasting of the 2012 Pinot Noirs did reveal some overall consistency with the wines exhibiting a richness of fruit, evident tannins ranging from mild ("lovely" was David's term) to muscular ("rippy" was David's term). There was often a savory component, oak was rarely prominent, balance was usually impressive, and the wines evolved beautifully over time in the glass. Some of the wines showed more effusive aromas and flavors after a day or two from previously opened and re-closed bottles indicating they will have significant longevity. All wines have screwcap closure except Hurley Vineyard (DIAM cork). Overall, the wines were gnarly. Many of the wines have been released in the past 3 months. Retail prices range from $40 to $70 American dollars. Very small amounts of Bass Phillip, Bindi, Eldridge Estate, Giaconda, Kooyong, Moorooduc Estate, Paradigm Hill and Yabby Lake are exported to the United States.
The Mornington Peninsula has its own International Pinot Noir Celebration modeled after Oregon's International Pinot Noir Festival. The next Mornington Peninsula International Pinot Noir Celebration will be held February 6-7, 2015, at RACV Cape Schanck. The keynote speaker will be Tim Atkin MW. The event includes two days of tasting Pinot Noir as well as lunches and dinners at various wineries, and a program of activities in the days pre and post Celebration. For information, visit www.mpva.com.au.
"Down the Hill"
"Up the Hill"
Two more aged treats from Eldridge Estate:
2006 Eldridge Estate Single Clone MV6 Mornington Peninsula Australia Pinot Noir
14.0% alc.. · Moderately light reddish purple color in the glass with no sign of aging. Fresh and bright aromas of cherry and red plum initially, fading a bit in the glass over time with more oak showing up. Light to mid weight flavors of cherries and raspberries with a hint of spice and mushroom. Very elegant with supple tannins and some finishing length. Drinking beautifully now, but will hold a few more years. Score: 90
2008 Eldridge Estate Single Clone MV6 Mornington Peninsula Australia Pinot Noir
13.6% alc.. · Moderately light reddish purple hue in the glass. Somewhat shy aromas of darker cherries and raspberries. Pleasing middleweight flavors of black cherry and plum with an earthy, savory underpinning. The tannins are fine-grain, the oak plays a flattering role, and the fruit-driven finish lasts and lasts. A charming wine with impressive harmony. Will easily last another 10 years in the cellar. Score: 92