Pinot Briefs —Newsletter 9.47
'Sideways' Ten Years later Santa Barbara County is still feeling the significance of the movie 'Sideways' and local businesses are still promoting it. You can plan a film tour of Santa Barbara at www.santabarbaraca.com, where a self-guided tour brochure is available that spotlights locations from the feature film. A 10th Anniversary screening of the movie will be at the historic Arlington Theater on State Street in Santa Barbara on September 28. Share your 'Sideways' tips, tweets and photos by using the hashtag #Sideways10 on Facebook, Twitter and Instagram.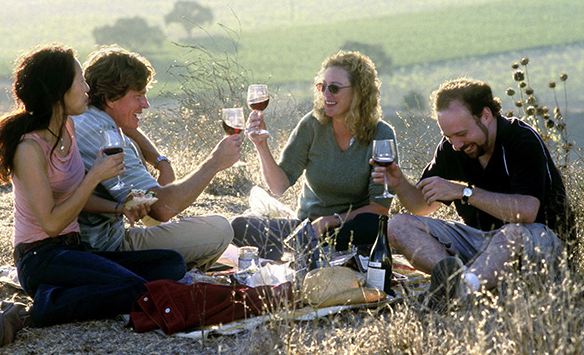 Winery Geek App This mobile App has a huge database of more than 2100 California Wineries and tasting rooms. It allows one to search wineries by varietals poured or winery amenities, and includes discount coupons, maps, directions, pictures and videos. Available free for iPhone or android systems at the Apple iTunes store.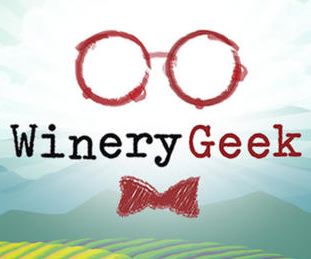 Wine Science Extra Jamie Goode has just published a e-book companion to his book, The Science of Wine. The revised version of The Science of Wine was published this year but some material could not be included. The Wine Science Extra is a collection of chapters covering some interesting topics in wine science that form a supplement to the hard bound book. Chapters are included on global warming and its implications for viticulture, naturalness in wine, corks, screwcaps and alternative closures, wine allergies, extending lifespan by drinking wine, and the future of wine science. It is available as a downloadable pdf or via Kindle for $9.
Willamette Valley is Place if You Still Want Into the Pinot Noir Game I was perusing some listings of vineyard homes and wineries for sale in the Willamette Valley and was astonished how affordable these properties still are. One example is a 32.8-acre property in the Eola-Amity AVA with 17 acres of mature vineyard, a custom cottage and outbuildings for $1.3 million. Another example is a 40-acre estate with 12 acres of Pinot Noir and Pinot Gris, architect designed home, guest quarters, studio, office, shop, and 8 16 additional plantable acres all for $2.4 million. Visit www.oregonvineyardland.com or www.oregonvineyardsandwineries.com, and swoon over the possibilities.
Moshin Vineyards Celebrates 25 Years When the Moshin family harvested their first fruit from a 10-acre vineyard on Westside Road in the Russian River Valley in 1989, several tons were sold to Davis Bynum Winery where Rick Moshin was custom crushing his inaugural vintage under the Moshin label of a few hundred cases. Since then, the vineyard holdings have increased to 28 acres, case production is up to 8,000 cases annually, and a thriving 4-tier gravity flow winery and tasting room is staffed by 20 team members. Moshin Vineyards is celebrating this occasion with a special 25% discount on all case purchases of all wines during September. Use promo code 25ANNV on the winery's website at www.moshinvineyards.com.
Three Sticks Winery Opens The Adobe Renovation of this historic Vallejo-Castenada Adobe has been completed and will be the new home of Three Sticks in downtown Sonoma. The building was constructed in 1842 for Captain Salvador Vallejo and is one of the few remaining buildings from California's Mexican period. Tasting appointments are available by reservation. Visit www.threestickswines.com.
Knudsen Vineyards Releases First Wine in Almost 40 Years The adult children of Oregon wine pioneer, Cal Knudsen, have revived the Knudsen name in winemaking, and are releasing the 2012 Knudsen Vineyards Dundee Hills Pinot Noir. Cal and Julia Lee Knudsen acquired a 200-acre property in the Dundee Hills in 1971, and partnered with Dick Erath to plant Pinot Noir and Chardonnay. Dick built a home and winery next to the Knudsen Vineyard. In 1975, Knudsen Erath became the first bonded winery in Dundee Hills region. After the 1987 vintage, Cal and Dick dissolved their partnership with Knudsen Erath becoming Erath and Cal retaining ownership of the vineyard. Knudsen Vineyards became the major source of grapes for Argyle Winery and until recently, all the vineyard's grapes went to Argyle. The new Knudsen Vineyards Pinot Noir ($55) was crafted by Nate Klostermann, the winemaker at Argyle Winery and is highly allocated through a mailing list at www.knudsenvineyards.com. A Chardonnay will be released in 2015 and possibly sparkling wine thereafter.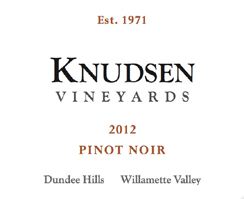 EARLY Harvest Throughout California; Earlier Harvest in Oregon: The growing season began with a very mild winter with nothing to hold back the vines from pushing out new growth. Budbreak was common in early March and even, warm temperatures throughout the spring and summer led to accelerated development and an early harvest. The first grapes were harvested in Santa Barbara County on August 25, the earliest date on record in Santa Barbara County. Drought has not generally been a factor, and crop size is normal to slightly above normal for most vineyards. Conditions have been perfect in the Willamette Valley so and harvest is begun already for white wine grapes with Pinot Noir not far behind. Oregon's hot summer and mild conditions for ambient yeast on the grapes led to an early harvest.
Santa Barbara Vintners Celebration of Harvest Four days of wine and food comes to Santa Barbara Wine Country for the 23rd Annual Celebration of Harvest Weekend, October 10-13. A Vintner's Visa is offered for $50 a person that provides a tasting pass for the weekend at your choice of up to 12 different wineries and tasting rooms from the list of 50 participants. The Festival Grand Tasting will be on Saturday, October 11, at Old Mission Santa Inés, with nearly 120 winery members of the Santa Barbara Vintners pouring at the largest tasting of Santa Barbara County wines of the year. Tickets start at $75 per person with upgrades slightly more. Visit www.celebrationofharvest.com.
Ground Boots Pinot Noir: A Charitable Wine Brand Winemaker Deborah Hall of Gypsy Canyon in the Sta. Rita Hills AVA and artist Donald Roller Wilson have joined forces to launch a charitable brand called "Ground Boots." Hall will donate 100% of proceeds of each bottle of Ground Boots Pinot Noir to nonprofit charities. The first year, the Ground Boots Pinot Noir will benefit Soi Dog Foundation that helps the homeless, neglected and abused dogs and cats of Thailand and works to end the dog meat trade throughout the region. In January 2015, Hall will return to Thailand to work with Soi Dog. 100 cases will be released each year, at a $70 per bottle cost. As a charitable negociant, Hall will purchase the wine herself from some of Santa Barbara County's best winemakers and create the final blend for inclusion under the Ground Boots label. The first released on September 15 will be the 2012 Santa Barbara County Pinot Noir. The label art work for Ground Boots was donated by the world famous and widely loved artist, Donald Roller Wilson. His art is said to be a cross between William Faulkner and Dr. Seuss with a bit of the Old Testament. To learn more, visit www.groundboots.org.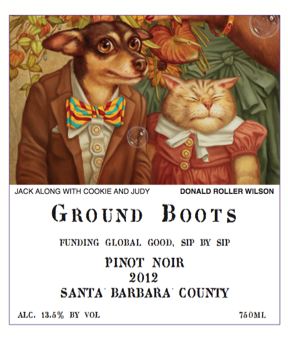 Pinot On The River The 11th Annual Russian River Valley Pinot On The River will be held on the Healdsburg Plaza Sunday, October 26, from 11:00 AM to 4:00 PM. 100 wineries will be pouring currently released and library Pinot Noir at this event which benefits the Boys & Girls Clubs. Tickets are $75 in advance, $100 at the door. Visit www.pinotfestival.com.
Moderate Wine Drinking + Exercise = Health Benefits A current trial called In Vino Veritas was reported at the European Society of Cardiology annual congress in Barcelona. It is one of the first studies to introduce wine into people's lives and track its effects on their bodies. Researchers found that moderate wine drinking was only protective in people who exercised, with red and white wine producing the same results. Among subjects who worked out twice a week and drank wine, there was significant improvement in good cholesterol and decreased levels of bad cholesterol after a year of wine. The study concluded, The combination of moderate wine drinking plus regular exercise improves markers of atherosclerosis (hardening of arteries) suggesting that this combination is protective against cardiovascular disease."
Union Wine Releases Videos Poking Fun at Wine Pretentiousness Union Wine in Oregon sells Pinot Noir and Pinot Gris in 12 oz cans. They have released a series of very humorous ads that poke fun at wine snobs. The videos carry the tagline "wine doesn't have to be this hard," followed by the hashtag #pinkiesdown. View the videos at https://www.youtube.com/watch?v=QPKTLmee9zc.
Architectural Winery Marvels An article called "Architectural Marvels: 9 Temples to Wine in Napa and Sonoma" was published online at www.wheretraveler.com/san-francisco/your-guide-architecture-northerncalifornias- wine-country. Wineries featured in Sonoma County were Buena Vista Winery, Kosta Browne Winery, Ram's Gate Winery, and Williams Selyem. The photographs are beautiful.
West of West Comes to Orange County, California West Sonoma County Vintners is an association of wineries and winegrowers dedicated to preserving and protecting the history, landscape and culture of the West Sonoma Coast. The organization's West of West Festival is held annually in early August in Sebastopol, California, with additional West of West Festivals celebrating the wines of the West Sonoma Coast in other major cities in the United States. This year, a West of West Festival will be held at the Anaheim Honda Center in Orange County, California. Wineries will be pouring their West Sonoma Coast wines and Orange County's top restaurants will be providing pinot-friendly bites. West Sonoma County Vintners includes the following notable producers: 32 Winds Wine, Ceritas Wines, Claypool Cellars, CrossBarn by Paul Hobbs, DuMOL, Emeritus Vineyards, Failla Wines, Flowers Vineyard & Winery, Freeman Vineyard & Winery, Gros Ventre Cellars, The Hartford Family Winery, Hirsch Vineyard & Winery, Holtermann Family Wines, Joseph Phelps Vineyards, La Pitchoune Winery, Lattanzaio Wines, Littorai Wines & Estate Winery, Martinelli Winery, Peay Vineyards, Ramey Wine Cellars, Red Car Vineyards, Senses Wines, Small Vines, Soliste, Sonoma Coast Vineyards, Wayfarer Vineyard and Zepaltas Wines. Tickets go on sale September 22: check back for details or visit the West Sonoma County Vintners website at www.westsonomacoast.com.