Inaugural Knudsen Vineyards Pinot Noir
Established in 1971 by Cal and Julia Lee Knudsen, Knudsen Vineyard is one of the oldest vineyards in the Dundee Hills, and for many years was the largest. The Knudsens developed a 200-acre former walnut orchard, and the Knudsen family has been farming grapes at this location for over 40 years. The oldest producing vines were planted in 1974. Knudsen Vineyards has supplied grapes to some of the most renowned producers of still and sparkling wines in Oregon including Argyle Winery.
In 1975, Cal Knudsen formed Knudsen Erath Winery, a winemaking partnership with Dick Erath, and opened Oregon Bonded Winery No. 52, the first commercial winery in the Dundee Hills on the Knudsen Vineyard site. Dick Erath made Knudsen Erath wines from 1975 until 1987 when Knudsen Vineyards entered into a long term grape purchase agreement with Argyle Winery.
Knudsen Vineyard now spans 228 acres, 130 of which are planted to Pinot Noir (73%), Chardonnay (24%) and Pinot Meunier (3%). The property contains twelve separate blocks across two southeastern facing slopes with elevations ranging from 500 to 1,000 feet, Knudsen Vineyards is Low Input Viticulture and Enology Certified (LIVE) and Salmon Safe certified.
The four offspring of Oregon winegrowing pioneer, Cal Knudsen, released 125 cases of the 2012 Knudsen Vineyards Pinot Noir in September 2014. This is the first proprietary vintage in nearly 40 years. The Knudsen Vineyards Managing Director is Page Knudsen Cowles, who proudly said, "It is an honor for me and my brothers to carry on the vision our parents established for Oregon winegrowing." Knudsen Cowles oversees the property with her three brothers, Colin, David and Cal.
The family works in concert with Allen Holstein, Mark Sheridan and Nate Klostermann of Argyle Winery, to craft their wine. Holstein started his viticulture career as Vineyard Manager at Knudsen in 1980, and today oversees all of Argyle Winery's vineyard properties. Holstein appointed Sheridan as Knudsen Vineyard Manager over 25 years ago. Klostermann joined Argyle Winery in 2005 and was appointed Head Winemaker in 2013.
The family will release a 2013 Knudsen Vineyards Chardonnay in the spring of 2015 and a 2013 Knudsen Vineyards Pinot Noir in the fall of 2015 to mailing list customers. The Knudsen property is not open to the public at this time. Visit www.knudsenvineyards.com to acquire future releases.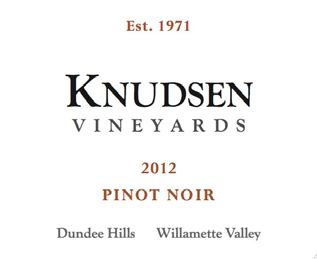 2012 Knudsen Vineyards Dundee Hills Willamette Valley Pinot Noir
13.5% alc., 100 cases, pH 3.42, TA 0.58, $55. Harvest Brix 23.7º. Wädenswil 2A and Dijon 777 clones planted in Jory soil in 2000-2004. Aged 16 months in 10% new French oak. · Moderately light garnet color in the glass. Beautifully perfumed with scents of cherry, sous-bois, spice and sandalwood. Elegant, caressing and comfortable in style, with good depth of cherry, raspberry and strawberry fruit flavors augmented with a riff of savory earthiness. Easy to like, with fine tannins and a satisfying fullness on the finish. The cherry fruit sticks to the finish like glue. Don't be dissuaded by the delicate color of this wine, as it has a pleasing melange of broad flavors. This bottling is reminiscent of The Eyrie Dundee Hills Pinot Noirs in style and character. Score: 92