Pinot Briefs —Newsletter 9.49
More Details on 'Sideways' 10th Anniversary Celebration Weekend Blake Brown, who is well connected in the Santa Barbara area wine community, reported to me on further details of the celebratory weekend commemorating the 10th anniversary of the movie 'Sideways.' A charity auction for Direct Relief International sponsored by the Santa Barbara County Vintners and Jim and Frank Ostini of the Hitching Post, was highlighted by an auction lot that included a reunion dinner at Jim Clendenen's picturesque Rancho La Cuna estate with food prepared by world class chefs, fine wines, and some of the cast attending including Paul Giamatti and director Alexander Payne. The night before the big event, a more informal pig roast took place at the same location. The frozen pig was flown in from Alabama in a body bag by the chef, Nick Pihakis, who prepared it. There were tables of white and red wines from many local vintners, most of whom were in attendance. Wines from Au Bon Climat and Hitching Post were in notable abundance in all bottle sizes: 2001 Au Bon Climat Nuits Blances au Bouge Chardonnay - 1.5L, 1996 Hitching Post Santa Barbara County Chardonnay - 3L, 200 Hitching Post Highliner Pinot Noir - 5L (this wine was featured in the movie), 1999 Au Bon Climat Knox Alexander Pinot Noir - 1.5L, 2003 Au Bon Climat Isabelle Pinot Noir - 1.5L, 2004 Au Bon Climat Knox Alexander Pinot Noir - 3L, 2000 Longoria Bien Nacido Vineyard Pinot Noir - 1.5L, and 2000 Jadot Clos St. Denis - 3L (Clendenen brought this out toward the end of the evening and reportedly was absolutely fabulous.
Brown related an interesting conversation with Giamatti at the reunion dinner which came around to how Merlot was picked to be the villain in the movie. Payne was struggling to come up with an antithesis to Pinot Noir and after much consideration, decided Merlot sounded better than any other varietal. His choice had nothing to do with the varietal itself.
One of the highlights of the reunion dinner evening was a Skype call to Virginia Madsen who was in Budapest working on a movie. It was projected onto a large screen on stage above which the movie 'Sideways' had been playing throughout the evening.
The wines poured at the reunion dinner included: NV Bollinger Special Cuvee Brut, 2009 Clendenen Family Vineyards Stallion Vineyard Sauvignon blanc, 2013 Hitching Post Rosé "Pinks", 2001 Au Bon Climat Nuits Blanches au Bouge Harmony Chardonnay, 2001 Hitching Post Bien Nacido Pinot Noir, 2003 Au Bon Climat Knox Alexander Pinot Noir, 2003 Hitching Post Highliner Pinot Noir, 2008 Au Bon Climat 20 Years in the Shed with Bob Pinot Noir, 2001 Vita Nova "Acronicus" Blended Red Wine, 2001 Hitching Post Purisma Mountain Vineyard Cabernet Sauvignon, 2008 Clendenen Family Vineyards Late Harvest Riesling, and 2009 Hitching Post Late Harvest Gewürztraminer.
Brown commented, "What a night! The entire evening was so well thought out and organized. The service was superb and the wines and food were over the top." Photos follow (Blake left, Giamatti right, signed poster).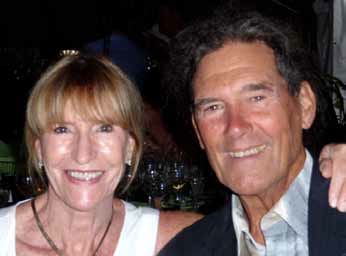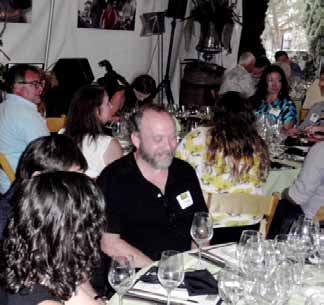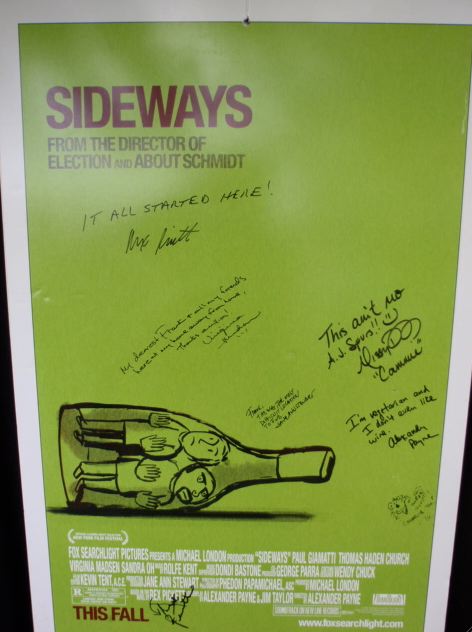 Laetitia Vineyard & Winery Has Gone to Birds Ripening grapes are highly attractive to native and migrating birds like finches and European starlings, and falconry-based bird abatement is proving to be an effective deterrent compared to troublesome bird netting and noisemakers. Lateitia's falconer directs his trained birds of prey to patrol Laetitia's vast estate vineyards. One raptor flown at a time can patrol roughly 400 acres with each flight. While falconry is expensive, it is quiet and environmentally sound.
San Luis Obispo's First 'Urban Wine Collective' Modeled after the urban, industrial-style wineries that have existed in America for more than 150 years, downtown San Luis Obispo's new urban wine collective called The Workshop, offers food and wine tasting for the general public as well as wine production and sales support for artisan winemakers, custom crush clients, and wine hobbyists. The on site lounge pours the winemakers' offerings as well as The Workshop's own wine label, "Vijelante," which is sold through the facility's growler table wine program. Patrons are invited to pick up; a flask to enjoy at home and then return for refills. Visit www.theworkshopslo.com.
The Drinks Business The Global Masters Pinot Noir Competition The Drinks Business is an international drinks magazine. In the past year, the magazine has launched a series of wine competitions focusing on individual grape varieties, and now Pinot Noir has its turn. This judging of Pinot Noir is open to wines from any country and are judged on the quality of the wine rather than its origin. The Global Pinot Noir Masters 2015 will be the second year of the Global Pinot Noir Masters. The results are published in magazine and online format and viewed by over 16,000 trade subscribers and nearly two million yearly website visitors. In addition, the competition receives interest from international importers and distributors. For more information, visit www.thedrinksbusiness.com/the-global-masters-presentation/. The awards categories are: Oaked, Un-Oaked and Sparkling. Judges are only Masters of Wine, Master Sommeliers and Senior Wine Buyers and all judging is blind. For a list of judges, visit www.thedrinksbusiness.com/db-judges/. The competition is seeking participation of Pinot Noirs from the United States. For inquiries regarding wine submissions, contact Chloé Beral at chloe@thedrinksbusiness.com. Deadline for entry is Friday, December 5, 2014.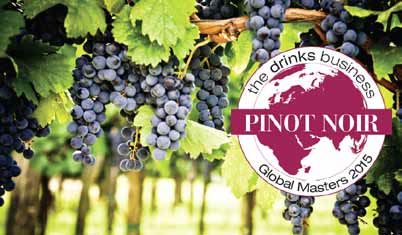 Interesting Infographic on Beer and Wine From CompareCamp.com comes these interesting facts on wine consumption. I have omitted the comparisons with beer but you can view them at www.comparecamp.com/beer-wine-comparison-of-popular-brands/.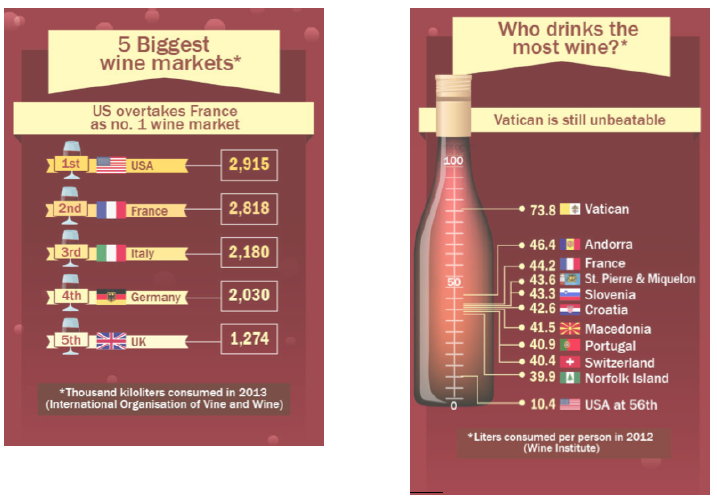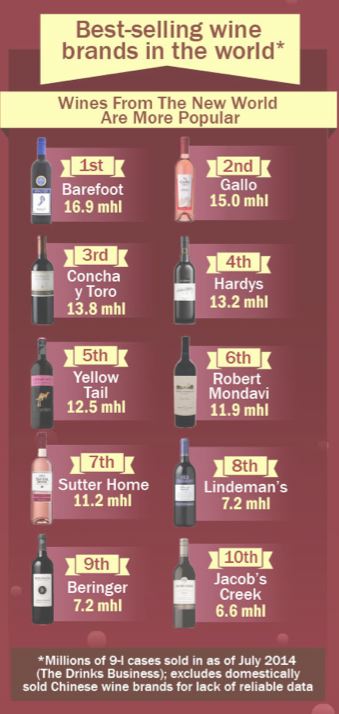 Biddle Ranch Vineyards Opens New Tasting Room A new tasting room has opened at the historic Avila Valley Schoolhouse just off Highway 101. Built in 1907, the two-room schoolhouse sports its original hardwood floors and high windows. Under the direction of head winemaker Ryan Deovlet, Biddle Ranch specializes in Pinot Grigio, Chardonnay and Pinot Noir. The winery is also building a new premier tasting room on its estate vineyard property in the Edna Valley which will open sometime in 2015.
'American Wine Story' Film Now Available Worldwide This film has received many accolades and is required viewing for wine aficionados. It is now available to audiences everywhere on iTunes, Amazon and On Demand in English-speaking territories, and available worldwide at www.americanwinestory.vhx.tv.
Clos Saron Celebrates 15th Anniversary. Clos Saron, a tiny winery in the Sierra Foothills, was established originally because of Pinot Noir and has been the key to the winery's success ever since. On Saturday, November 1, 2014, Clos Saron will host a day of festivities to mark the winery's 15th anniversary. A lunch time picnic lunch in the vineyard will be followed by an extensive afternoon tasting featuring multiple vintages of Home Vineyard, Texas Hill Road Vineyard and Tickled Noir. The tasting will include a mini-vertical of every wine made at Clos Saron, including all new and current releases and multiple library sections. Over 20 wines spanning 15 harvests of relatively rare Home Vineyard Pinot Noir, the very rare Texas Hill Road Vineyard Pinot Noir, and even the super rare Tickled Noir. The day will culminate with a special All Pinot Noir candlelight dinner in the cellar. Guests are invited to bring along a favorite Pinot Noir to share. An all-day pass is only $110. For more information, email the winery at info@clossaron.com or phone 530-692-1080. A link to the winery's 'Yearly Cycle in the Vineyards' photo album as at www.picasaweb.google.com/105209452895396519732/ClosSaronVineyardWinery?authkey=Gv1sRgCP2HiAujz4qmEw&feat=email.