Bouchaine Vineyards: A Winery Steeped in Carneros History
Bouchaine Vineyards is the oldest continuously operating winery in the Carneros district, dating back to 1934. The colorful history of Carneros and the Bouchaine Vineyards property is summarized here. The bold font entries directly refer to the history related to Bouchaine Vineyards.
1834 General Mariano Guadalupe Vallejo of Mexico government arrived in Sonoma to secularize Mission San Francisco Solano, the last of the 21 missions built in California. He also came to free the Indians and distribute the mission lands. Most of the land grants were awarded to Vallejo's relatives or friends, and many were soon subdivided and sold for farmland, leading to the settling of Carneros.
Late 1830s Carneros is maybe the second oldest vineyard area in Northern California when Jacob Leese plant a small vineyard on his Huichica grant. Rancho Huichica was deeded to Jacob P. Leese. It lay west of the Rancho Rincón de los Carneros crossing into Sonoma County. It comprised the bulk of the Carneros district and was used primarily for grazing, vineyards, and dairying.
1836 Nicolas Higuera granted the Rancho Rincón de los Carneros (roughly translated to "sheep corner ranch") and Rancho Entré Napa where Napa City now stands. Higuera was the first to use Carneros for farming and grazing land. The location near the sloughs made it a popular spot to catch a train (Buchli Station) or a boat (Cuttings Wharf).
1840s Influx of American, German, French and Irish settlers who arrived by horse, wagon or foot, traveling through Carneros on the Sonoma Highway that connected Sonoma and Napa valleys.
1846 A group of American frontier settlers (Americanos living in the territory) headed by Major John C. Fremont became dissatisfied with the Mexican government and overthrew General Vallejo's forces in the famous Bear flag Revolt. The revolt lasted 26 days and California was an independent republic for 25 days. A month later, in 1850, California was annexed by the United States and became the 31st state.
1847 Higuera and Leese began selling portions of their ranches to American settlers. Some land was turned into vineyards.
1848 Nathan Coombs founded the City of Napa on land given to him by Nicolas Higuera.
1849 Napa formed as one of the original 26 counties of California.
1850-1860s Stagecoaches traversed Carneros daily on the way from Sacramento to Petaluma. Farmers flocked to Carneros to raise cattle and sheep as well as to grow grains, pears, plums, apples and apricots. Schellville and Buchli railway stations were built to handle the flow of milk, grain, fruit, hay and cattle to San Francisco markets.
1850s Boon (a.k.a. Boone) Fly purchased the current Bouchaine property in the early to mid 1850s. Boon Fly farmed orchards on his land and was the first to grow grapes on the property. Boon Fly was born in Kentucky in 1810 and was the father of Camillus Sidney (Buck) Fly, a renowned frontier photographer. He photographed Geronimo's surrender and his photographs are in the Smithsonian.
1856 Edward Stanly bought 1,600 acres of Higuera's land. Upon his death, he willed the land to nephew Judge John A. Stanly. By 1895, Stanly had at least 300 acres of grapes on his Stanly Ranch, one of the largest vineyards in California at the time, including Zinfandel, Mataro, Pinot Noir, Cabernet Franc, Cabernet Sauvignon, Bedan and Tannet.
Mid 1850s-1870s William H. Winter acquired over 1,300 acres of Huichica Rancho from Leese. By 1872, this was one of the largest vineyard holdings in Carneros (Talcoa Vineyards), and the first winery in Carneros, Winter Winery, was built. The wine industry thrived in Carneros.
1879 James Simonton, the new owner of Huichica Rancho, hired professor of viticulture George Hussmann to manage his Talcoa Vineyards and battle phylloxera. Hussmann eventually developed a resistant rootstock that helped save the Napa Valley wine industry.
Late 1870s and 1880s Phylloxera devastated the Carneros vineyards.
About 1900 Southern Pacific built a station near Boon Fly's property called "Buchli Station," on land owned by John M. Buchle (a.k.a. Bulchi).
1927 Johnny Garetto, an Italian winemaker, bought Fly's property in 1927 and constructed a winery shortly thereafter on the land. He completed the winery and bonded it in 1934 (1935). Garetto's winery was the first post-Prohibition winery to operate in Carneros. The winery survived Prohibition by reputedly bootlegging wine and making sacramental wine. Grapes were sourced from the Stanly Ranch.
1919-1933 Prohibition knelt a deathblow to the Carneros wine industry.
1942 Louis M. Martini bought 200 acres of the Stanly Ranch and with Harold Olmo began extensive Pinot Noir and Chardonnay clonal experimentation in Carneros. The research led to the UCD clone 108 for Chardonnay and UCD clones 12 and 15 for Pinot Noir.
1951 Beringer Vineyards acquired Garetto's property and winery and used the property's building for production and storage until 1981.
1960s This was a decade of new vineyard development by Beaulieu Vineyards and grower Rene di Rosa of Winery Lake Vineyard.
1972 Carneros Creek Winery established by Francis and Kathleen Mahoney, and partner Balfour Gibson. A winery was built in 1973.
1979 Acacia Winery debuted with Larry Brooks and Michael Richmond as winemakers.
1980s Hundreds of acres of vineyards planted in Carneros.
1981 Saintsbury founded in Carneros. Saintsbury was the first California winery to make Pinot Noir totally from Dijon clones.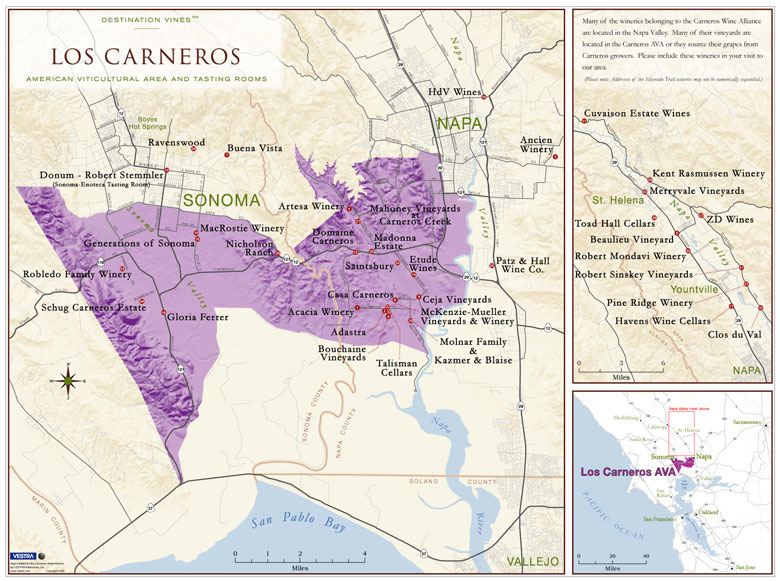 1981 The winery used by Beringer had fallen into disrepair and was sold along with the surrounding 30 acres to a Delaware-based partnership headed by Gerret and Tatiana Copeland. (Gerret Van S. Copeland is an heir of the DuPont family) The winery was renamed Chateau Bouchaine. Bouchaine, or bouchon, is loosely translated from the French meaning cork or a bouchaniere, that was an 18th century person who placed corks in bottles. The first winemaker was Jerry Luper who left in 1986. At the time, only a few winemaking pioneers realized the potential for Pinot Noir and Chardonnay in Carneros. Renovation of the property and dilapidated winery building began and continued for the next two decades. Huge redwood tanks were recycled as a new external facade and internal paneling for the renovated building.
1983 Carneros became an AVA.
1993 The Copelands bought out other partners and renamed the property Bouchaine Vineyards. Renovation of the winery reached completion in 1996.
1997 An additional 60 acres of contiguous land was bought including 2 small knolls that became icons of the Bouchaine estate and part of the label design.
2002 Michael Richmond, a veteran who co-founded Acacia Winery became the winemaker as well as overseeing continued vineyard planting and replanting. 85 acres of estate vineyards now surround the winery. Later, the assistant winemaker became Andrew Brooks, the son of Larry Brooks, the other co-founder of Acacia Winery.
2014 Bouchaine Vineyards is the oldest continuously operating winery in the Carneros AVA.
References: Carneros Quality Alliance, Napa County Historical Society