On the Pinot Trail: Tasting at Bouchaine Vineyards
I visited Bouchaine Vineyards on October 31, 2014, where I was hosted by winemakers Michael Richmond and Andrew Brooks. After a brief historical over view of the property, we headed into the winery for some barrel tasting of 2014 blending component and vineyard-designated Pinot Noirs while discussing at length the evolution of the winemaking process at this winery and the viticultural changes and goals. Bouchaine has the perfect combination of a wily winemaking veteran in Richmond, who still has a bit of a Texas drawl that reveals his upbringing, and a young enthusiastic talent in Brooks, whose childhood was steeped in the geography of Carneros winemaking by father Larry Brooks, the co-founder with Michael Richmond of Acacia Winery (photo below). Greg Gauthier, at one time the National Sales Manager and Winery Production Manager, was the third contributor, working alongside Richmond and Brooks in selecting yeast and barrels and helping to make decisions on when to harvest and management of the vineyards, but he is no longer with Bouchaine Vineyards.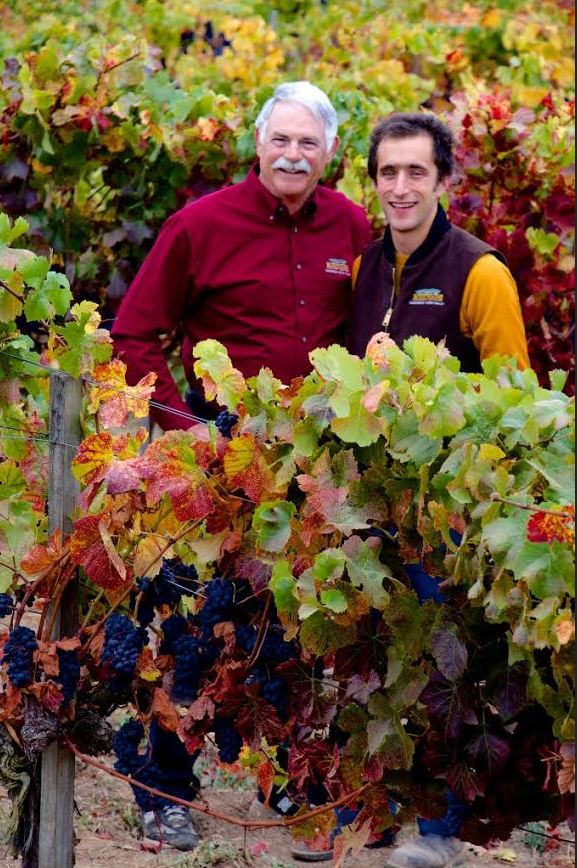 Michael began his career in wine at Freemark Abbey following an eighteen-month cross country bicycle tour adventure after college. He worked in all aspects of winemaking while attending courses in winemaking at University of California at Davis. In 1979, he co-founded Acacia Winery with Larry Brooks and considers this the onset of his winemaking career. Acacia was one of the first California wineries to feature vineyard-designated wines. Michael remembers, "We had all cast our lot with Pinot Noir, which was a much-maligned variety at the time. We dared to take on the doubting wine press."
Michael later helped launch the Steamboat Pinot Noir Conference held annually in Oregon. When Acacia was acquired by the Chalone Group in 1986, Michael spent several years as Chalone's vice president of sales. He returned to winery life in 1993 to manage the new Carmenet Winery where he created the "Dynamite" Cabernet label. While at the Steamboat Pinot Noir Conference in 2002, he heard that the owners of Bouchaine were looking for a general manager and winemaker, and Michael felt a sense of destiny.
Andrew is the son of the well-known Carneros winemaker, Larry Brooks. He grew up around vineyards and wineries and did not consider any occupation other than winemaking. After working at Domaine Carneros, he learned of an opening in the lab down the road at Bouchaine in 2007 and jumped at the chance. Michael groomed him for the winemaking job at Bouchaine, and he told me that Andrew, whose title is associate winemaker, essentially makes the wines now. Andrew admits that he has benefited greatly from Michael's calm demeanor and critical optimism. Andrew notes, "Making truly great Pinot Noir is a lifelong challenge; to make a wine which is charming when it's young but which ages gracefully, is one of the great challenges of winemaking."
Michael is quite humble while admitting his winemaking has constantly evolved throughout his career. When he arrived at Bouchaine initially, the protocol was to make the "richest, darkest, biggest" wines he could, featuring plenty of fruit and very little savory component. This was a response to criticism that the wines had been "wimpy." He used smoky, well-toasted oak barrels that were made fashionable by the late Henri Jayer of Burgundy, giving the wines a bacon fat character. The problem was the wines were interpreted as having smoke taint by consumers who had never tasted Jayer's wines, and the stylistic goal was lost on them.
Michael says that the past several years have seen a gradual change in the Bouchaine Pinot Noirs. Barrel regimens have been instituted to emphasize sweet spice rather than toast. He has backed off extraction slowly and placed less emphasis on picking very ripe fruit. The goal is to uncover the ethereal side of Pinot Noir, find more balance, and uncover vineyard expression. It is ironic that Michael has come full circle since beginning his winemaking career over 30 years ago, returning to many of his original winemaking goals. He jokes, "My whole life has been for naught!"
The current winemaking regimen at Bouchaine includes de-stemming. Stem ripeness in the estate and sourced vineyards is not generally ideal and there is fear that inclusion of stems will enhance the "veggie" flavor that Carneros has been known for in the past. That said, some limited whole cluster trials have been conducted by Andrew. We tasted a 1-ton lot of 100% whole cluster clone 667 and a 1-ton lot of 50% whole cluster clone 777, both of which had striking textural and flavor appeal. The Bouchaine Pinot Noir wines are vinified with minimal exposure to oxygen which causes the wines to be tighter initially, but age longer, fully blossoming at 5 years and beyond. The winery is currently offering the 2010 vintage in their tasting room. The Pinot Noirs are aged 10 to 11 months in 33% new French, Hungarian and American oak. They are minimally manipulated, racked just once, and bottled just before the next vintage.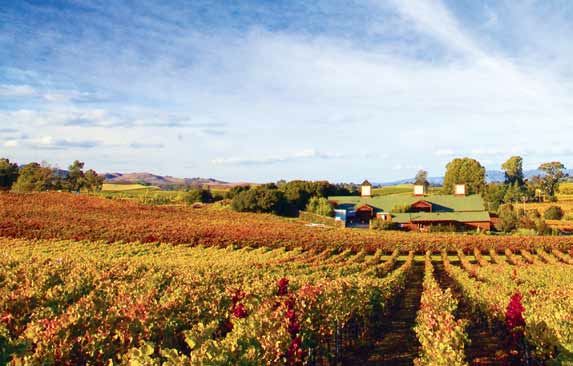 From a viticultural standpoint, farming has evolved as well at Bouchaine since Richmond arrived. Currently, 40 acres of Chardonnay, 40 acres of Pinot Noir, 4 acres of Pinot Meunier, and 2 acres of Pinot Gris and Pinot Blanc are estate grown.
Both cane and cordon pruning are employed because of vintage variability. In some years, cane-pruned vines are more productive, in other years cordon-pruned vines are more productive, and in some years there is no difference. One of the most important changes in viticulture at Bouchaine has been the institution of deficit irrigation near harvest which prevents the grapes from being over stressed. Considering the seminal work of Richard Smart and others, it is now well known that grapes that are stressed at harvest can be under ripe and low in acidity (high pH), requiring sugar to be added. With irrigation, the grapes can be picked based on a choice of ripeness.
There is no attempt to harvest fruit that is equally ripe. Michael believes, "Even ripeness is not what it is all cracked to be." The 2007 vintage, for example, produced even ripeness but the wines did not turn out to be the winery's best and did not age well. In other vintages where uneven ripening occurred, the wines were better off with a mixture of less ripe and more ripe fruit. Generally, earlier picked grapes have more varietal aromatic and flavor typicality but can show green bean and rhubarb notes. Later picked grapes are fruitier but lack regional and varietal character. At Bouchaine, the goal is to hedge their bets by doing both types of picks, but veering more toward earlier picking to capture the aromatics.
I tasted a vertical of Bouchaine Carneros Pinot Noir, 2008-2013. These wines usually contain about 60% estate fruit and 40% fruit sourced from four vineyards that the winery has worked with for many years including Gee Vineyards, Mahoney Vineyards and Casa Carneros, making these sourced grapes essentially estate as well. The vintage characteristics (Michael notes that fruit changes dramatically with different vintages and is a bigger factor than winemaking):
2008: Fire & ice; frost in late spring and then heat in August; Large clusters, uneven ripeness like Zinfandel clusters, lean.
2009: Uneventful growing season that was moderate to warm; calm harvest; riper vintage.
2010: Cold with fog to midday.
2011: Even colder than 2010; foggy to 2 P.M. and early rains; severe triage led to a small vintage (3,000 cs).
2012: Largest recent harvest; large clusters and berries; a lower tannin year.
2013: Warmer and drier than 2012; higher tannin year.
The smoky barrel regimen was evident in the 2008 and 2009 wines, but not aggressively so. The signature of Carneros Pinot Noir, according to Michael, is red cherry and tea berry flavors with a conifer-evergreen haze. Think of the part of a blueberry that is woodsy or evergreen. This signature was most evident in the 2010 vintage wine. The 2012 and 2013 vintage wines are a bit clunky and reticent at present which is expected from the house style.
Pinot Meunier is infrequently bottled as a stand-alone clonal wine. It has attracted more interest in recent years, and both Mum and Domaine Chandon bottle versions of this varietal. The biggest challenge is to temper the wine which tends to be effusive, bold and tannic, and bring out its more delicate side.
When Michael arrived at Bouchaine, there were two northeastern facing knolls on the property planted to failing Chardonnay. The Chardonnay was pulled out and Pinot Noir, clones 667 and 777, were planted on the steep terraces. The first three years provided disappointing wines, but more recently the wines have shined and shown enough individuality to be bottled separately as the "Terraces."
Mariafeld ("mu RYE a feld") clone has been used primarily as a blending component in Pinot Noir wines providing a foundation and color. Although it is a good producer and resists mold, it is not usually bottled separately as a stand alone clone because it lacks complexity and is dull in the mouth. The nose promises plenty of pleasure, but the palate doesn't deliver. Michael has found, however, that some people prefer a straightforward "yummy" wine that they can drink without talking about the wine. He calls it a "teddy bear" wine that offers the consumer another option.
The Sonoma Coast bottling is from a vineyard in the Petaluma Gap close to Carneros. It is a powerful wine with muscular tannins and cannot be added to the Carneros blend because it masks the Carneros signature. It is unique because nearby eucalyptus trees send micro droplets by wind that deposit on the grapes and lend a subtle "eucalyptoid accent" to the finished wine.
A Gee Vineyard bottling is not produced every year. The mixture of old and new head-pruned vines in this 16- acre vineyard are not irrigated and tend to "tucker out" before reaching maturity, forcing an early pick, and can lack lack bottle worthiness. However, when the wine can be produced, it has a distinctive savoriness and hi-tone aromatics. The old vines are the "St. Clair clone" from the Carneros St. Clair Vineyard that is actually a Martini selection. The Gee Vineyard's newer plantings (mid 1990s) include Pommard, Swan selection and Dijon 115.
The following Bacchus Collection wines from the 2012 vintage are sold through the tasting room and to wine club members.
2012 Bouchaine Carneros Estate Vineyard Pinot Meunier
13.5% alc., pH 3.53, TA 0.59, 879 cases, $40. Released May 2014. Aged in 40% new French oak barrels. · An array of purple and black fruits are featured on the nose which holds up nicely over time in the glass. Moderately rich and smoothly textured on the palate, this fruity wine is embellished with vivid deep purple and black berry, and black plum fruits robed in modest tannins. The fruit holds on to the generous finish. Very good +.
2012 Bouchaine Estate Vineyard Terraces Carneros Pinot Noir
13.8% alc., pH 3.60, TA 0.55, 599 cases, $60. Released November 2014. Dijon clones 667 and 777. Aged 11 months in 40% new French oak. · Shy aromas of black fruits and black tea leaves. Earthy with middleweight flavors of blueberry, pomegranate and blackberry. A distinct wine that builds in intensity over time in the glass. The finish is intense and long. Very good +.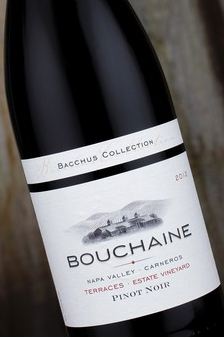 2012 Bouchaine Estate Vineyard Mariafeld Carneros Pinot Noir
14.5% alc., pH 3.53, TA 0.63, 266 cases, $40. Released May 2014. Aged 11 months in 33% new French oak. · Pleasant aromas of dark red cherry and berry with a touch of spice and floral bouquet. Smooth on the palate with a somewhat shallow attack. Juicy with a core of dark red fruits backed by muscular tannins. Lacks a bit of charm. Good.
2012 Bouchaine Rockin' H Vineyard Sonoma Coast Pinot Noir
13.8% alc., ph 3.47, TA 0.58, 272 cases, $40. Released March 2014. 55% 777 and 45% 667. Aged 11 months in 40% new French oak. · Darkest in color. The nose features dark fruits with a hint of oak and eucalyptus. Intense and full-bodied array of dark berries saturating the mid palate and persisting on the softly textured and generous finish. Should benefit from more time in bottle. Very good.
2012 Bouchaine Gee Vineyard Carneros Pinot Noir
13.7% alc., pH 3.45, TA 0.60, 272 cases, $60. Released September 2014. Aged 11 months in 40% new French oak. · Savory aromas of dark cherries and berries. Smooth and polished on the palate with a discreetly concentrated array of dark red fruits. Nicely balanced and forward drinking, with some finishing intensity. Very good +
Although Pinot Noir has had a checkered past in Carneros, the quality of Chardonnay from this region has never been in dispute. In that regard, Bouchaine produces three superb Chardonnays that span the range of styles currently offered in California. Two extremes of winemaking technique are offered: Chêne d'Argent ($30), which is stainless steel fermented with no malolactic fermentation, and Bouche de Beurre ($50) which is a buttery, oaky version with full malolactic fermentation. The Estate Chardonnay ($30) is a blend of dozens of wines and includes the two extremes. The result is amazing complexity derived from the many different contributing wines including vines planted in 1981. The planted Chardonnay clones include Dijon, Rued, Robert Young, and 30-year-old UCD 5 & 6 "superclone."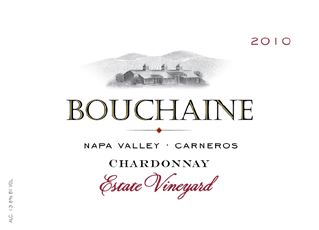 Bouchaine is one of the three wineries participating in the "Cube Project," comparing wines from the same source made by three different winemakers. Visit www.princeofpinot.com/article/1195/ for more information. The Cube Project Pinot Noirs are available for purchase on the Bouchaine website at www.bouchaine.com.
Bouchaine Vineyards produces 22,000 cases of wine per year. The tasting room is open daily from 10:30 AM to 4:30 PM from November to Mid-March. Tasting fees range from $20 to $30 per person. Self-guided walking tours of the vineyard are available weather permitting. Small group tours of the vineyards and winery are offered by appointment.