Sips of Recently Tasted California Pinot Noir (& Chardonnay)
There are some amazing wines in this issue from the 2012 vintage. In fact, there are more high scoring wines than I have ever sampled as a group in my twelve years of tasting for the PinotFile. Quantities are generous in this vintage so you should be able to stock your cellar with the most desirable wines.
Benovia
Winemaker Mike Sullivan has waited patiently 8 years to develop and properly farm Benovia's Martaella and Tilton Hill estate vineyards. The 2012 releases from these two vineyards joins the historic Cohn Vineyard to complete the vision of producing three vineyard-designated, estate-grown, Benovia Pinot Noirs. Ultimately, Benovia plans to produce nearly all wines from estate fruit. The 42-acre Martaella Vineyards surround the Benovia wineries (a new large winery is currently under construction which will be used for red wine production, increasing potential output to 10,000 cases) and visitor center. This vineyard is planted to ten heritage clones of Pinot Noir. The 12-acre Tilton Hill Vineyard is perched on a ridge top near the town of Freestone and is Benovia's coldest vineyard site. This vineyard is a high-density planting in Goldridge soil. Benovia wines are sold primarily through a mailing list. Sullivan now has the vineyard material to realize his ultimate winemaking goals that have evolved over several years, and the 2012 lineup of wines rewarded him with the most refined and enticing lineup ever offered at Benovia. Tasting is available by appointment. Visit www.benoviawinery.com.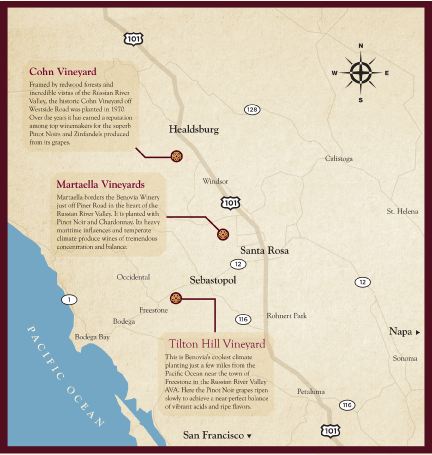 Foursight Wines
Anderson Valley-based Foursight Wines is the first winery in the country to label all its wines with ingredients alongside a vegan/vegetarian statement. Starting with the 2012 vintage, all the Foursight wines are labeled with "grapes, sulfur dioxide," or "grapes, tartaric acid, sulfur dioxide," and "this wine is suitable for vegans and vegetarians." This last statement is permitted by the TTB because the wines are unfiltered without the use of animal-derived products. The winery produced its first ingredients-labeled wine in 2010 - an estate Semillon - and decided to expand the effort to its entire portfolio due to positive responses from consumers. Copies of the labels can be found on the winery's website at www.foursightwines.com.
Foursight wines are made with estate grown grapes, fermented with wild yeast and malolactic cultures, and bottled unfined and unfiltered. Pinot Noirs are always produced with a percentage of whole cluster fermentation (10 to 50 percent depending on the vintage).
2012 Foursight Charles Vineyard Zero Anderson Valley Pinot Noir
13.5% alc., pH 3.73, TA 0.58, 173 cases, $38. Release November 2014. Clones are Pommard 05, 777, 115 and 114. 30% whole cluster fermentation. Aged in second-year and older barrels with no new oak. · Moderately light reddish purple color in the glass. Bright cherry fruit is the focus of this juicy wine which is very soft and seamless on the palate. Added accents of raspberry, brown spice and sandalwood add interest. Inviting balance and harmony and highly approachable now. Score: 91
2012 Foursight Charles Vineyard Anderson Valley Pinot Noir
13.6% alc., pH 3.72, TA 0.58, 224 cases, $46. Release May 2015. Crafted from all four clones grown in the estate vineyard (777, 114, 115, and Pommard 05). 30% whole cluster fermentation. Wooden basket-pressed. Aged in 40% new, 10% secondyear and 50% three-plus-year-old French oak barrels. · Moderate reddish purple color in the glass. The nose is infused with the lovely scent of Bing cherry glaze and complimentary oak in the background. Very soft and sexy, with mid weight flavors of cherry, raspberry and plum caressed by suede tannins. Oak seasoning plays a favorable role. This wine, which has a little more body and generosity than the Zero, finishes silky and full of cherry goodness. Score: 92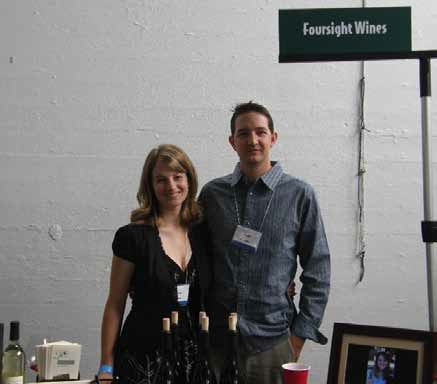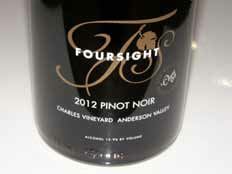 2012 Foursight Charles Vineyard Clone 05 Anderson Valley Pinot Noir
13.9% alc., pH 3.74, TA 0.70, 130 cases, $49. Release January 1, 2015. Four favorite barrels of 100% Pommard 05. 30% whole cluster fermentation. Aged in 40% new and 40% second-year French oak barrels. · Moderately dark reddish purple color in the glass. The hi-tone aromas of black cherry and dark raspberry fill the glass. Soft and velvety on the palate, even ephemeral, like angels dancing on a cloud. Discreetly concentrated and highly flavorful, featuring dark cherry and dark red berry fruits with oak seasoning in the background. Nicely composed with balanced tannins and a finish that sports refined acidity. This wine will get noticed. Score: 93
george wine company
george levkoff prefers lower case, but his wines are upper case in quality. His winery is a one-man operation, with george hand crafting Pinot Noir that is cherished by sommeliers countrywide (see the website for the impressive list of restaurants carrying george Pinot on their wine lists). This vintage is sold out, but you may be able to beg a few bottles if you call george.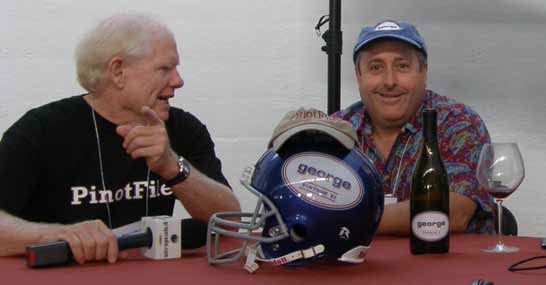 2013 george Vintage XI Hansen Vineyards Russian River Valley Pinot Noir
14.9% alc., 148 cases, $60. · Moderately dark reddish purple color in the glass. Distinctive aromas of black cherry, sweet manure, dark chocolate and smoky oak. A terroir-driven wine with its signature fecal character in the background. Silky on the palate and very well crafted, with balanced tannins and a delicious black cherry essence. This is a wine with personality and one unlike any you have ever tasted. The best Hansen Vineyard Pinot Noir from george to date. Score: 93
LaRue Wines
I am a fan of these very stylistic wines crafted by Katy Wilson (photo below) whose wines are very similar in character to those crafted by her winemaking partner, Ross Cobb. Grapes are picked earlier than many, whole cluster fermentation plays a big role, and the wines have a juiciness and acidity that is bright and uplifting. Oak is never an issue and tannins are refined. Those looking for big, extracted fruit bombs, should look elsewhere.
Littorai
Ted Lemon is one of California's most respected winegrowers and vintners. The quality of the wines is based on low yields and careful site and vine selection. Ted's focus is not on technology, but rather on farming and nature, particularly biodynamic and agro-ecological farming techniques. Cultured yeasts, cultured bacteria, yeast additives, yeast or malolactic nutrients, enzymes, acidification and de-acidification are avoided if possible. Ted does not make wine for competitions, ratings or trends. His wines are typically elegant and complex, and often need cellaring for full expression. Visit the Littorai model farm and innovative winery located between Sebastopol and Freestone (by appointment) to properly understand the effort expended to produce wines of terroir. The website is www.littorai.com.
Patz & Hall
Sandhi Wines
Sommelier Rajat Parr, the wine and spirits director for the Michael Mina Group, joined with Charles Banks, the former owner of Screaming Eagle, and winemaker Sashi Moorman, to produce Pinot Noir and Chardonnay from select vineyards in Santa Barbara County. The name, Sandhi, is an ancient Sanskrit word meaning "alliance" or "collaboration," and reflects the partnership of the winery. Parr spearheaded the "Pursuit of Balance" movement, and the stylistic goal of the wines reflects this: avoidance of extreme ripeness, oak and alcohol while emphasizing finesse, minerality, acidity, structure and balance. The Pinot Noirs are most whole cluster fermented and are unfined and unfiltered. A tasting room is in Lompoc. Visit www.sandhiwines.com. For 2012, a Mt. Carmel ($50) and La Cote Pinot Noir ($90) are also offered.
Sea Smoke
Sea Smoke Estate Vineyard was planted in 1999 on a hillside site. Each evening, the unique geography of the region funnels a marine fog layer ("sea smoke") up the Santa Ynez River canyon, cooling the vines and extending the ripening period. Winemaker Don Schroeder has been at Sea Smoke since 2003, and he has continued to fine tune his winemaking approach. For the Southing Pinot Noir, some untoasted oak barrels were used and 10% of the wine was aged in 600-liter demi-muid barrels which slow oxygen ingress and preserve freshness. The 2012 Southing is the twelfth vintage and is featuring the vineyard in its prime.
Siduri Wines
Tasting through Siduri's wines gives a window into the 2013 vintage in the Russian River Valley, Santa Lucia Highlands and Sta. Rita Hills. The wines are magnificently balanced with bright, up front fruit flavors and modest tannins. The appellation blends are skillfully assembled by winemaker Adam Lee as always and represent exceedingly good values.
Small Vines Wines
All Small Vines Pinot Noirs are estate grown with high-density plantings of 2,722-3,630 vines per acre (1 to 2.5 lbs. per vine). Farming adheres to Grand Cru standards, hand selecting each cluster and berry in the vineyard by starting with a framework of no more than 10 buds per vine followed by 28 hand-worked passes touching each vine. This meticulous organic farming and attention to detail makes for special wines of unusual high quality. All small lot wines are bottled unfined and unfiltered. The Sloans advise decanting the wines if enjoyed young. The wines, including magnums, are available only to release wine club members. Visit www.smallvines.com, or email Kathryn Sloan at Kathryn@smallvines.com.
Tessier Winery
This is the fifth vintage from this winery and the 2013 lineup of Pinot Noirs are new to Tessier. The name, Tessier, is the original French version of proprietor and winemaker Kristie Tacey's last name. Her initial career path was biotechnology and in 2000 worked on the Human Genome Project. Switching to winemaking, she designed a label that depicts a photograph through a microscope of yeasts budding, a clever depiction since yeasts are the work horses of winemaking. Kristie considers 2013 her favorite vintage. Visit www.tessierwinery.com.
WesMar Winery
Misfortune struck this year at WesMar's young estate vineyard in Sebastopol. The vines were infected with Young Vine Decline, a fungal disease that prevents the young vines from taking up water and nutrients. Apparently the vines were infected when they were delivered for planting. Removal of infected vines is the only cure and so in March 2014, all 3264 vines were removed and in May 2014 the vineyard was replanted with new rootstock. Next May (2015), the vines will be grafted to chosen clonal selections and hopefully some estate fruit will be harvested in 2017. Bummer.
Williams Selyem
Williams Selyem has gradually acquired estate vineyards since the winery was bought by John and Kathe Dyson in 1997. Drake Estate Vineyard was added in 1998, the Estate property in 2001, and the property on the east side of the Russian River known as Eastside Estate almost opposite the winery on Westside Road. In 2014, a Luella's Garden Pinot Noir will be released honoring the original owner of the Williams Selyem Westside Road Williams Selyem Estate Vineyard, Luella Litton. It will join the Block 10 Mass Selection Estate Vineyard Pinot Noir and the Vista Verde Chenin blanc as special wines that can be tasted and purchased only at the winery. Tasting is by appointment at www.williamsselyem.com. Wines are sold exclusively through a mailing list. The 2012 wines reviewed here made me wish I had ordered more Williams Selyem Pinot. The wines are stunning.
More
Supporting the community has always been part of the mission at Gloria Ferrer Caves & Vineyards. The Ferrer family proudly served as honorary co-chairs of this year's Sonoma Wine Country Weekend, whose auction raised more than $4 million dollars for local charities. The 2012 Gloria Ferrer Willmar Artist Series Pinot Noir marked the second vintage of supporting the Willmar Grief and Healing Center in Sonoma. All proceeds from the sale of this limited-release Pinot Noir, which features an original artwork label created by a young Willmar artist, benefit the center. In October, Gloria Ferrer hosted "Yoga for Hope" in support of the Northern California chapter of the City of Hope. Gloria Ferrer also poured at two of amFAR's Inspiration Galas in support of AIDS research. This year for the first time, Gloria Ferrer was the exclusive wine for GLAMOUR magazine's 24th Annual Women of the Year Awards in November.
Robert Pellegrini took over sole proprietorship in 2013 of the Pellegrini Wine Company that includes Olivet Lane Estate and Pellegrini labels. The last vintage of Pellegrini Pinot Noir bottled was in 2009 and Chardonnay in 2010, as all fruit was sold to Merry Edwards and Williams Selyem until the 2013 vintage (a 2011 Pellegrini Pinot Noir was reviewed by me in July 2014, and it had 5 tons of Olivet Lane fruit in it but it was blended with other Russian River Valley fruit and crafted off the property). Going forward beginning with the 2013 vintage there will be two labels: Olivet Lane Vineyard that will include a single vineyard estate grown Pinot Noir and Chardonnay, and Pellegrini, to include regional appellation wines and some single vineyard wines such as Hurst and Toboni Oakwild Ranch Pinot Noirs. The current Pellegrini Pinot Noir has only a small fraction of estate fruit and is a blend of several Russian River Valley vineyards. I recently stopped by the winery and tasted the 2013 Olivet Lane Estate, Hurst and Toboni PInot Noirs from barrel with winemaker Lynn Krausmann, and was very impressed. Krausmann has impressive credentials including stints as a winemaker at Esterlina Vineyards and Williams Selyem. Look for exciting wines to come. A new outdoor tasting bar is now available Thursday through Monday from 11:00 to 4:30 by appointment.