En Garde: 2012 Pinots Very Promising
In July 2014, I reported on my first exposure to the 2012 wines of Csaba Szakal, the proprietor and winemaker of En Garde Winery in Sonoma Valley. Csaba launched his winery originally in Livermore in 2007, but soon quit his day job as a computer programmer, moved to Santa Rosa, and pursued fruit sources from the Russian River Valley. He began crafting his wines at the Mayo Winery facility in Sonoma Valley and opened a stylish tasting room nearby on Sonoma Highway.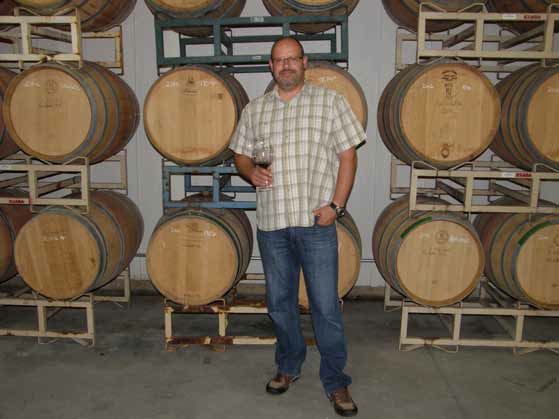 The first En Garde Russian River Valley Pinot Noirs were released from the 2008 vintage. I visited Csaba this past summer and tasted some of the 2012 Pinot Noirs from barrel. I recently had the opportunity to taste the same wines from bottle. The vineyard-designated and reserve wines are still very young and the aromatics haven't fully arrived, but the wines are very promising and will show much better when released in the spring or summer of 2015.
Csaba told me both of his Pinot Noir vineyard sources were picked at about 25º Brix. The different clones were picked and processed individually over a two week period in early mid-October. Fermentation was whole berry with 10%-25% whole cluster after a 4 to 5-day cold soak. The Pinot Noirs were aged 10 - 18 months sur lie with battonage over the winter. The wines were bottled unfined and unfiltered.
En Garde wines, which including a number of award-winning red varietals other than Pinot Noir, are sold through a mailing list, the website at www.engardewinery.com, and the tasting room. The tasting room is open daily from 11:00 to 6:00. Reservations are recommended for a complete tasting experience, especially enjoyable if the charismatic Casaba presides over the tasting.