Black Kite Cellars: Outstanding Pinot Noir in 2012
Black Kite Cellars produces small lots of expressive Pinot Noir with a strong sense of place. Whether from Black Kite's own Kite's Rest Vineyard in Anderson Valley, the Soberanes Vineyard in Santa Lucia Highlands, or Glass House Vineyard in Santa Lucia Highlands, each Black Kite Pinot Noir is treated to near-identical winemaking by winemaker Jeff Gaffner.
Black Kite Cellars produces less than 3,000 cases annually of Pinot Noir and Chardonnay. The wines are sold primarily through the winery mailing list at www.blackkitecellars.com, with limited distribution to select wine retailers and restaurants.
The Black Kite Cellars Pinot Noirs never disappoint and will appeal to those who like plenty of concentrated ripe fruit flavor with generous oak backing. The 2012 wines reviewed here are among the best ever produced at this winery. The "Stony Terrace" and Soberanes Vineyard bottlings will be reviewed later.
2012 Black Kite Cellars "Kite's Rest" Anderson Valley Pinot Noir
14.8% alc., pH 3.60, TA 0.59, 898 cases, $48. Released November 2014. Aged 11 months in 100% new French oak barrels, 33% of which were new. · Moderately light reddish purple color in the glass. Flamboyant nose of bright scents of black raspberry, blackberry, tea and expressive spice. The flavors echo the nose with added hints of black plum, cola and oak. Juicy, with admirable oak integration, modest tannins, and a generous cherry-driven finish. A welcoming wine that aims to please. Score: 92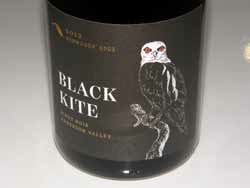 2012 Black Kite Cellars "Redwoods' Edge" Anderson Valley Pinot Noir
14.9% alc., pH 3.70, TA 0.57, 198 cases, $60. Released November 2014. Aged 11 months in 100% French oak barrels, 66% of which were new. · Moderate reddish purple color in the glass. Elevating aromas of black cherry cordial, baking spice and vanilla. Perks up the palate upon entry with delicious flavors of black cherry, black raspberry, plum, Asian 5-spice and vanilla. Very smoothly textured with hedonistic concentration and a balanced tannic backbone. Amazingly long finish fueled by bright acidity that lasts over 30 seconds. This wine really taps the pleasure centers in the brain. Score: 94
2012 Black Kite Cellars Glass House Vineyard Santa Lucia Highlands Pinot Noir
14.9% alc., pH 3.70, TA 0.57, 145 cases, $48. Released November 2014. Aged 11 months in 100% French oak barrels, 50% of which were new. · Moderately dark reddish purple color in the glass. Nicely perfumed with aromas of raspberry coulis, violets and chocolate. Dark berry flavors are featured with some savory undertones of mushroom and earth. Full-bodied with balanced tannins, toasty oak, and a soft finish featuring a generous, chewy burst of black cherry fruit. The wine was noticeably better with more integration of oak when tasted two days later from a previously opened and re-corked bottle. Score: 92