MacRostie Winery & Vineyards: Evolving to Embrace Quality
MacRostie, with a 27-year history of making Sonoma Coast wines, is a defining California winery and a familiar name to wine enthusiasts. The last several years have seen sweeping changes at MacRostie that include the sourcing of grapes from some of Sonoma Coast's most legendary vineyards and the building of a new winery and MacRostie Estate House on Westside Road in the Russian River Valley (the photo below shows the new project under construction in December).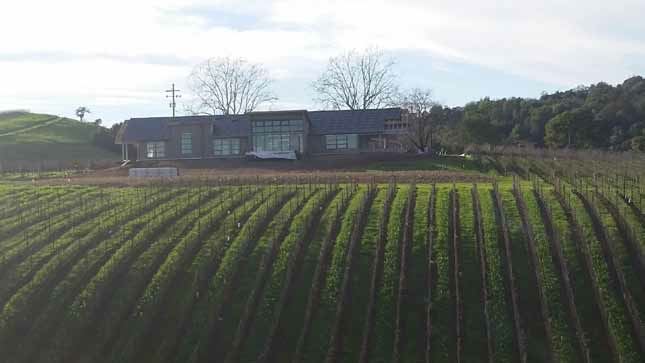 The MacRostie Estate House is located on a hill overlooking Westside Road surrounded by the vines of the 13-acre estate Thale's Vineyard (named after Steve's spouse) planted to Pinot Noir. When completed in early 2015, the MacRostie Estate House will feature multiple indoor and outdoor tasting venues and an adjacent Pinot Noir focused winery.
Steve began his winemaking career in 1974 at Hacienda Winery at a time most winemakers were fixated on Cabernet Sauvignon and the Napa Valley. Steve took another path and embraced the cooler vineyards of Sonoma County, producing exceptional Pinot Noir and Chardonnay at Hacienda during his twelve years at that winery. In 1987, Steve established MacRostie Winery and Vineyards and began his quest to champion quality in the region. By 1992, Pinot Noir had been added to the winery's portfolio, and MacRostie quickly developed a devoted following.
In 1998, Steve planted Wildcat Mountain Vineyard in partnership with Nancy and Tony Lilly. It is located in the Petaluma Gap region on the border of the Sonoma Coast appellation, and has been the source of exceptional MacRostie wines. Today, MacRostie works with more than 30 Chardonnay vineyards and over 15 Pinot Noir sites, representing a remarkable diversity for a small winery.
Since 2011, Steve MacRostie has been working alongside up-and-coming and innovative winemaker Heidi Bridenhagen to expand the MacRostie vineyard program. Although they both spend considerable time in all their vineyard sources, in recent years, they have called on viticultural specialist Allen Holstein (Argyle Winery, Stoller Vineyards and Domaine Drouhin Oregon) to refine the winery's farming program.
The core of MacRostie's winegrowing program are five sites. Wildcat Mountain Vineyard possesses volcanic soils and is located in a cool, windy and foggy mountainous site resulting in low yields. Both Pinot Noir and Chardonnay are planted here over 18 different blocks spread across five fields with a diversity of aspect. Dutton Ranch, guided by Steve and Joe Dutton, is a source of both Pinot Noir and Chardonnay. Sangiacomo Vineyard, located in Sonoma Carneros, was MacRostie's earliest source of Chardonnay. The family owned vineyard is located along Sonoma Creek with vines planted between 1974 and 1994. Goldrock Ridge Vineyard is located near the town of Annapolis in the West Sonoma Coast region. Four clones of Pinot Noir are planted in Goldridge sandy loam at an elevation of 780 feet at the boundary of the fog line. The MacRostie Estate Vineyard (Thale's Vineyard) consists of young plantings of Pinot Noir in the Middle Reach of the Russian River Valley.
Steve and Heidi have also refined their approach to Chardonnay, and re-imagined the Pinot Noir program. They work with lots of Pinot Noir as small as 1 ton, doing upwards of 80 individual fermentations each vintage. Even though MacRostie's vineyard sources have grown to include some of Sonoma Coast's most notable winegrowing families including the Duttons, Sangiacomos, Martinellis and Bacigalupis, the MacRostie style remains consistent - balanced wines with bright acidity and judicious use of new French oak.
As evidence that MacRostie is evolving over time to embrace quality, the winery became the first Sonoma Coast winery to bottle all wines under screwcap.
This was my first opportunity to extensively taste MacRostie wines. They were highly approachable and elegant, with modest tannins and minimal oak overlay. The wines represent outstanding value relative to quality and should be sought out. Visit the website at www.macrostiewinery.com to obtain the wines and plan to visit the new MacRostie Estate House when it opens early this year. In addition to the wines reviewed here there is a 2012 25th Anniversary Russian River Valley Pinot Noir that celebrates MacRostie's 25 years as a Sonoma winery and the opening of the new winery in the Russian River Valley (a six barrel selection, $54).