Domaine de la Côte: Whole Cluster Goodness
Domaine de la Côte is a French-inspired winery evident from the name and labels that was launched with the 2011 vintage following the purchase of 40 acres of vineyards in the Sta. Rita Hills from Evening Land Vineyards by sommelier Rajat Parr winemaker Sashi Moorman, and their business partners. Moorman discovered the site and originally developed the vineyards with Chris King in 2007.
The six vineyards are just seven miles from the Pacific Ocean and are planted on a soil base of silex and diatomaceous earth that is unique to the Sta. Rita Hills. The vineyards are Memorious (3.5 acres), Bloom's Field (7.5 acres), Siren's Call (3 acres), Clos Juliet (1 Acre), La Côte (9.5 acres) and 15.5 acres of appellation Sta. Rita Hills. The vineyards are planted entirely to California heritage selections at extremely high vine densities between 4,000 and 7,000 vines per acre, unprecedented for the Sta. Rita Hills appellation.
The partners make the unique wines using whole cluster and ambient yeast fermentation, add no enzymes, and age the wines in no new French oak barrels. The wines are produced in Lompoc, three miles from the vineyards.
2012 was a classic vintage at the Domaine. Harvest started during the first weeks of September, preceded by consistently warm afternoons and cool nights and mornings throughout the summer. Yields were low.
The wines are sold by allocation to mailing list members and select restaurants. Visit the website at www.domainedelacote.com.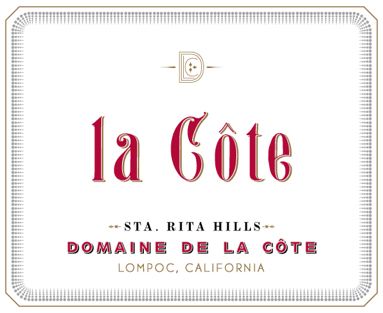 2012 Domaine De La Côte Sta. Rita Hills Pinot Noir
12.5% alc., 2,100 cases, $45. 25% of vines are own-rooted at a vine density of 4,000 vines per acre. 50% whole cluster fermentation, aged in 0% new French oak barrels. · Moderately dark reddish purple color in the glass. The nose is replete with whole cluster goodness including aromas of wilted rose, spice and wet bark. Fresh and juicy with mid weight flavors of purple berries and spice and a floral note in the background. Easy to approach now with supple but structured tannins and a tangy finish. Score: 90
2012 Domaine De La Côte Bloom's Field Sta. Rita Hills Pinot Noir
12.5% alc., 500 cases, $70. 100% whole cluster fermentation, aged in 0% new French oak barrels for 20 months. · Moderately dark reddish purple color in the glass. The nose is similar to the Sta. Rita Hills bottling with rose petal and spice playing a large role, but the aromas are more penetrating. Round, polished and discreetly concentrated with upfront flavors of blueberry and black raspberry. Nicely balanced with modest tannins and plenty of zip and zing. Score: 92

2012 Domaine De La Côte La Côte Sta. Rita Hills Pinot Noir
13.0% alc., 300 cases, $90. From a small section of a 9-acre parcel that is planted in broken shale. The first vineyard harvested and always produces the most opulent wine. 100% whole cluster fermentation, aged in 0% new French oak barrels. · Moderately dark reddish purple color in the glass. Compelling aromas of boysenberry, black raspberry, spice and purple rose. Very smooth and polished on the palate with layers of purple berry, plum, and spice flavors. Impeccably balanced with tannins hiding in the background, juicy acidity, and a remarkably intense finish. Still a little moody and will benefit from more time in bottle. This wine is the epitome of ephemeral. Score: 94