Skewis Wines: Pinot from Vineyards with a Pedigree
Hank and Maggie Skewis are veterans who have been offering Pinot Noir from the Russian River Valley, Sonoma Coast and Anderson Valley since 1994. That year, grower Fred Peterson of the Floodgate Vineyard in Anderson Valley (now owned by Goldeneye and renamed) offered enough grapes to make 70 cases. Today, Hank crafts less 900 cases annually of Pinot Noir working out of a shared crush facility.
The emphasis is on low yields from vineyards located in premium growing regions. The average crops in the vineyards that are contracted yield on average of 2 to 2.5 tons per acre. In the winery, grapes are de-stemmed, fermented with a significant percentage of whole berries, fermented warm for maximum extraction of color, phenolics and complexity, then pressed into French oak barrels for 18 months. Bottled unfined and unfiltered, the wines are aged an additional 6+ months in bottle before release in October of each year.
Vineyard sources have changed through the years but quality has always remained high. The 2012 Pinot Noir from Wiley Vineyard in the Anderson Valley is the first release by Skewis from this vineyard. The wines typically age extremely well.
The wines are sold on the winery's website at www.skewis.com, through a mailing list, and through limited distribution in Northern California. A quaint tasting room (pictured below) is open Friday through Sunday at 57 Front Street in the historic Old Roma Station Winery complex in Healdsburg. On Saturdays from 11:00 to 4:30, a complimentary shuttle from the Healdsburg Plaza (across the street from Dry Creek Kitchen) to the Old Roma Station and adjacent Hudson Street Wineries is offered. Tasting is available on other days by appointment.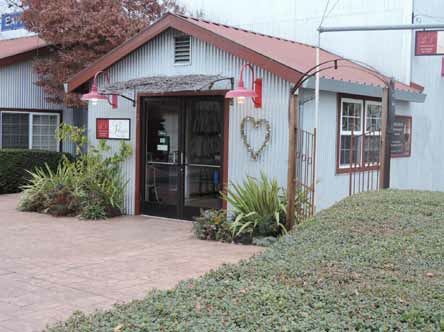 2012 Skewis Lingenfelder Vineyard Russian River Valley Pinot Noir
13.8% alc., pH 3.60, 150 cases, $50. Released September 8, 2014. From a 3-acre vineyard west of the town of Fulton. Huichica loam soil typical of this area. Vineyard planted in 1996 and grafted to the Martini clone. Harvest Brix 23.3º. Aged 18 months in 25% new French oak barrels. · Moderately light ruby color in the glass. Very shy nose with demure aromas of cherry sous-bois and subtle oak. Juicy, mid weight flavors of ripe strawberries, dark cherries and black raspberries. The finish is bright and pleasingly long. Much better on the palate over time in the glass and more showy the following day from a previously opened and re-corked bottle. Score: 89-90
2012 Skewis Salzgeber-Chan Vineyard Russian River Valley Pinot Noir
14.2% alc., pH 3.85, 150 cases, $50. Released September 8, 2014. Harvest Brix 24.4º. This 3-acre vineyard was planted in 1997. Dijon clone 115. Aged 18 months in 25% new French oak barrels. · Moderately light ruby color in the glass. This wine is a cherry bombast with a modest oak overlay on the nose and palate. Very flavorful with remarkable persistence on the finish. When tasted the following day from a previously opened and re-corked bottle, more fruit had emerged, some cola and spice showed up, and the wine was more pleasing. Best to cellar this wine a year or so. Score: 90-91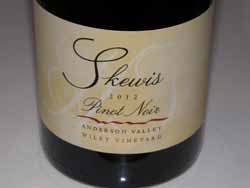 2012 Skewis Wiley Vineyard Anderson Valley Pinot Noir
14.4% alc., pH 3.80, 185 cases, $50. This vineyard was first planted in 1972 in the deep end of the Anderson Valley. Over the years the plantings have increased to 20 acres of Pinot Noir. This wine was made from grapes planted in 1982 and 2002; Pommard and Mt. Eden clones. Harvest Brix 25.0º. Released September 8, 2014. Aged 18 months in 25% new French oak barrels. · Moderate reddish purple color in the glass. The nose opens gradually to reveal inviting aromas of black cherry, sous-bois and complimentary sweet oak. Very smooth in the mouth with gossamer tannins, offering a joyous mix of black cherry and black raspberry flavors that attack the mid palate with purpose and hold on through a generous finish. A whisper of oak plies the background. Delightful. Score: 91-92