Waxwing: Engaging Pinot from an Urban Winery
Winemaker Scott Sisemore has a unique story. He is a stay-at-home Dad helping to raise two young boys while his spouse, Joanne, pursues a successful career in the biotech industry. His boys are both in school now, so he can devote more time to winemaking. In 2014, he was able to leave his subleased space in San Carlos south of San Francisco, and rent his own dedicated winemaking facility in nearby Belmont. He spent much of the year outfitting the new space for wine production. Thankfully, Scott now has complete control over the winemaking process, something every winemaker ultimately desires. This last harvest he crushed 17 tons of Pinot Noir, Syrah and Riesling.
Scott has worked with Spring Hill Vineyard in the Petaluma Gap since 2010 and has sourced Pinot Noir and Syrah from Lester Family Vineyard near Corralitos in the Santa Cruz Mountains since 2012. He describes the 2013 wines as "easy to make."
Waxwing wines are sold on the website at www.waxwingwines.com, and distributed to retailers and restaurants in California.
2013 Waxwing Spring Hill Vineyard Sonoma Coast Pinot Noir
13.5% alc., 208 cases, $39. Released late 2014. 75% de-stemmed as whole berries with 25% foot-stomped whole cluster in the fermenter. 5-day cold soak, punch downs 2 to 3 times a day, and pressed to barrel at end of fermentation. The wine was aged 11 months in once-used French oak barrels and bottled with no filtration. · Moderate reddish purple color in the glass. The nose offers demure aromas of cherry and dried herbs. In the mouth, tannins and oak currently overwhelm the mid weight core of black cherry fruit which offers promise. The finish is dry and slightly astringent and laced with oak. This wine needs at least a year or two in bottle for the ruddy tannins to soften and the oak to integrate. Score: 88-89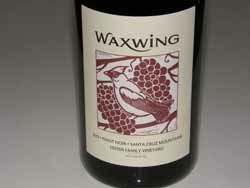 2013 Waxwing Lester Family Vineyard Santa Cruz Mountains Pinot Noir
13.4% alc., 123 cases, $39. Vines planted in 1998 on a sandy loam hillside bordered by redwoods. Sustainable viticultural practices, careful canopy management, minimal late season deficit irrigation. A mix of Dijon and heritage clones including Mt. Eden, Wädenswil and Mariafeld. 50% of fruit de-stemmed as whole berries and 50% foot-stomped whole cluster. 5-day cold soak, native fermentation, aged 11 months in once-used French oak barrels. · Moderately light cherry color in the glass. Plenty of lovely whole cluster spice on the nose along with aromas of cherry, rose petal and sandalwood. Delicious middleweight flavors of red cherry, red raspberry, spice and crystallized rose. Bright with good tension and balanced tannins, finishing clean and uplifting. I could drink this all day. Score: 94