Pinot Briefs —Newsletter 10.4
Siduri Wines and Novy Family Wines Acquired by Jackson Family Wines Adam Lee will stay on as winemaker, the winery will function as is at its urban warehouse facility in northwest Santa Rosa where the winery currently produces 25,000 cases between the two brands (Kendall-Jackson will take over the lease). The Lees will now have more capital, more free time to spend with their three children, and access to the many Kendall-Jackson vineyards in California and Oregon.
San Luis Obispo Wine Country Celebrates 25th Anniversary in 2015 The San Luis Obispo (SLO) Wine Country Association is launching a monthlong "Wine Adventures" experience in April by reinventing its signature "Roll Out the Barrels." The new experience begins the week of April 6 and concludes at the end of the week of April 27. A variety of winery activities will be organized by weekly themes such as "Taste the Coast," "Farm to Fork," and "Sustainability & Heritage." Examples of activities include comparative barrel tastings with winemaker Stephen Dooley of Stephen Ross Wine Cellars, a tour of Talley Farms followed by a gourmet lunch at Talley Vineyards, and a concluding "Barrels in the Plaza" wine and food pairing event at Mission Plaza on Thursday, April 30. A full schedule of events is forthcoming. Visit www.slowine.com for further information and tickets.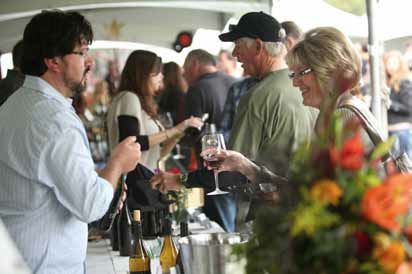 In Pursuit of Balance Advance registrations are now being taken for wine buyers, media and sommeliers for In Pursuit of Balance San Francisco, March 16 from 1:00 P.M. to 4:00 P.M. at City View at Metreon. Over 30 wineries pouring and seminars featuring Master Sommelier Andrea Immer Robinson and wine writer Jon Bonné of the San Francisco Chronicle. Register at www.eventbrite.com/e/ipob-san-franciscotrade- tasting-seminars-tickets-15449383522.
New Winemaker at Chapter 24 and Maison l'Envoye Veteran winemaker Max Marriott has taken over from Mike 'Mikey' Etzel, Jr., as winemaker and general manager for Chapter 24 Vineyards in Oregon. Mikey will pursue a side project with Mark Tarlov called Double Zero offering vineyard-designated Pinot Noirs made in tiny volumes with meticulous attention ($300) and this offshoot willl soon have its own winery and website. Marriott worked for Louis-Michel in Burgundy and top producers in New Zealand, Australia (Tasmania), Germany and the United States (Cristom in 2012). Marriott finished the 2013 wines which will be released in a few months, and will make the 2014 wines. As of the 2014 vintage, Chapter 24 Vineyards is sourcing 29 vineyards around the Willamette Valley in all six appellations, culminating in 70 blocks and separate parcels of fruit. Ryan Hannaford, the former vineyard manager at Seven Springs Vineyard, joined the team as company viticulturist. Production has increased from 5,000 to 12,000 cases, the majority of which is made for the Maison l'Envoye program, with barrel and lot selections made for the Last Chapter, Fire and Flood bottlings. (Note - Elin McCoy wrote a column at www.bloombergnews.com February 3, 2014, titled, "Should You Pay $300 For An Oregon Pinot Noir?" She was referring to the 2012 Chapter 24 Double Zero Hyland Vineyard and Shea Vineyard Pinot Noirs. After tasting the wines, she did not think they lived up to the pricetag. Tarlov said that half of sell price will go to charity.)
Annual Vinexpo/IWSR Survey This annual study from International Wine and Spirit Research (IWSR) is no in its thirteenth year. The survey covers 28 producing countries and 114 consumer markets. Highlights of the study include the following from a recent press release. The U.S. is driving growth as the world's largest wine market, consuming 312.5 million cases in 2013. The U.S. was the only market among the top 10 wine drinking countries to show growth over the previous year. Between 2009 and 2013, U.S. consumption of sparkling wines (excluding Champagne) grew by 23% and it is expected that it will increase another 15% between 2014 and 2018. Cava and Prosecco sales increased markedly. Red wine represented 54.8% of all still wine consumed in 2013. Rosé wine sales held steady and are thriving in the three primary rosé consumer markets: France, the U.K. and the U.S., Italy and Australia are the most important suppliers of imported wines to the U.S. market with France in third place but on the rise as maturing American wine consumers are drawn to what is widely seen as the home of fine wine.
3rd Annual Shea Comparative Tasting at Penner-Ash Wine Cellars Lynn Penner-Ash and nine fellow vintners will participate in a progressive Shea Vineyard Pinot Noir tasting on April 12. Also, two seminars will be held featuring Dick Shea and Lynn Penner-Ash joined by five Shea Vineyard Pinot Noir producers to discuss their relationship with Shea Vineyard and what makes their blocks within it inimitable. Visit www.pennerash.com for tickets. #sheahappens.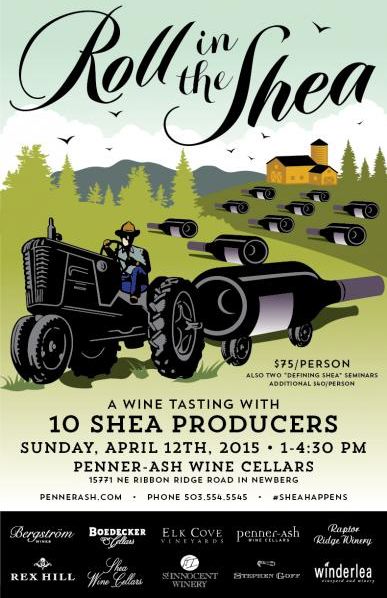 Family Winemakers of California Southern California Event On March 15, Family Winemakers will have their one Southern California tasting event at the Fairplex in Pomona. Family Winemakers has partnered with WineMatch to offer a better experience. Consumers, media and retailers can download the free WineMatch iPhone app and scan the QR code at the winery's table to keep track of wines they like. Family Winemakers represents family owned, small, boutique wineries. This is an opportunity to taste from 500 wines offered by 100 wineries. Visit www.familywinemakers.org/taste for tickets.
Inaugural Sonoma County Barrel Auction This live auction for the trade on May 1, 2015, is an opportunity to own one of a kind wines from Sonoma County's most acclaimed vineyards. The auction will be preceded on April 30 by a VIP trade and media preview event at Williams Selyem Winery. The live auction will feature over 50 exclusive wine lots ( 5 to 20 cases) and will conclude with a celebration lunch prepared by local chefs for all guests and participating wineries. Licensed wine sellers, including retailers, restaurateurs and wholesalers, may request a ticket to the invitation-only event online at www.SonomaWine.com/BarrelAuction or by contacting Danielle Hollywood at 415-683-0696. Follow at www.facebook.com/SonomaCountyVintners, on Twitter @Sonoma Vintners or search using the hashtag #SoCoBA.
11th Annual Pinot Paradise The Santa Cruz Mountains Winegrowers Association presents this annual event March 21 & 22. The event is devoted exclusively to Pinot Noir grown in the Santa Cruz Mountains. Pathway to Pinot Paradise self-guided tour of 25 wineries on Saturday, the Pinot Noir Tech Session on Sunday morning at Mountain Winery in Saratoga, and the Grand Cruz Wine & Food Tasting also at Mountain Winery in the afternoon featuring Pinot Noirs from 40 wineries. Names familiar to PinotFile readers that are participating in the Grand Cruz Tasting include Alfaro Family Vineyards & Winery, Big Basin Vineyards, Mount Eden Vineyards, Sante Arcangeli Family Wines, Ser Wine Company, Thomas Fogarty Winery and Windy Oaks Estate Vineyards. Some of the most notable names such as Rhys Vineyards, Clos de Tech, Varner, and Neely do not participate. Curiously, wineries outside the Santa Cruz Mountains AVA that source Pinot Noir grapes from the AVA are not involved either. For information and tickets, visit www.scmwa.com.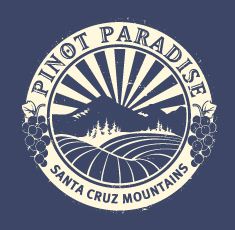 Pinot Lollipops Inspired by owner Ryan Harms' love of candy, Union Wine Company of Oregon is now offering Quin Candy lollipops in Pinot Noir and Pinot Gris flavors. As reported in thedrinksbusiness.com (February 6, 2015), the candy lollipops are made by the Quin company with Union Wine Company's Underwood Pinot Noir and Underwood Pinot Gris that are currently available in both traditional 750 ml bottles as well as 12 ounce cans. The alcohol is removed during the production process, but bakery ingredients are added that hint that alcohol is present. Gift packs including two tumblers, two cans of wine and a bag of wine lollipops are sold on the Union Wine Company website ($20). Visit www.unionwinecompany.com.
Sinor-LaVallee Opens Tasting Room Mike Sinor is a veteran Pinot Noir producer who gained acclaim at Chamisal and later Sinor-LaVelle in the Arroyo Grande Valley region. In 2013, Sinor bought a ranch with a vineyard on it near Avila Beach and named it Bassi Vineyard. It has Pinot Noir, Syrah, Chardonnay, Pinot Gris and Albarino on it. Starting February 6, 2015, Sinor-LaVallee will have a tasting room at 550 1st Street in Avila Beach. The hours are Friday and Saturday 12:00 PM to 6:00 PM and Sunday 12:00 PM to 4:00 PM. Visit www.sinorlavallee.com.
Belle Glos Producer Plans Large Scale Winery in Sebastopol According to The Press Democrat (February 2, 2015), Belle Glos owner and winemaker Joe Wagner wants to build a winery and distillery at the Dairyman site on Highway 12 between Santa Rosa and Sebastopol. The Dairyman site has 40 acres of Pinot Noir planted on 68-acres and is the source of Belle Glos's Dairyman Russian River Valley Pinot Noir. The project is large in scope, capable of producing up to 500,000 cases of wine and 250,000 gallons of distilled spirits a year, making it tied with four others for the 15th largest permitted winemaking facility in Sonoma County. Local residents are opposed and it could be a drawn out application for permits to build the facility.