Pinot Briefs —Newsletter 10.7
J Vineyards & Winery Sold to E.&J. Gallo Gallo acquired the iconic sparkling and still wine producer, J Vineyards & Winery and label, along with 300 acres of vineyards in the Sonoma and Russian River Valley for an undisclosed amount in March 2015.
Sta. Rita Hills Winegrowers Alliance Southern California Road Trip The annual Sta. Rita Hills Winegrowers Alliance will make their annual Road Trip to the Wine House in Los Angeles. Trade tasting is from 1:30-4:00 and consumer tasting is 7:00-8:45 ($49 per person). 25 wineries are participating.Tickets are available to the general public at www.WineHouse.com.
New Wine Region Fine Art Maps A new series of 13 wine region maps have been released. Each print contains a subtle map showing all the streets and the primary AVA with each sub-AVA highlighted and labeled. The prints ($49) are printed on high-quality, heavy paper stock that has a subtle metallic shimmer giving them a unique visual effect. They are also available framed with or without a mat and as a gallery wrapped canvas. Use coupon code BC1 on checkout for $5 off on your purchase at the website at www.cityprintsmapart.com/wine-regions/.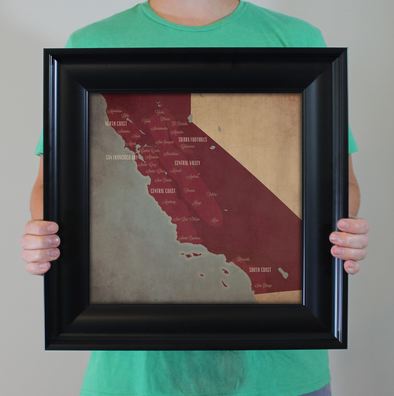 Science Confirms Microbiological Component of Terroir The Lead South Australia, at www.theleadsouthaustralia.com.au, a news service providing stories about innovation in South Australia, recently reported that studies published in mBio on the online open-access Journal of the American Society of Microbiology, found that the soil in vineyards acts as a reservoir for most of the bacteria that are colonizing the plants' structures. Researchers discovered that where you grow a grapevine is the most important characteristic shaping which bacteria will colonize the plant. The terroir of wine could have more to do with the soil microbes (microbiome) found around a grapevine's roots than the soil's physical characteristics. There is not clear evidence that bacteria are specifically contributing to terroir, but further research will be done with the goal of figuring out how bacteria are affecting the chemistry of the plant.
Knudsen Releases First Chardonnay in Over 40 Years Knudsen Vineyards is releasing a 2013 Chardonnay, currently available only to mailing list members. The Chardonnay is produced from vines planted in 1993 to Dijon clone 76. The family is releasing this wine to honor Cal and Julia Lee Knudsen, founders of Knudsen Vineyards. Visit www.princeofpinot.com/article/1586/ to learn more about Knudsen Vineyards that released the inaugural Pinot Noir with the 2012 vintage.
Matthew McConaughey to Star in Billionaire's Vinegar According to thedrinksbusiness.com (March 29, 2015), a new movie based on Benjamin Wallace's best-selling book, The Billionaire's Vinegar, will star Oscar-winner Matthew McConaughey. Will Smith will produce the film.
Pinot Noir Prices and Yields for North Coast AVA Gabriel Froymovich of Vineyard Financial Associates recently reported on the prices and yields for Pinot Noir for the North Coast, 2013-2014 (per ton). The 2013 price was $2,845.68 compared to $2,913.31 for 2014, an increase of 2.38%. Yields were 78,633 in 2013 compared to 70,530 in 2014, a decrease of 10.31%. The North Coast AVA includes Mendocino, Lake, Sonoma, Marin, Napa and Solano Counties.
Oregon Wineries Lead Nation in Sales in 2014 According to the 2015 Wine Sales Report by Ship Compliant, Oregon had the fastest growth in direct to consumer (DtC) sales to customers in 2014, over double the next leading region. The figures reflect an increasing demand for Pinot Noir across the country. The volume of direct shipments of cases of wine increased 46% in 2014, compared to regions in California and the rest of the U.S. that were below 16% increases in volume. The average cost of a bottle of Oregon wine was $39.72, a 4.2% increase over 2013. Since most Oregon wineries are small (5,000 cases or less produced per year), they concentrate on DtC sales through wine clubs and other marketing. The strong growth of the Oregon wine industry has attracted new investment from the U.S. (Jackson Family Wines, Foley Family Wines, Wagner Family of Wines) and global interests such as Louis Jadot.
Eagle Peak, Mendocino County AVA Receives Approval The TTB approved the AVA "Eagle Peak Mendocino County" in October 2014. Named after the most prominent nearby peak in the coastal mountain range, the Eagle Peak, Mendocino County AVA encompasses a unique growing region in Northern California. Situated 125 miles north of San Francisco, and 10 miles north and slightly west of the nearest city, Ukiah, the new AVA contains nearly 21,000 acres of mountainous terrain. Currently there are five growers in the new AVA: Golden Vineyards, Linholme Vineyards, Masút Vineyard & Winery, Sea Biscuit South Vineyards, and Turan Vineyards. A total of 115 acres are under vine. The vineyards are all on high coastal range slopes, mostly facing east and south, above the Redwood and Potter Valleys, the two nearby, well-established AVAs. Masút is the only operating winery within the new AVA. The region has been noted for winegrowing since the early 1900s, following the influx of Italian and Swiss immigrants into the area. The AVA is significantly affected by marine air that courses through the gaps in the coastal mountain range. Marine fog is common in the mornings and nights within the AVA. This factor cools the vines to a different degree than the neighboring valleys and the air drainage assists in reducing the threat of frost-induced vine damage. The region's soils are well-draining coarse gravel, clay and loam mixes.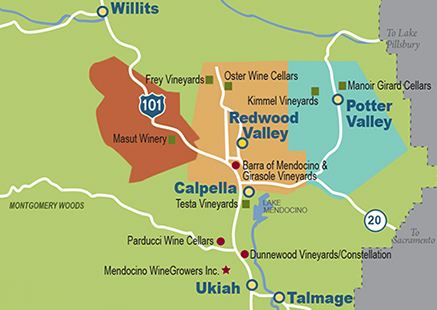 2014 a "Goldilocks" Vintage in Oregon Winemaker Luisa Ponzi said that the 2014 vintage in Oregon was "not too hot, not too cold, and not too much rain." The vintage was, however, the warmest season on record in the Willamette Valley. This was not due to high maximum temperatures, but rather higher than normal minimum temperatures. A warm spring and a little rain led to an early bud break and the season maintained warm temperatures throughout. Nighttime temperatures were well above normal accelerating ripening despite large crop loads and harvest began the very beginning of September. The dry weather inhibited disease pressure leading to a bountiful, clean and quite ripe vintage
Wine Enthusiast May Film Issue The May issue of Wine Enthusiast, on stands April 8, features a photo of actress Kate Hudson on the cover. Hudson, co-owner of Hudson Bellamy Wines reveals her favorite wines and her approach to wine making. Other celebrities involved in wine are featured in the new film issue including Kurt Russell, Max Thieroit, Drew Barrymore, Jason Wise, Kyle McLaughlin, and Gia Coppola. The Kate Hudson interview is available at www.winemag.com/Web-2015/Kate-Hudson-On-Wine-and-Show- Business/.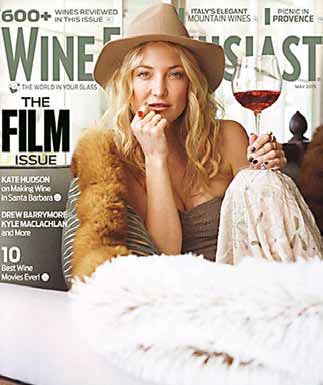 Best Wine Blogs Check out 103 of the best wine blogs compiled by Tim Edison at www.wineturtle.com-best-wine-blogs/. Most of the blogs are managed by either one person or a small group of people.