Onward Wines: Pinot Noir & Pet-Nat Too
Many have a vision of wine writers tasting wines at glorious estates in the Napa Valley sitting at a table draped with a starched, white table cloth, in perfectly landscaped surroundings. The writer is almost certainly seduced by the experience and the glowing wine reviews that follow reflect it.
Now the reality. I am in the backyard at a winemaker's home in Napa on a sunny afternoon sitting at a well-used picnic table. In the background are a roaming, barking dog, a strutting chicken, and four young children laughing and energetically playing together. I am tasting wine while a soccer ball whizzes by and a 3-year old comes to the table to ask her winemaker mother to help her go to the bathroom, her face smeared with ice cream that also drips down her arm. All formality was thrown aside, and as I chatted with Faith Armstrong- Foster and sampled her creative wines, I realized that this was a welcome antidote to hi-collared wine tasting.
Faith's endearing story was told previously in the PinotFile after I first met her two years ago: www.princeofpinot.com/article/1337/. She attended the University of California at Davis on a full Regents scholarship and graduated in 2006 with highest honors. Her subsequent marriage to Sean Foster, the Senior Winemaker at Merryvale Vineyards, derailed her winemaking plans initially and she settled into family life in Napa. In 2009, she finally launched her own label, Onward Wines, when she had the opportunity to source Pinot Noir from Cerise Vineyard in the Anderson Valley. A second highly desirable source of Pinot Noir was found in 35-year-old Martini clone grapes from Hawkeye Ranch in Redwood Valley.
Faith has crafted several varietals including Carignan, Grenache, Grenache Blanc, Albarino, Verdelho and blends thereof under the Farmers Jane Wine Co. label that is a partnership with another winemaker. Her first love remains Pinot Noir and Onward Wines is her main focus and pride. Beginning in 2013, she began exploring pétillant naturale wines made with Malvasia Bianca grapes from Capp Inn Ranch in Suisin Valley.
Pétillant Naturale
Pétillant naturel (nicknamed "pet-nat") is a type of sparkling wine made in the méthode ancestrale process traditionally used in France. It has caught on in California in recent years, and is a favorite of sommeliers for restaurant tasting menus. The name means "mildly naturally sparkling" in French.
Typically, grapes are whole cluster pressed, and undergo primary fermentation in cold vats with natural yeasts until alcohol reaches 1º-6º Brix. After settling, some of the lees are removed from the unfinished wine (avoiding the need for dosage) but much of the active yeast remains. The juice is then bottled and topped with a crown cap, and continues its primary fermentation in bottle, capturing the carbon dioxide that is naturally released. Usually there is no dosage or addition of yeast before a second bubble-producing fermentation in bottle that is done in méthode champenoise sparkling wine production. There are no strict rules for its production allowing winemakers to be creative, and no special wine making equipment is required for pet-nat, unlike traditional Champagne. The process is tricky, however, and has been called the "Russian roulette version" of sparkling wine since the process in the bottle is alive, a number of things can go wrong, and if warmed up, bottles can explode.
The resultant wines are easy to like, often with softer bubbles than Champagne. Part of the fun is that since they are unfined and unfiltered, the wines are unpredictable, offering subtle variations in flavor from bottle to bottle. The wines can be dry or have a slight amount of residual sugar, and the alcohol level is lower than in traditional sparkling wine. One producer fittingly notes, "Chill, serve, & chill."
In 2014, Faith bottled three different versions of her Malvasia Bianca Pet-Nat. In each case her winemaking goal was to keep the sediment low to avoid disgorgement, finish dry and have half the pressure of a normal sparkling wine. All grapes were picked on the same day (August 19), and vinified differently stylistically, creating three unique expressions. Malvasia Bianca was chosen because of its effusive aromatics and high natural acidity. All three 2014 wines have been released into the marketplace and are meant to be drunk side-by- side. Because of the winemaking process, the wines have a light lemon yellow color, are slightly cloudy and have a delicate, but pleasing fizz.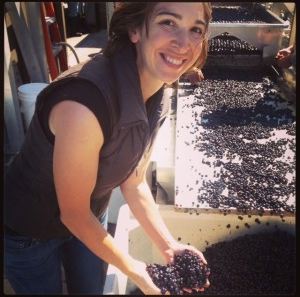 The Onward Pinot Noir program is focused on two distinctly different vineyards and the wines are vineyard-designated as are all Onward wines. Hawkeye Ranch is located in the Redwood Valley AVA of Mendocino County in the upper reaches of the Russian River. The Martini clone Pinot Noir vines were originally planted in the 1970s and are farmed by a fifth generation family of growers. Replanting is ongoing using a selection of the best old vines. Crop load and vine vigor are naturally balanced, allowing for organic farming. The resultant Pinot Noir wines tend to be red-fruited with finesse and inviting charm, described as "pretty" by Faith. Onward is the only winery to vineyard-designate Hawkeye Ranch Pinot Noir. Faith has obtained more rows of grapes beginning with the 2013 vintage, allowing her to vinify the Hawkeye Ranch Pinot Noir Rosé in a dedicated fashion with minimal saignée. Faith considers her rosé to be a "year-round style of California rosé," and laments that the price of $20 is crazy considering the elevated price of Pinot Noir grapes. A tiny amount of Cerise Vineyard Rosé of Pinot Noir was produced in the 2014 vintage.
Cerise Vineyard is located in the Anderson Valley at an elevation ranging from 650 to 1,000 feet. Farmed by Anthony Filiberti of Knez Winery using sustainably using organic and biodynamic principles. Cerise Vineyard has very rocky and nutrient-deficient soils that limit yield and vigor, resulting in small berries and clusters. The resultant wines have a firm tannic structure, and benefit from more time in barrel and bottle. Faith says, "Cerise Pinot Noir has more structure and layers than Hawkeye, but Hawkeye is prettier."
I would suggest grilled salmon with the Hawkeye, and braised short ribs with the Cerise. Either way, I am checking into Hotel California and ordering the Onward.
Onward wines are available at a number of fine restaurants in San Francisco including Bar Tartine, Central Kitchen, Gary Danko and Michael Mina, and in New York City at Craft, db Bistro Modern and Momofuku Ko, as well as select retailers in these cities. Joining the mailing list is the best way to acquire the wines. The wines are not sold online but you can contact Faith at 707-812-1777 or salesinquiries@onwardwines.com. An "Up Close and Personal" winemaker profile for Faith is featured on the last page of this issue.