A Delightful Pinot Aura Pervades the Pinot Noirs of LaRue
You won't find scores for LaRue Pinot Noir in the Wine Spectator or Wine Advocate because owner and winemaker Katy Wilson doesn't submit her wines for review. I have raved about the wines since my first article on LaRue appeared in 2012 in the PinotFile. You could say I helped to discover the wines, but like other great cult Pinot Noirs, they would have been found out in time anyway.
Katy gained her Pinot Noir winemaking acumen with stints at Testarossa, Joseph Phelps, Craggy Range, and Flowers Winery where she was the assistant winemaker to Ross Cobb. If you have enjoyed COBB Pinot Noirs, you will like LaRue Pinot Noirs, as they share some common vineyard sources and have a very similar style.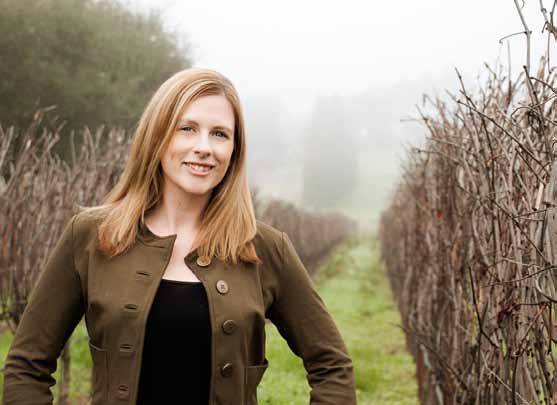 I find LaRue Pinot Noir closely reflects Katy's personality. She is somewhat shy and modest, playful with a beaming smile, and energetic but not flamboyant. Her wines have a certain transcendent aura that reminds you why you fell in love with Pinot Noir in the first place. La Rue Pinot Noirs are wines that could make you want to abandon your family, leave your job, and forfeit your hard-won position in the community for just one more bottle.
Katy produces about 500 cases of Pinot Noir annually, both Sonoma Coast and Sonoma Coast vineyard designated wines. Despite the demand, she refuses to make more, preferring to do all the winery work by herself. She is also a consulting winemaker for Anaba Wines since late 2014, and Claypool Cellars since 2011.
The first wine reviewed here, the 2012 La Rue Rice-Spivak Vineyard Sonoma Coast Pinot Noir needs special mention. This is one of California's most notable vineyards because it is capable of expressing a consistent uniqueness with each vintage. Some might deem this a reflection of terroir. I first met Pinot Noir from this vineyard several years ago made by Ross Cobb under his COBB Wines label and it has always caught my eye. The wines always have stunning aromatics featuring sous-bois, rose petal and spice, a plethora of juicy red fruits, and a certain elegant quality that in a review of the 2006 COBB Rice-Spivak Vineyard Pinot Noir, I said, "It really shows off the frilly, sexy side of Pinot Noir." Katy told me that this 6-acre vineyard south of Sebastopol always produces a wine that seems like it is made with whole cluster even when it is not. The vineyard is owned by Russell Rice and Helene Spivak MD who planted it to Dijon clones and Swan selection in Goldridge soil that also has some volcanic ash which is unusual for this area.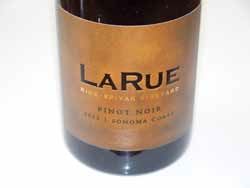 2012 LaRue Rice-Spivak Vineyard Sonoma Coast Pinot Noir
12.6% alc., 125 cases, $70. Clones are 115, 667 and Swan. Less than 5% whole cluster. Aged 17 months in 100% French oak barrels, 40% new. · Moderate reddish purple color in the glass. Very exotic aromatic profile brimming with alluring scents of black cherry, spice, rose petal and a hint of sweet oak. The nose reminds of one that reflects whole cluster fermentation. This is a special wine of charm and character, offering juicy cherry fruit that dances across the palate. Accents of spice and flower bouquet add interest. The experience is bright and energetic with great harmony and elegance. The wine offers a refreshing cut of acidity on the long finish that seduces with spiced cherry and red berry fruits. Very difficult to keep from drinking the whole bottle. Score: 97

2012 LaRue Coastlands Vineyard Sonoma Coast Pinot Noir
13.8% alc., 50 cases, $75. First planted in 1989 by the Cobb family, the vines are among the oldest on the Sonoma Coast. Clones are Pommard, Martini and Wädenswil. 15% whole cluster. Aged 17 months in 100% French oak barrels, 50% new. · Moderately light cherry red color in the glass. The nose is somewhat subdued but very pleasing, offering aromas of darker red fruits, balsam, vanilla and sous-bois. Very intense and saturating on the palate with an explosion of fresh cherry and raspberry fruits that are flat out delicious. A little more structured, sappy and masculine with a touch more oak overlay than the Rice- Spivak bottling. The finish is remarkable for its persistence, generosity and juicy acidity. This wine was even better the following day from a previously opened and re-corked bottle, displaying the fat, silken richness that only Pinot Noir can achieve. Score: 96
La Rue wines are sold online at www.laruewines.com. I suggest you join the mailing list because as the word continues to get out, these wines will be increasingly difficult to acquire.