Oregon Wine Is Killing It!
It seemed only natural to kick off this May issue with a tasting of Oregon wines since May is Oregon Wine Month. The Oregonians have plenty to celebrate, as the wine business is killing it, leading the nation in wine sales in 2014. According to the 2015 Wine Sales Report by Ship Compliant, Oregon had the fastest growth in direct to consumer (DtC) sales to customers in 2014, over double the next leading region. The figures reflect an increasing demand for Pinot Noir, and Oregon Pinot Noir in particular, across the country.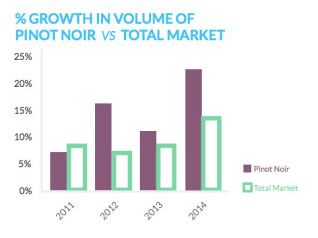 The volume of DtC shipments of cases of Oregon wine increased 46% in 2014, compared to regions in California and the rest of the U.S. that were below 16% increases in volume. DtC shipments from Oregon wineries increased 53% in value. The average cost of a bottle of Oregon wine was $39.72, a 4.2% increase over 2013. Since most Oregon wineries are small (5,000 cases or less production annually), they lack distribution and must concentrate on DtC sales through wine clubs and other marketing ventures.
Full Glass Research study found that the Oregon wine industry had an economic impact of $3.3 billion in 2013. Planted acreage increased by 18 percent since 2011, the number of wineries increased by 45 percent and there was a 39 percent increase in sales. Part of the success has been a focus on the higher-quality, higherpriced segment of the wine market. Oregon growers have the highest average price per ton of grapes, and Oregon wineries have the highest average revenues per case.
The strong growth of the Oregon wine industry has attracted new investment from the U.S. (California's Jackson Family Wines, Foley Family Wines, and Wagner Family of Wines, and Washington's Ste. Michelle Wine Estates and Precept Wines), and global interests such as Louis Jadot.
Oregon now has more than 24,000 acres among 951 vineyards and several hundred acres currently awaiting development. 72 varieties of grapes are grown. The state is the third largest wine producer at 3.5 million cases in 2014 according to Wines Vines Analytics, behind California and Washington if only wine from vinifera grapes are considered.
Oregon Wines Fly Free program has been so successful that it has been extended through 2017. Visitors traveling from Oregon on Alaska Airlines who are members of Alaska Airlines Mileage Plan can check a case of Oregon wine for free. The Oregon Wine Board, Travel Oregon and Alaska Airlines collaborated to make Oregon the first state to launch a statewide wines fly free program in September 2013. Today, more than 300 Oregon wineries participate, and almost 5,000 cases of Oregon wines have been checked for free since the program started. As a bonus, inbound visitors can receive complimentary tastings at any participating winery by showing their Alaska Airlines boarding passes within a week of arrival.
A live art mural by a graffiti artist depicting the magic of winemaking will be created in front of Chapter 24 Vineyards new tasting room in Dundee, Oregon during Oregon Wine Month. Ashley Montague, who paints Eardrums for Eyelids, is a renowned Portland street artist who has created awe-inspiring murals throughout the city and beyond. Chapter 24 Vineyards has commissioned a mural, "INFUSION: Chaos, Change and Emergence" in front of their tasting room. This is the first known time that urban street art has taken place in the Willamette Valley. Internationally renowned artist Cathy Bleck will draw an internal mural in the tasting room. Visitors to the tasting room can witness the spectacle of live mural art created before their eyes on May 16-17 and May 23-24 from 11:00 to 5:00 each day, along with a tasting flight of Chapter 24 Pinot Noir. The winery's website is www.chapter24vineyrds.com.
Oregon Wine Month, a statewide promotion launched by the Oregon Wine Board, was first proclaimed by former governor John Kitzhaber, and is now in its fourth year. A new website, www.oregonwine.org, details the month-long promotions. Follow #oregonwinemonth.