Sips of Recently Tasted Oregon Wine
Antica Terra, Dundee
Most Antica Terra wines are blends but the Antikythera is from a single estate vineyard located in the northernmost part of the Eola-Amity Hills. The current owners have been farming this vineyard for almost a decade. There were not immediate rewards in the early years but persistence paid off. Winemaker Maggie Harrison says, "The 2012 Antikythera is the wine I've been hoping to make since the day I first saw the vineyard." The 2012 vintage gave qualities that are only seen once every twenty years or so. Private, seated tastings are available at the winery from Wednesday through Sunday, November through August by appointment. Visit www.anticaterra.com.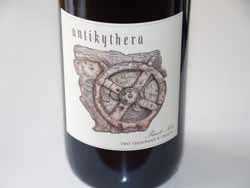 2012 Antica Terra Antikythera Eola-Amity Hills Willamette Valley Pinot Noir
516 cases, $100. Released March 1, 2015. · Amazing depth of color. Interesting aromatic drama, with scents of black cherry, blackberry, spice, Bailey's Irish Creme, pine needle and a hint of oak. Full-bodied and rich, yet angelic in texture with velvety softness, offering delicious flavors of black raspberry, cassis, iron and spice. A whisper of oak chimes in. Well-ripened in this vintage and a noticeable departure from the previous two vintages with more fruit and more structure. A delightful wine that harkens back to the Sine Qua Non Pinot Noirs of the past, and can serve as a poster child for the voluptuous 2012 vintage in Oregon. Score: 94
Big Table Farm, Gaston
This winery is a remarkable success story. Brian Marcy and Clare Carver left Napa for Oregon 9 years ago to find some backyard space and make some wine. They used all their resources to buy the property that is now Big Table Farm, so they began modestly with just 150 cases. Slowly they revived the 1890 farmhouse that was painted pink inside and out, added a barn to house their horses, and built a winery that was completed in time to make the 2014 vintage wines. Today, production is 3000+ cases of wine that receives many critical accolades. Visit www.bigtablefarm.com. Big Table Farm is one of the featured wineries at this year's International Pinot Noir Celebration, July 24-26.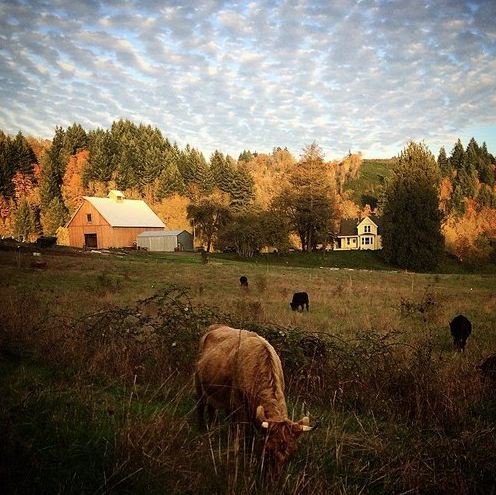 The 2013 vintage was characterized by a modestly warm summer followed by a very cool and rainy September. The result was that grapes reached maturity with very low sugar and the resultant wines have under 12 percent alcohol in some cases.
2013 Big Table Farm Willamette Valley Chardonnay
476 cases, $45. Grapes sourced from Bieze, Durant, Wirtz and Yates Conwill vineyards. Unfined and unfiltered. · Light golden yellow and slightly hazy in the glass. Welcoming aromas of citrus oil, spice, and honeysuckle. Soft and smooth on the palate, with bright flavors of yellow peach, apple, lemon zest and spice. A somewhat demure style that is beautifully balanced, finishing with zippy lemony acidity. Score: 90
2013 Big Table Farm Willamette Valley Pinot Noir
1,534 cases, $42. 3 new sites were added to the six sourced in previous vintages. Native yeast, whole cluster fermentation. Unfined and unfiltered. · Moderate light cherry red color in the glass. Very floral nose reminds me of Chanel #5 with added notes of cherry and Asian 5-spice. Light to mid weight flavors of strawberry, cherry and raspberry with a hint of smoky oak in the background. Elegant and charming, with supple fine-grain tannins and a pleasingly dry finish. Score: 89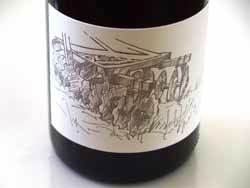 2013 Big Table Farm Pelos-Sandberg Vineyard Eola-Amity Hills Willamette Valley Pinot Noir
303 cases, $48. One acre each of Pommard and 777. Unfined and unfiltered. · Moderately light reddish purple color in the glass. Upbeat aromas of black cherries, rose petal, spice, herbs and oak all interacting in harmony. Discreetly concentrated core of black cherry fruit complimented by smoky oak and an earthy presence. The tannins are well balanced and the juicy acidity adds tension. The wine finishes very suave with a cherry-fueled wave of goodness. Score: 92
Elouan, St. Helena, California
A new value-priced Oregon Pinot Noir label from Joe Wagner's (of Caymus Wagner Family) Copper Cane Wines & Provisions, which includes the Meiomi label. Copper Cane Wines & Provisions was founded in 2014 by Joe and Amber Wagner. Grapes are sourced from the Valleys of Willamette, Umpqua and Rogue. Large production, widely distributed. The website is www.coppercane.com.
$24.99. Released July 2014. · Light cherry red color in the glass. Vanillasoaked cherries lead the way in this mid weight wine which offers additional notes of strawberry and cola. Straightforward, with supple tannins, and some grip on the short finish. Ordinary. Score: 85
Evening Land Vineyards, Carlton
Since its founding in 2005, this winery has undergone a number of changes. In 2014, winemaker Sashi Moorman, sommelier Rajat Parr and Charles Banks of Terroir Selections became minority partners in Evening Land Vineyards and took over operations. Winemaker Ian Burch replaced founding winemaker Isabelle Meunier at the winery in Salem, Oregon. Dominque Lafon continues to play a consulting role. Mark Tarlov, the founder of Evening Land Vineyards, signed a 45-year lease in 2007 of the 100-acre Seven Springs Vineyard and Evening Land Vineyards is the exclusive producer of wine from this vineyard. A new label, Seven Springs Vineyard will appear with the 2014 vintage. The website is www.elvwines.com.
J. Wrigley Vineyard, McMinnville
J. Wrigley Vineyard is owned and farmed by the Wrigley family who planted their vineyard in 2008. Pinot Noir clones are Pommard, 115 and 777, primarily rooted in volcanic soil. The J. Wrigley label was launched with the 2010 vintage and the first estate Pinot Noir arrived the following year. Production is about 500 cases including Pinot Noir, Pinot Gris and Riesling. I visited last year and was impressed by the wines. Visit www.wrigleywines.com.
Thankfully, a decision was made to pick the grapes early, before the impending tropical typhoon that was headed to Oregon in September 2013. This year a "feral yeast" program was begun. The vineyards and winery were inoculated with a yeast cultured from a strain of yeast from Burgundy.

2013 J. Wrigley Vineyards "MAC" Cuvée McMinnville Willamette Valley Pinot Noir
13.0% alc., pH 3.64, TA 0.57, $28. Clones 777, 667 and Pommard planted in both sedimentary and volcanic soil. · Moderately light reddish purple color in the glass. Shy, but pleasant aromas of fresh cherry tart and raspberry coulis. Good depth and length on the palate, featuring red cherry, blueberry and raspberry fruits. More elegant, with less tannin than the Proposal Block bottling, offering juicy acidity and good length on the finish. Ready to rock. Score: 90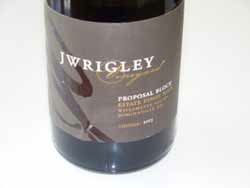 2013 J. Wrigley Vineyards Proposal Block McMinnville Willamette Valley Pinot Noir
13.0% alc., pH 3.57, TA 0.57, $45. Clones 777, 115, "828," and Pommard. · Moderately light reddish purple color in the glass. Very floral on the nose with added scents of black cherry and underbrush. Inviting body and polish, with mid weight flavors of juicy cherries and raspberries, framed by dry, slightly grippy tannins typical of the appellation. Bright acidity, and a silken finish that really grabs your attention. This wine is very forward drinking and aims to please. Score: 92
Mouton Noir Wines, McMinnville
Winemaker André Hueston Mack is a sommelier of some renown. He was award the prestigious title of Best Young Sommelier in America, and worked as Head Sommelier at The French Laundry and Per Se. His vineyard sources include Roserock, Zena Crown, Hyland, Elvenglade, Guadalupe and Thistle. His wines have humorous names and the label of the premium Oregogne Willamette Valley Pinot Noir ($45) is a take off of a French Burgundy label. The O.P.P. Pinot Noir is a value-priced, accessible wine. Visit
www.moutonnoirwines.com to join the mailing list or buy wines. Check out the cool schwag.
2013 O.P.P. Other People's Pinot Willamette Valley Pinot Noir
13.1% alc., pH 3.75, TA 0.59, RS 0.63, $19.99. Released October 20, 2014. 7-day cold soak, additional 18 days of skin contact. Fermented in stainless steel and aged 10 months in 100% French oak barrels, 30% new. · Moderately light reddish purple color in the glass. The nose leads with aromas of cherry, raspberry and underbrush, with a touch of honeysuckle showing up over time. Red berry and cherry flavors are featured in a lighter weight wine with subtle notes of oak and dried herbs in the background. The fruit is wrapped in mellow tannins and spirited by tight acidity. A solid daily drinker. Score: 88
Seufert Winery, Dayton
This is a boutique winery specializing in vineyard-designated Pinot Noir. Owner and winemaker Jim Seufert produces about 2,000 cases annually at a small downtown winery that also serves as a tasting room. The wines are modestly priced considering the quality. Visit www.seufertwinery.com.
2011 was deemed "the miracle vintage," because of low heat units and high rainfall. The resultant wines have delicate complexity and bright acidity. It seems unfair to review these 2011 vintage wines in an issue in which all the wines are from the more ideal 2012 and 2013 vintages.
2011 Seufert Winery Zenith Vineyard Eola-Amity Hills Willamette Valley Pinot Noir
13.0% alc., 245 cases, $35. Pommard and 777 clones. Vineyard planted in 1999. Multiple soil types. · Moderately light reddish purple color in the glass. Aromas of red cherry, cranberry and dried herbs are replicated in the flavors of this lighter weight wine that is a bit tart and tannic. A little oak is trying to add interest, but the tannic sinew and sharp acidity overwhelm the delicate fruit. If I was drinking this wine, I would chill it or add ice to temper the tannins. Score: 86
2011 Seufert Winery Vine Idyl Vineyard Willamette Valley Pinot Noir
241 cases, $30. 100% Pommard clone from vines planted in volcanic Jory soil. · Moderate reddish purple color in the glass. Appealing aromas of black cherry and wilted rose with oak in the background. Mid weight core of black cherry and raspberry fruits framed by modest tannins and bracing acidity. Bright and vibrant, with a satisfying fruit load and a citrus-driven finish. Score: 89
2011 Seufert Winery Horseleap Vineyard Willamette Valley Pinot Noir
245 cases, $30. Pommard and 777 clones planted in Willakenzie marine sedimentary soil. · Moderately light cherry red color in the glass. Quite a bit of oak dominates the nose that features aromas of cherry and savory herbs. A pleasing wine on the palate with welcome fullness and roundness, offering a mid weight core of cherry goodness wrapped in modest tannins. Less oak is evident in the mouth, and the cherry-driven finish finishes with some length. The acidity is more harmonious in this wine. Score: 89
Stoller Family Estate, Dundee
Founded in 2001, this was Oregon's first LEED Gold certified, solar-powered, gravity-flow winery dedicated to Pinot Noir and Chardonnay production. A second winemaking facility is currently under construction to meet the demand for Stoller Family Estate wines. Bill Stoller bought his family's 373-acre property in Dayton in 1993 and planted the first 10 acres each of Pinot Noir and Chardonnay two years later. Today, Stoller Family Estate is the largest contiguous vineyard in Oregon's Dundee Hills AVA. Winemaker Melissa Burr has been on board since 2003, now producing about 20,000 cases annually. Visit www.stollerfamilyestate.com.
2013 Stoller Family Estate Dundee Hills Pinot Noir
12.9%, 7,475 cases, $30, screwcap. A blend of 20 sections of the estate vineyard. Aged in French oak barrels, 30% new. · Darker red and purple fruits along with tastes of herbs and nutty oak are featured in this middleweight, approachable wine that is acid-driven. The modest tannins make for easy drinking, and the finish features tart black cherry and citrus-imbued cranberry fruit flavors. Score: 88
Van Duzer Vineyards, Dallas
Since winemaker Florent-Pierre "Flo" Merlier came on board as winemaker, the wines have reached the upper echelon in the Willamette Valley. Merlier is a native of Burgundy and a graduate of the University of Dijon. He met his spouse, Krista, an Oregonian, while interning at the same winery in Burgundy and relocated to Oregon in 2009. He has 82 acres of Pinot Noir and Pinot Gris at his disposable and the winery also now sources grapes for singular bottlings and the Alchemy blend. Visit www.vanduzer.com.
More
2013 Underwood Oregon Pinot Noir
13.0% alc., $10. Produced by Union Wine Co, in Newberg, Oregon. Also available in a 12 oz can. · Light cherry color in the glass. Aromas of red cherries and potpourri hold up nicely over time in the glass. Light to mid weight flavors of cherry, black raspberry and red licorice are framed by notes of oak and black tea, with the oak more prominent than I prefer. The tannins are mellow making the wine light on its feet. No need to contemplate this wine: just serve and chill out. A very good value. Score: 86