Maggy Hawk: Kendall-Jackson's Crown Jewel of Pinot Noir
Maggy Hawk is a gem of a vineyard that rarely comes up in discussion about California's greatest Pinot Noir vineyards, yet it is the crown jewel among the many acres of vineyards that Kendall-Jackson farms in California. Perhaps its hidden location in the Anderson Valley's "deep end," in a rugged and remote outpost that few have ever visited. The map below from WineMaps.com shows the location.
Maggy Hawk is the name of Barbara Banke's favorite winning thoroughbred horse. Banke was a lawyer and wine connoisseur when she met Jess Jackson and played a major role in the growth of Jackson Family Wines. She assumed the reigns of Jackson Family Wines when Mr. Jackson passed away in 2011. She established the Maggy Hawk label with the inaugural release in 2007. Before that, grapes from Maggy Hawk Vineyard had been an important component of the La Crema Anderson Valley bottling beginning in 2003.
This 58.7-acre estate is situated among the coastal redwoods just west of Highway 128. It is a fog-cloaked and wind-swept setting, unique for its complex array of steep slopes and aspects, and well-drained, porous, decomposed sandstone soil. Maggy Hawk winemaker, Elizabeth Grant-Douglas, revers the vineyard property, calling it her "favorite place on earth" and "heavenly."
Maggy Hawk was planted in 2000 to 23.55 acres of distinct blocks with a variety of Pinot Noir clones that include Pommard, Wädenswil 2A, and Dijon 115, 667 and 777, principally on rootstocks 3309C and 101-14.
The vine spacing is 8' x 5' and 9' x 5' with 978 to 1102 plants per acre on a VSP trellis with bilateral cordon. The vineyard manager, Dennis Winchester, lives on the property.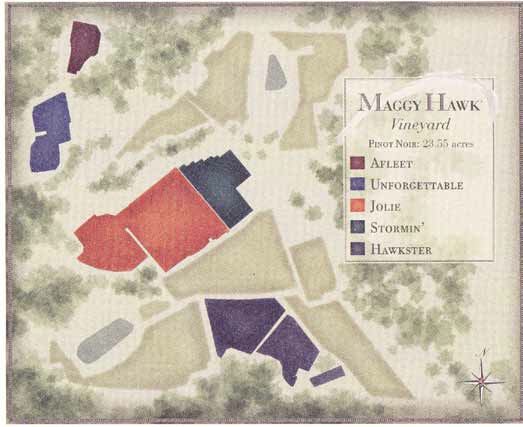 The Maggy Hawk Pinot Noirs are all predominantly single clone bottlings from a specific block within the vineyard and are named after Maggy Hawk's progeny. Jolie, Afleet, Stormin' and Unforgettable wines are the offspring of the mare Maggy Hawk and her sire, Hawkster, who also has a Maggy Hawk Vineyard wine named in his honor. Jolie is composed predominantly of Dijon clone 115, Afleet is predominantly Pommard clone, Stormin' is predominantly Dijon clone 667, as is Unforgettable, but is from 667 grown on the vineyard's steepest slope, and Hawkster is mainly Wädenswil 2A.
I first met with the wines with the 2007 vintage and I commented, "These are truly special connoisseur's wines that defy appropriate description....possessing a uniqueness and somewhereness that sets them apart." My tasting of 2011 and 2012 Maggy Hawks Pinot Noirs only reaffirmed my enthusiasm.
Maggy Hawk wines are produced in small quantities (a total of less than 1,000 cases) and sold through a mailing list at www.maggyhawk.com. Jolie, Afleet, Stormin' and Unforgettable are released in the early spring and Hawkster, which is only made in exceptional vintages, is released in the fall.
A Maggy Hawk Vineyard Sweepstakes is being offered through June 30, 2015, that includes round trip airfare to San Francisco, CA, a 3-night hotel stay, personal transportation to Anderson Valley and Maggy Hawk Vineyard and dinner vouchers. Visit the winery's website for instructions on entering (no purchase necessary).
2011 Harvest Notes: Harvest started later than normal and the fruit was picked between October 24 and October 28. The growing season was characterized by heavy spring rains and cooler weather than normal. Yields were lower than average.
2012 Harvest Notes: Nearly a perfect year, the vintage yielded fruit of optimal ripeness while maintaining acidity critical for balance and maturing potential. Grapes were harvested two weeks earlier than in the cooler 2011 vintage.
The wines reviewed here from the 2012 vintage are a little better than their 2011 counterparts. The 2011 wines all show more oak overlay. Labels all report 14.5% ABV.