Vintage Matters, More So in Oregon
The 2013 Pinot Noirs from California and Oregon are rolling in, but they are not creating the buzz of the 2012 vintage or the potentially spectacular 2014 vintage. I usually tell consumers not to concern themselves too much with vintages, other than to note that vintage variation is a positive in most instances since it results in a variety of styles of Pinot Noir. Variety is the spice of life, right? I also emphasize that great producers seem to vinify special wines in every vintage, indicating that more attention should be paid to the producer than the vintage.
Vintage variation is more pronounced in the Willamette Valley compared to California and this was well demonstrated in 2013. The 2013 Pinot Noirs from Oregon do not generally match the quality of the 2012 vintage Pinot Noirs. Like a bag of M&Ms - the 2013 Pinot Noirs all taste pretty good but few really stand out. Even in California, which experienced a very long and sunny growing season, I have found that the 2013 wines are not as glorious as those from the preceding 2012 vintage.
2013 was a good news-bad news vintage in the Willamette Valley. The summer was sunny and mild and grapes were ripening on schedule, paralleling the weather in California. Climatologist Greg Jones of Southern Oregon University reported that the 2013 growing season for Oregon vineyards was comparable to the 2003 warm vintage.The bad news arrived in late summer when monsoon-like rains inundated the Willamette Valley from September 22 to October 3, dropping 4 inches of precipitation. Some vineyards in the Chehalem Mountains received almost 7 inches of rain in September. Tiny seedless berries burst and that brought in the birds and invasive fruit flies. The most promising grapes were those that were fully ripe and picked before the rains. After the rains, the weather remained cool and dry, and some healthy, remarkably resilient grapes made very good wines, but not all grapes were ideal and some had botrytis. Overall, the crop was bigger in 2013.
Look forward to the 2014 vintage wines from Oregon. Said to be a "Goldilocks" vintage, the weather was not too hot, not too cold, and not too rainy. 2014 was the warmest season on record in the Willamette Valley, but not due to high maximum temperatures, but due to higher than normal minimum temperatures. A warm spring led to an early bud break, and the season maintained warm temperatures throughout. Nighttime temperatures were well above normal and this accelerated ripening. Harvest began at the very beginning of September. The dry weather inhibited disease pressure, leading to large crop loads and a ripe vintage.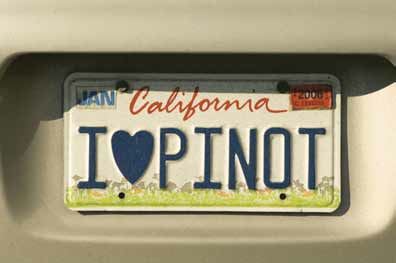 The 2013 vintage was generally more successful in California, which experienced a warm growing season and a dry fall. It wasn't particularly hot, but wasn't cold like 2011 or even 2010. Vines budded out early, set early, and grapes were harvested early. There were no significant temperature spikes above 90º F, and ripening was uniform. Crop loads were high in most regions. Adam Lee, winemaker at Siduri, summed it up best when he said, "They (the 2013 Pinot Noirs) are at least very good, maybe better, but I am not certain they are at the level of 2012." A lingering drought in California remains as the biggest concern in coming years.
Vintage challenges have not been a deterrent to the dedicated souls who continue to grow and make Pinot Noir. I still am amazed at the number of new players who continue to enter the business, undaunted by the vagaries of vintage and the current drought in California. To quote Jane Firstenfeld, writing in Wines & Vines (January 2006), "Passion will not be denied, and every year, more than a handful of brave souls take heart in hand, lay their money down and take their chances starting new wineries." Increasing Pinot Noir sales have contributed the impetus to court the most darling of all grapes.
The following pages contain recent reviews of Pinot Noir, Pinot Noir Rosé, Pinot Noir Blanc, and Chardonnay, most of which are from the 2013 or 2014 vintage.