Exploring the Heritage Vineyards of Sonoma County: A Trip Well Taken
Each year I donate a "Russian River Valley Immersion" guided tour to ¡Salud! Oregon Wine Auction. This auction is a collaboration between Oregon wineries and healthcare professionals from Tuality Healthcare intended to provide access to health care for Oregon's vineyard and winery workers and their families. ¡Salud! is named for the traditional Spanish toast, "To your health." As I am a retired physician, this charity is one I wholeheartedly support.
The charity's major fundraiser is the two-day ¡Salud! Oregon Wine Auction held each year in early November. The Russian River Valley Immersion Trip auction item that I sponsor is three days of private, focused winery and vineyard tours and tastings, gourmet meals and lodging. The group included (left to right in the photo below taken at Cohn Vineyard), myself and my spouse Patti, our wino friends Roxanne and Andy Talley, the 2014 auction winners Donna Parkinson and Michael Burkhart and their inviting guests, vintner Harry Peterson- Nedry (Chehalem Vineyards) and Didi Nowers. The troopers found plenty of joie de vivre over three days in Sonoma County, largely due to the generosity of the wineries and growers who I called upon to host our group.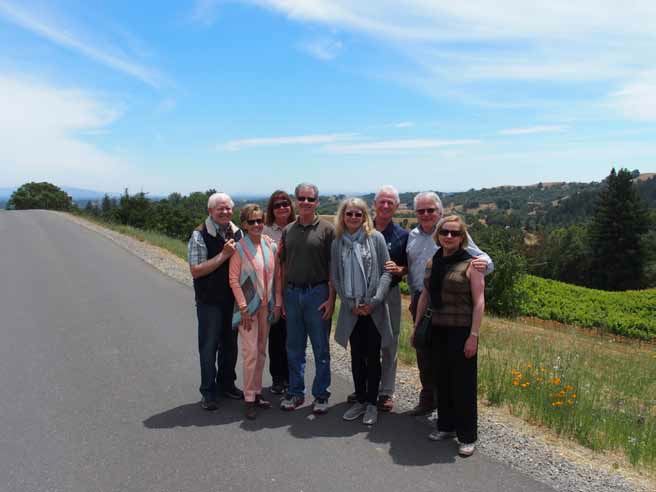 This year's Russian River Valley Immersion Trip focused on heritage Pinot Noir vineyards in Sonoma County planted before 1980. Hyde Vineyard was included although it is in Napa County (Napa Carneros). Thanks to winemaker and partner of Benovia Winery, Michael Sullivan, the Bacigalupi family, Tom and Joe Rochioli of Rochioli Vineyards, winemaker Shane Finley of Lynmar Estate, winemaker Eva Dehlinger of Dehlinger Winery, the Pellegrini family of Olivet Lane Estate, the entire staff of Hanzell Winery, winemaker James Hall of Patz & Hall, and winegrower Larry Hyde of Hyde Vineyard. All these notable wineries and winegrowers are highly successful, and sell out of their wines annually to eager wine enthusiasts, but they generously gave of their time and resources to support ¡Salud! The charity does not benefit them directly, but the wineries participate as a goodwill nod to others in the wine industry as well as supporting the charity's goals.
The 2015 ¡Salud! Oregon Wine Auction will be held November 13-14. 45 of Oregon's most sought after wineries will debut the 2014 vintage and uncork their ¡Salud! Cuvées - collectible Pinot Noirs crafted exclusively for ¡Salud! The Cuvée Tasting and Big Board Auction will be held Friday, November 13, at Ponzi Vineyards, and the Dinner and Auction Gala will be on Saturday, November 14, at The Allison Inn & Spa. For event information and to purchase tickets, visit www.saludauction.org.
Most all the wines served during the 3-days were from heritage vineyards in Sonoma County culled from my personal cellar. I will mention them in the pages to follow.
There are several heritage Sonoma County Pinot Noir vineyards that I was not able to include in this trip. They include Van de Kamp Vineyard (first planted in the late 1950s or early 1960s), Joseph Swan Trenton Estate (first planted in 1969), Bohan Vineyard (first planted in 1973), and Arrendell Vineyard (first planted in 1975). I am sure I am missing a few others.
There are precious few old vine Pinot Noir vineyards in Sonoma County that are still productive. Age is a valuable commodity in vineyards. Ted Lemon, of Littorai, noted recently in The World of Fine Wine (Issue 48, 2015), "Vine age is the key to balance. There's no substitute for vine age." The aged vine has more potential for reflecting the essence of a vineyard, or at least reflecting a unique character of the site.
I don't believe you can truly appreciate a wine if you haven't visited the vineyard it came from. You have to walk the rows, kick some dirt, spit some seeds, take in the ambiance and smells, and rub shoulders with the vineyard manager and/or winemaker. When you have the opportunity to visit an aged vineyard with its many gnarled, thick vines, the impression can be even more beholding. On your next trip to Sonoma County, I urge you to arrange a visit to one of the heritage vineyards featured in this issue.