Lynmar Estate Quail Hill Vineyard
The Quail Hill Estate Vineyard Block 2 was first planted in 1974 (the Lynmar website says 1971 but the winery's vineyard manager, Jason Sailing, told me that he confirmed with Tom Dehlinger who assisted in the acquisition of the cuttings that it was 1974) and has some of the oldest Pinot Noir vines in the Russian River Valley. These vines are some of the first established in the Russian River Valley with budwood from Joe Swan and is the only remaining block from the original plantings. A phased replanting involving 71% of the vineyard was undertaken in 1996, but select heritage blocks including the 2+ acres of Swan selection Pinot Noir planted in 1974 were retained. An additional 1.2 acres of Swan selection was planted in 1997 as Block 12, using budwood sourced directly from the original vines. The grapes from these original vines were sold to Tony Soter and Merry Edwards, until Lynmar began its own winemaking activity in the early 1990s.
The Swan selection vines are in Block 2 and in Block 12 as shown in the map below. The photo shows the winery in the distance with Block 2 in the far distance and Block 12 in front of the winery.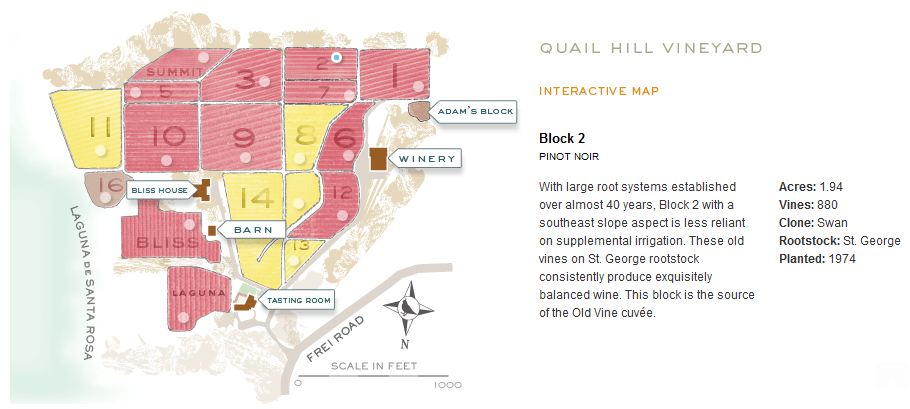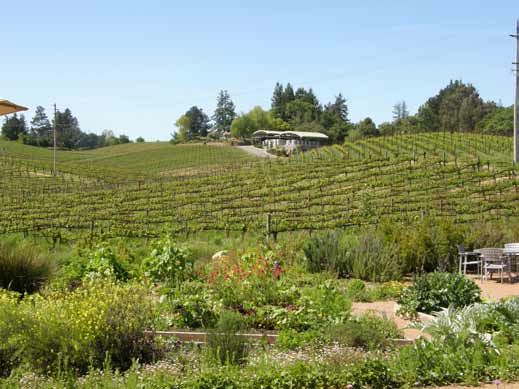 The Swan selection grapes have been a part of Lynmar's Quail Hill Cuvée and Quail Hill Vineyard wines but were bottled separately as an Old Vines Pinot Noir for the first time in 2009. The 2012 Quail Hill Vineyard Old Vines Pinot Noir was a glorious wine when tasted in barrel and later in bottle in July 2014, and given a score of 95 (one of my 2014 All-American Pinot Noirs). The wine is currently sold out but a magnum is available ($185).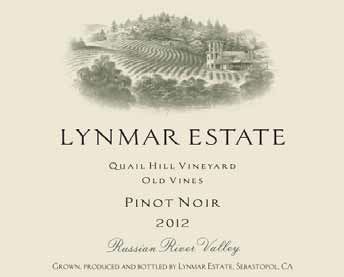 The legendary Joseph (Joe) Swan first planted Pinot Noir, along with Chardonnay and Cabernet Sauvignon, beginning in 1969, replacing a 13-acre plot of Zinfandel on Laguna Road in the Santa Rosa Plain area of the Russian River Valley that he acquired in 1967. It was Joe's friend, Andre Tchelistcheff who advised him to plant Burgundy varieties on this site.
According to current J. Swan proprietor and winemaker, Rod Berglund, the budwood for the original Pinot Noir plantings probably came from Martin Ray's vineyard (now Mount Eden) in the Santa Cruz Mountains, originally brought into this country from France by Paul Masson. The budwood was obtained from the Experimental Station in Oakville. Some nursery selections were also planted but later abandoned. Joe marked the most redeeming vines in his vineyard and grafted the nursery selection roots over from wood he deemed to be the best. There were also DRC "suitcase" selections planted that were given to Joe as a gift by an unnamed individual many years ago (exact dates unknown). The resulting vine mix was later named the "Swan clone" by Francis Mahoney, the founder of Carneros Creek Winery. An additional block of Pinot Noir was planted just south of the original planting in 1974.
Joe produced some very good and age worthy Pinot Noirs from his vines and helped to establish the credibility of Russian River Valley Pinot Noir. A Pinot Noir from the Swan vineyard, now called the Trenton Estate, was sourced entirely from the original 1969 and 1974 plantings from 1973 to 2002 (after 2002, some young vine fruit was added). The designation, "Trenton Estate," did not appear until 1997. Cuttings from Swan's vines were eagerly sought after, and because of Joe's generosity, became widely distributed to other California vineyards as the Swan clone or Swan selection.
Lynmar has one of the most spectacular hospitality centers in Sonoma County with tasting available in both an indoor and expansive outdoor venue. The photo below shows our happy group basking in the sunshine and seated for a Picnic Pairing 2015 lunch at Lynmar Estate (menu is reproduced below). Lynmar Estate has a full time chef and various food options are offered in the tasting venue.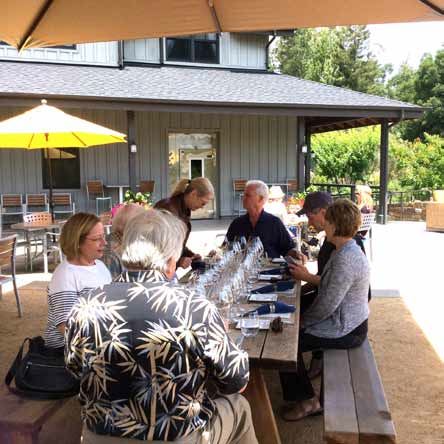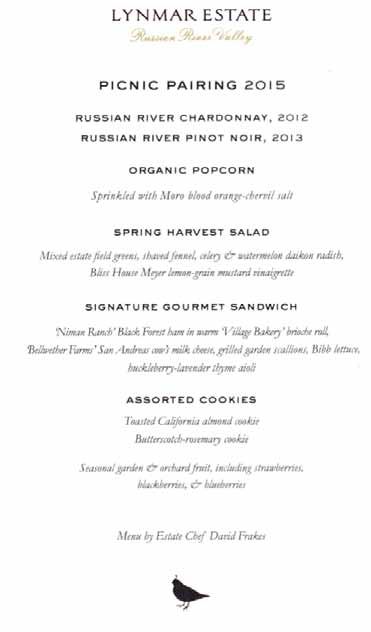 Lunch wines:
Winemaker Shane Finley (formerly of Kosta Browne) stopped by to talk about Lynmar wines and offered a taste of a few special bottles (see photo of Shane below). I must admit, I was having too many laughs and enjoying Shane's company too much to comment specifically on the wines he brought. Just say that he is crafting a superb lineup of wines at Lynmar Estate, and if you visit, try to spend some time with him.