Dehlinger Winery Old Vines
Tom Dehlinger (DAY-leen-ger) was born on the East Coast, but grew up in Berkeley, California, and earned a degree in biochemistry at the University of California at Berkeley. He pursued graduate work in enology and food science at the University of California at Davis for a year, leaving school to work in the wine industry, first as a lab technician at Beringer, then in winemaking positions at Hanzell and Dry Creek Vineyard. He was only 26-years-old when, in 1973, he set upon a career as an independent winegrower and winemaker.
Russian River Valley Pinot Noir was in its infancy in 1973. Joe Swan had planted Pinot Noir in the Vine Hill region of the Russian River Valley four years prior using cuttings from Mount Eden and budwood from Burgundy and released his first Pinot Noir. Joe Rochioli, Jr., was harvesting his early viable crops from East Block and West Block Pinot Noir plantings on Westside Road first established from 1968 to 1970. Interestingly, there is little to indicate that Joe Swan and Joe Rochioli, Jr., knew of each other's early plantings.
Davis Bynum, working out of an old hop mill on Westside Road, released his 1973 Rochioli Vineyard Russian River Valley Pinot Noir, the first vineyard-designated wine from the Russian River Valley. The 1973 Davis Bynum Winery Rochioli Vineyard Pinot Noir and 1973 Joseph Swan Pinot Noir were probably the first Pinot Noirs to carry the words "Russian River" on the label, ten years before the Russian River Valley AVA was approved.
Russian River Valley Pinot Noir was beginning to happen, and into this stage came Tom Dehlinger, another visionary, who, along with his father, invested in a 45-acre ranch on Vine Hill Road in Sebastopol. Tom had well-defined ideas about winegrowing and was driven to plant his own vineyard. He spent the spring of 1974 bench grafting and callusing over 10,000 vines in a rented heated basement in Bolinas in Marin County. By summer, he had planted the fledgling vines in a nursery space in Dry Creek Valley. At the same time, he removed Gravenstein apple trees from his neglected hillside property. With guidance from Joe Swan, Warren Dutton and Forrest Tanzer, Tom planted the first 14 acres of vines on his property on Vine Hill Road at the intersection of Gravenstein Highway in the spring of 1975.
The original 1975 Dehlinger Pinot Noir plantings consisted of 4 acres of Pommard, and Martini clones with a smaller selection of cuttings from Joe Swan's vineyard. When Tom and his spouse Carole were planting the original vines, they ran out of vines and turned to Joe Swan to supply vines to fill out the vineyard.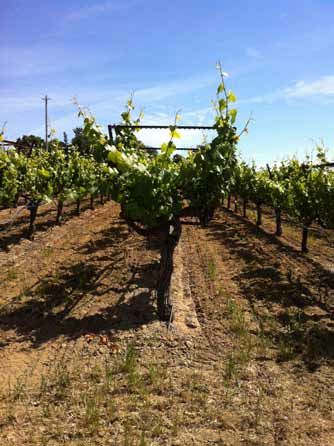 The initial Pinot Noir plantings were on AxR#1 rootstock using a 10 foot by 8 foot spacing in vogue at the time. Irrigation was achieved with overhead sprinklers. The vines were trained on a single wire and pruned to two fruiting canes but it was soon evident that vine growth was too vigorous and the vines lacked balance. Viticulturist Marty Hedlund was hired to supervise further plantings and institute a program to overcome vine imbalances. A new split-canopy vertically shoot positioned Lyre trellis system was retrofitted in 1993. The Dehlinger old Pinot Noir vines are pictured above.
After a few years, it was evident that the three clonal types were quite different in their growth patterns and eventually were harvested and processed separately. Tom recognized the differences in terroir within the vineyard, and combined with the clonal differences, led him to become an early champion of separately picking and vinifying small lots of grapes from different portions of the vineyard.
The old vines are planted in both Goldridge and Altamont soils. When bottlings labeled "Old Vines" have been produced, they can originate from either soil types.
Over the past 21 years, an "Old Vines" bottling sourced from the original plantings has been offered in certain vintages (2000, 2001, 2002 and 2009 from Altamont soil, and 1994, 2007 and 2012 from Goldridge soil.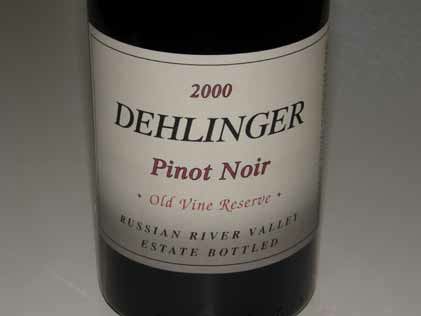 Eva (in red shirt), Tom's daughter, led us on a tour of the old vine portion of the Dehlinger Vineyard. She has a degree in Earth Systems Science from Stanford University, and subsequently studied viticulture at the masters level at the University of Burgundy in Dijon. She works side-by-side with Tom in crafting the Dehlinger wines and management of the vineyards.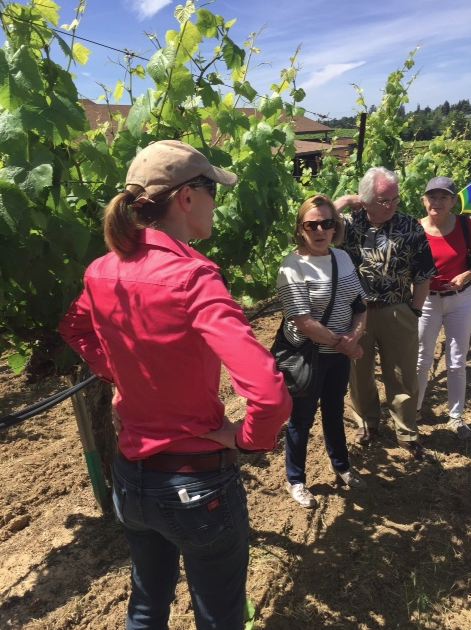 Eva pulled two barrel samples of 2014 Pinot Noir to compare: one from old vines planted in Altamont soil and one from new vines planted in Altamont soil (clone 943 on 420A rootstock). The winemaking regimen was similar for both wines. I may have been influenced by the old vines designation since we didn't taste them blind, but I definitely preferred the old vines bottling because of its added complexity and more lengthy finish.
Eva told me that wines made from Dehlinger's old vines are often some of her favorites. "For whatever reason, they often tend to be complete on their own, well balanced, and satisfying. That said, I don't believe that a vine needs to be old to make compelling wine. The young vine wine we tasted was also quite enchanting and I am thrilled with the way our young vine wines have turned out."
Eva went on to talk more philosophically about old vine wines. "What is special to me about the old vine wines is broader than just the wine in the glass. It is the context and history of the old vines that is so important. I'm moved just thinking about all the seasons that the vines have lived through, all the people who have cared for them, and all the vintages they have offered us fruit. It makes me think of the Rose in the Little Prince: it's the time that we invest in our loved ones (and loved vines) that makes them so unique.