Pellegrini Wine Co. Olivet Lane Vineyard
The Pellegrini family has been growing wine grapes and producing wine in Sonoma County, California, for four generations. Current patriarch, Robert, established Olivet Lane Vineyard upon the urging of his parents, Vincent and Aida. In 1973, Vincent acquired a 70-acre apple, plum and olive orchard on West Olivet Road between River Road and Guerneville Road in Santa Rosa, an area of the Russian River Valley known as the Santa Rosa Plain. Robert was fresh out of school, had just returned from a tour of Burgundy, and was intrigued by the idea of planting Pinot Noir on the family's newly acquired land.
Robert planted both Pinot Noir (20 acres) and Chardonnay (40 acres) in 1975, with an emphasis on Chardonnay since that grape was in much more demand than Pinot Noir at the time, and was earning twice the revenue. Robert and Vincent brief considered budding over the Pinot Noir to Chardonnay but decided otherwise. This turned out to be a good decision since by 1987, the first year Pinot Noir grapes were sold to Burt Williams and Ed Selyem, the potential for premium Pinot Noir was clear. The Olivet Lane Vineyard was named after the olive trees which line the vineyard's east entrance. Robert says today, "I was just naive enough at the time to think it would work."
Martini clone was planted on AxR#1 rootstock with wide row and vine spacing in favor in the 1970s. The vineyard continues to thrive despite the threat of phylloxera and has now seen almost 40 vintages. The photo below shows one of the old vines near harvest in 2009.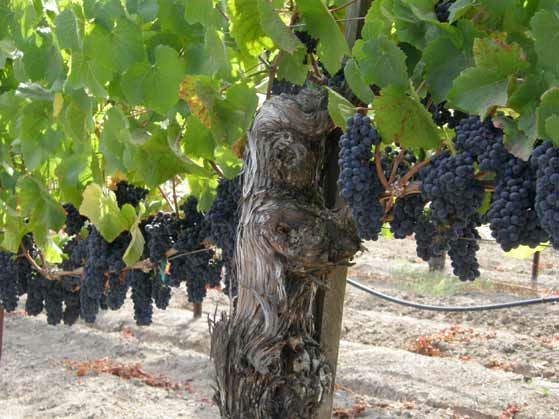 Through the years, grapes from Olivet Lane Vineyard have been sourced by such notable wineries as Brogan Cellars, Gary Farrell, Kosta Browne, Merry Edwards, Paul Hobbs, WesMar and Williams Selyem. With the 2013 vintage, Robert and his direct family assumed sole proprietorship of the winery and vineyard, and an Olivet Lane Vineyard Pinot Noir and Chardonnay have recently been released, marking a new and bright incarnation of a Russian River Valley heritage estate.
On Friday evening of our three-day tour of heritage vineyards, Robert Pellegrini, along with his family and winemaker, Lynn Krausmann, hosted a family style dinner at Canneti Roadhouse Italia in Forestville. The menu included an antipasto selection of cured meats and crostini, a Risotto alla Milanese with saffron and Pecorino cheese, a chestnut-fed pork roast over rosemary potato fries, and a cherry crostata for dessert. The photo below shows Robert next to the lineup of Olivet Lane Vineyard wines served at the dinner.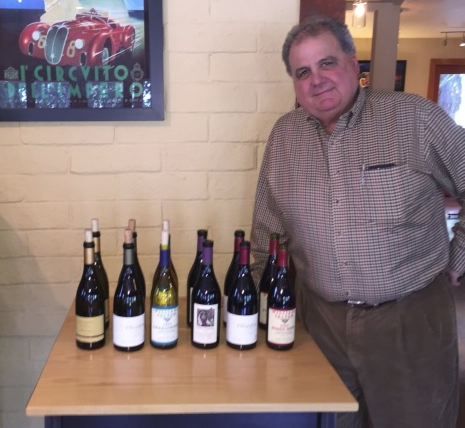 Dinner wines:
2013 Olivet Lane Estate Russian River Valley Chardonnay
2013 Williams Selyem Olivet Lane Vineyard Russian River Valley Chardonnay
2012 Gary Farrell Olivet Lane Vineyard Russian River Valley Chardonnay
2013 Olivet Lane Estate Russian River Valley Pinot Noir
2013 Merry Edwards Olivet Lane Vineyard Russian River Valley Pinot Noir
2013 Williams Selyem Olivet Lane Vineyard Russian River Valley Pinot Noir
The Olivet Lane Estate wines were clearly my favorites and several others at the table agreed.