Hanzell Vineyards The Ambassador's 1953 Vineyard
On Saturday morning, our group traveled to Hanzell Vineyards, located on the western side of the Mayacamas Mountains overlooking the town of Sonoma, California. Founded by Ambassador James D. Zellerbach in 1953 with a vision to produce wines equal to the finest in the world, the estate was purchased by the de Brye family in 1975. The 200-acre Sonoma Valley property includes 46 planted acres and is home to the oldest continuously producing Chardonnay and Pinot Noir vines in North America: The Ambassador's 1953 Vineyard.
The Ambassador's 1953 Vineyard consists of 4 acres of Mount Eden Pinot Noir and Wente Chardonnay on St. George rootstock. In the 1950s, Pinot Noir budwood was hard to come by, but a Napa Valley vineyard owner by the name of Martin Stelling reputedly had a Pinot Noir selection in his To Kalon Vineyard. It has been rumored to have been originally sourced by Santa Cruz Mountains vintner Martin Ray via Paul Masson, and possibly came from Clos de Vougeot. According to Hanzell legend, Stelling was unwilling to part with any budwood, and founding winemaker Brad Webb went on a clandestine mission under cover of darkness to Napa in 1952 and brought back cuttings. Another, more plausible story, posted on the Hanzell website, is that University of California at Davis Professor A.J. Winkler selected vines from which To Kalon Vineyard manager Ivan Schoch cut the budwood. Schoch was also Hanzell's vineyard manager when Ambassador Zellerbach planted Hanzell Vineyards in 1953, and it was Schoch who introduced the To Kalon Vineyard cuttings to Hanzell Vineyards.
Many of the new plantings at Hanzell have been propagated from those original cuttings that had a Martin Ray connection. Now the selection is known as the Hanzell clone. The clone has a high incidence of millerendage, berries for which pollination has failed and grapes develop without seeds. Because of the lack of seeds, the grape's growth is restricted to the size of peas. Wine made from such small grapes can have complex flavor and abundant tannin for greater aging potential.
The terraced and contoured vine rows have a western exposure and slopes of up to 15%. Soils are Raynor- Montana Complex. The photo below shows The Ambassador's 1953 Vineyard and one of the old Pinot Noir vines.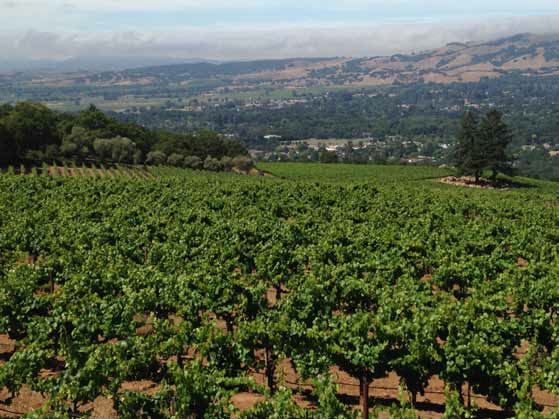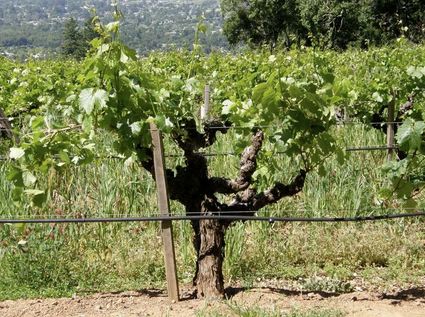 After a tour of The 1953 Ambassador's Vineyard, the new winery and the caves led by Zakk Murphy, the estate's educator, the group convened in the old winery for a tasting of Hanzell wines with Zakk and John Buckey, CSW, Director of Sales and Marketing.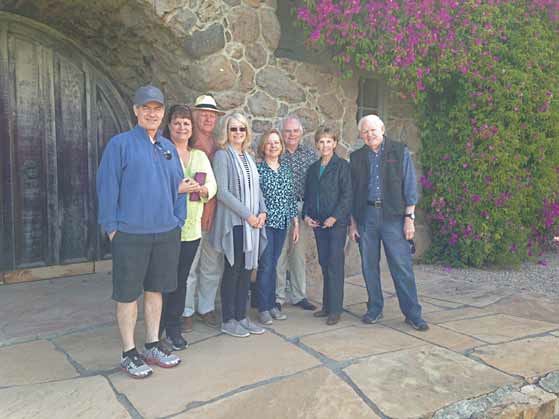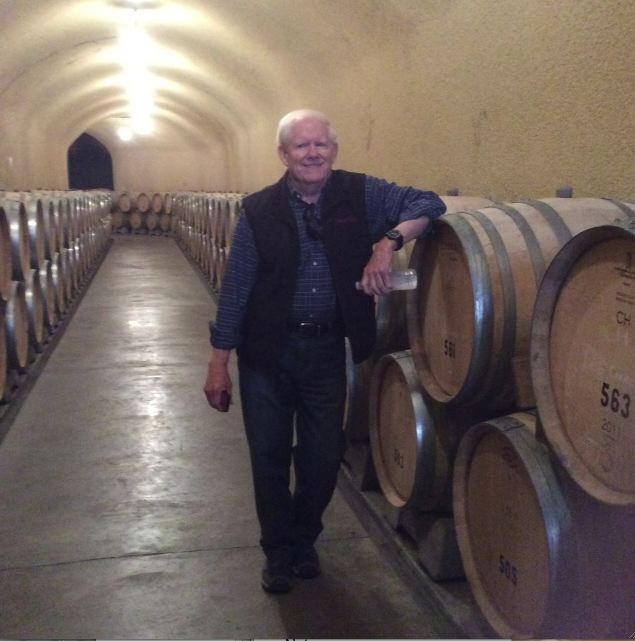 Wines tasted (unfortunately, I misplaced my tasting notes that I took at the winery but if you check the reviews for Hanzell in the PinotFile, you will realize that I greatly value these wines which are consistently among California's finest examples of Pinot Noir and Chardonnay):
2013 Hanzell 'Sebella' Sonoma Valley Chardonnay $36
2012 Hanzell Sonoma Valley Chardonnay $78 Estate heritage clones. Aged 18 months total with 12 months in 33% new French oak barrels.
2012 Hanzell Sonoma Valley Pinot Noir $98
The Hanzell Ambassador's 1953 Vineyard Sonoma Valley Pinot Noir is very limited in production and sold only to Exclusive and Private Ambassador's Circle Members.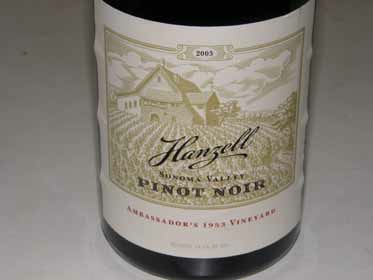 John had two surprises for us which he graciously shared, both of which we tasted blind: a 1975 Hanzell Sonoma Valley Pinot Noir in half bottle format and a 1974 Hanzell Sonoma Valley Pinot Noir in 750 ml format. No one in our group guessed the age of these wines for they showed much younger than they were. I misplaced my tasting notes, but I remember how impressed I was with both wines, especially the 1974 bottling which was still amazingly fresh and complex, offering rustic fruit flavors and enough structure to carry on for several more years.