Patz & Hall Sonoma House Visit & Tasting with James Hall
James Hall, Anne Moses, Donald Patz and Heather Patz formed their partnership in 1988, produced their first Chardonnay in 1994, and their first Pinot Noir in 1996 from Hyde Vineyard (see next feature on Hyde Vineyard). They source grapes from regions in California ranging from the Santa Lucia Highlands in the South to Mendocino County in the North. There are two vineyards they source Pinot Noir and Chardonnay from: Alder Springs Vineyard in Mendocino County and Hyde Vineyard in Napa Carneros. Although known for distinctive single vineyard bottlings, the Sonoma Coast appellation Pinot Noir is a consistent performer and best seller year after year.
In 2015, Patz & Hall produced 24 wines, both still and sparkling, from Chardonnay and Pinot Noir. All Pinot Noirs are produced using whole cluster additions, usually 20 percent. To extract color and flavor components, a proprietary punch-over device is used to beak up the cap two to three times a day. All fermentation are performed with native yeasts. Most wines are composed only of free run juice. The wine is aged in French oak barrels, varying between 50 and 70 percent.
Many of the vineyards that Patz & Hall source from are at least 20 years old (Alder Springs 1993, Brown Ranch 1992, Durell Vineyard late 1970s, Hudson Vineyard early 1980s, Hyde Vineyard 1979, Pisoni Vineyard late 1980s and Zio Tony Ranch 2000-2001-2006).
Our group met James Hall at the winery's Sonoma House, a beautiful hospitality center on Eighth Street, a short distance from the Sonoma Plaza. James is quite the storyteller, and we were all captivated by his reminisces of the region's history. The tasting was accompanied by canapés by La Saison: Roasted Morel Mushrooms with Melted Shallots & Thyme Highway One Bechamel with Crispy Kale on Rice Cracker, Sage Chicken Salad with Rose Petals on Rice Cracker, Tea Smoked Duck on Rice Cracker, and Studio 761 Truffle Collection.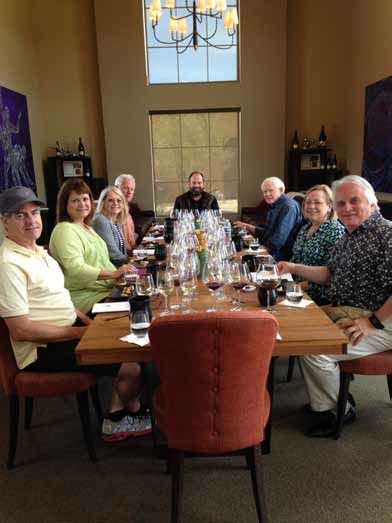 Wines Tasted: