Hyde Vineyard
Our group followed James Hall to nearby Hyde Vineyard where we spent a delightful time with Larry Hyde, one of California's legendary winegrowers and viticulturists, and his spouse Beta.
Larry Hyde, now 69, currently farms 205 acres in the Hyde Vineyard with many distinct blocks located in Napa Carneros just off of Sonoma Highway 12/121. Larry attended University of California at Berkeley and studied chemistry and entomology, eventually devoting himself to learning about vineyards. Larry's experience with various vineyards in the North Coast region (he spoke fluent Spanish and easily assimilated into the winegrowing culture) including Cuvaison, Ridge Vineyards, Stag's Leap Wine Cellars and Joseph Phelps, led him to this site that had gentle sun exposure and cool maritime influence. Larry's late father, Richard, Sr., bought the land that now makes up Hyde Vineyards in 1979.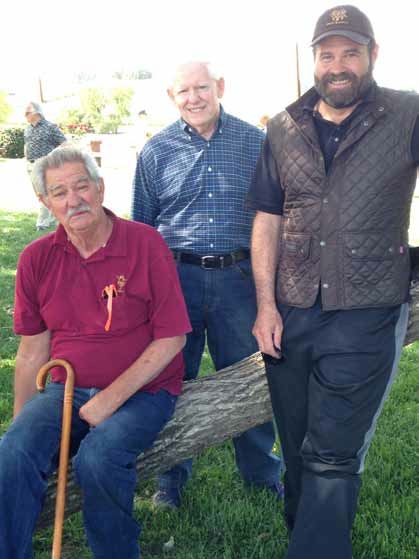 His experiments with clones, rootstocks and vine row orientation span over 33 years. He has helped to develop two important grape selections: Hyde-Wente Chardonay and Hyde-Calera Pinot Noir.
The original plants were oriented east-west in 1979 because that was what the neighbors were doing. The grapes did not receive ideal sun exposure and long with some phylloxera led Larry to replant the vines in a north-south orientation on southeast-facing, rolling hills. The vines are sustainably and organically farmed. The soils are heavy, well drained red clay loam about 36 inches deep with impenetrable clay subsoil which limits vine vigor and crop yield. The original "big" Hyde Vineyard consists of 152 acres. In addition, Cuttings Wharf has 15 acres, Los Carneros 10.5 acres, and Bay View Avenue two vineyards of 12.5 and 15 acres.
Larry suffered a stroke at the age of 35 when a car hood fell onto his head, leaving him partially paralyzed on the left side, but this has not deterred him from success. Photo below of Larry (left), Rusty and James Hall.
Hyde Vineyard is planted to eight different varieties (including Pinot Noir, Chardonnay, Sauvignon Blanc, Semillon, Syrah, Cabernet Franc, and Cabernet Sauvignon), with ten different types of Pinot Noir and six varieties of Chardonnay, and the vineyard supplies grapes to 25 producers including Aubert, Duckhorn, HdV, Paul Hobbs (the 2012 Paul Hobbs Hyde Vineyard Pinot Noir recently won the 2015 Pigs & Pinot Tasting), Patz & Hall, Ramey, Kistler, Mondavi, Ramey Wine Cellars, Selene and Stomping Girl Winery. All wineries pay by the acre. Here is a map of the Hyde Vineyard showing the Pinot Noir planted: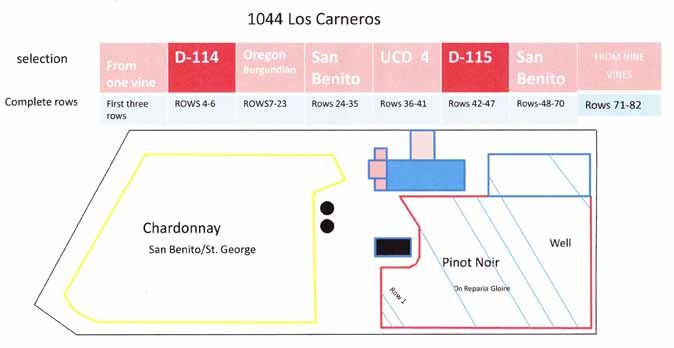 Patz & Hall (Hyde's largest ton buyer) has worked with fruit from Hyde Vineyard since 1990, and has crafted single vineyard Pinot Noir and Chardonnay bottlings since 1996. The first Patz & Hall vineyard-designated Pinot Noir was from Hyde Vineyard. Several sections of the vineyard have been planted exclusively for Patz & Hall.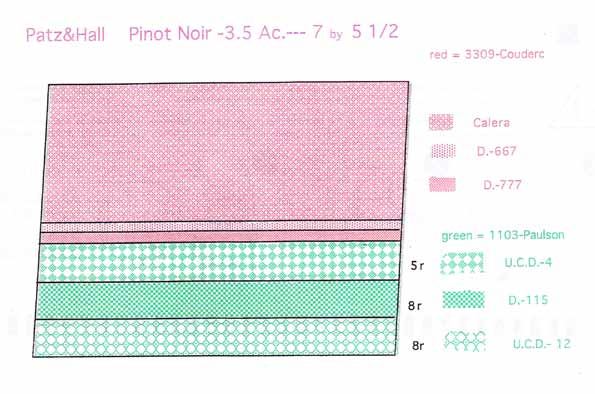 Aubert de Villaine, co-owner of Domaine de la Romanee-Conti, and a relative of Larry's by marriage, is a viticultural consultant at Hyde Vineyard and a partner in the HdV Winery along with Larry Hyde. Along with HdV's French-born winemaker, Stephane Vivier, Larry has absorbed considerable French input.
In 2011, Chris Hyde assumed the role of general manager at Hyde Vineyard and is the winery relations contact for the 35 clients who purchase Hyde Vineyard fruit. He also has worked on construction and financing of a winery facility built in 2014 on one of the family's vineyards at the intersection of Highway 12/121 and Los Carneros Avenue (see Cuttings Wharf below).
Hyde Wines (originally named Larry Hyde & Sons) is a collaboration between Larry Hyde and his sons Chris and winemaker Peter Hyde. The first Pinot Noir was released from the 2009 vintage, and Chardonnay has subsequently been added. The wines are source from Larry Hyde's Chardonnay and Pinot Noir plantings south of Sonoma Highway: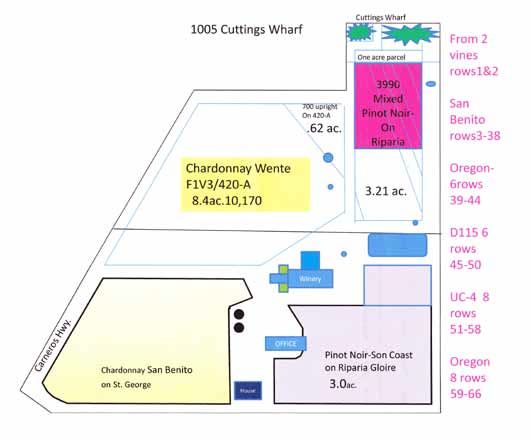 2012 Hyde Hyde Vineyards Carneros Pinot Noir
14.9% alc., $65. · Moderate reddish purple color in the glass. Shy, but pleasant aromas of dark fruits, underbrush and seasoned oak. Full-bodied, fruit-centric, and quite ripe, with rich flavors of black plum, blackberry and cassis with an earthy, mushroom riff in the background. The texture is quite silky, the tannins are balanced, and there is some lingering and generous fruit on the finish. When tasted the following day from a previously opened and re-corked bottle, the wine was even more expressive on the nose and palate. Score: 91