Pinot Briefs —Newsletter 10.13
Anderson Valley/Yorkville Highlands Barrel Tasting Weekend The weekend of July 25-26, 2015, enjoy unprecedented access to winery cellars, taste pre-release wines, and purchase futures of your favorites at a special barrel tasting weekend price. Participating wineries along Highway 128 will feature previews of new wines from Pinot Noir to Zinfandel, along with current releases from 11:00 am to 4:00 pm both days. The event is mellow and civilized, and only $20 for the entire weekend which includes a log glass. For tickets, visit www.avwines.com/other-events/
Carlton Crush Harvest Festival The Carlton Business Association presents the fourth annual Carlton Crush Harvest Festival on Saturday, September 12, 2015, from 10:00 am to 10:00 pm in downtown Carlton, Oregon. This growing event celebrates the unique culture of Carlton and Yamhill County. Live music and entertainment, a vintage car display, kids' grape stomp and watermelon eating contests, wine thief competitions, and many wine, food and craft beer vendors. The annual Festival has become known as "the wine Olympics of Oregon." Carlton is home to many noted winery tasting rooms. Admission and parking are free. For information, visit www.CarltonCrush.com.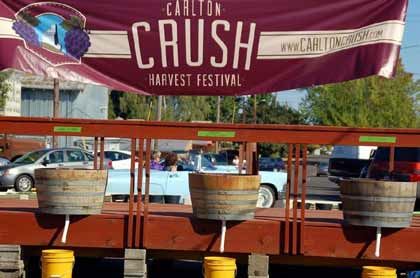 'Rockstar' Winemakers Television Show A reality show called 'Best Bottle' is currently looking for aspiring winemakers to participate in a grudge match between California and Oregon according to the drinks business (June 5, 2015). Contestants (a.k.a. cellar rats) will be divided into two teams, one from California and one from Oregon and each team will have an established winemaker as a leader. The contestants will try to produce the "best bottle of wine." The winning contestant will pocket $100k cash, a new car, and the chance to bottle one vintage under the "Best Bottle" label. Contestant entries must be received by July 1. Visit www.winebestbottle.com for the press release and details of the casting call.
Percentage of Women Winemakers Slowly Increasing Recent research reported by Wine Business Monthly (June 2015), found that the number of women in head winemaking positions at California wineries has increased compared to the number of men in such positions over the past 15 years. The number of women winemakers still remains small at just under 15 percent. Researchers compared the number of women winemakers at the same set of wineries (480) in 1999 and 2014 and did not look at California's total of 3,400+ wineries today. Other separate data was recently posted online that shows the percentage of California wineries by winemaker sex and region as of July 1, 2011, (excluding the few wineries with a male and female winemaker). The percentage ranged from 4% to 12% with the overall percentage 10%.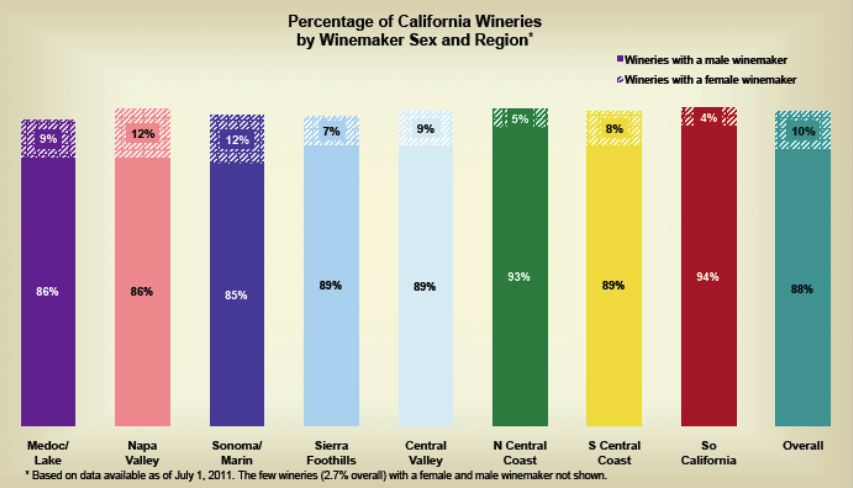 Siduri to Host Oregon Wine Tasting On July 8, 2015, from 5:00 pm to 7:00 pm, a large number of Oregon wineries will be pouring their wines at the Siduri Winery facility at 981 Airway Court, Suite E, in Santa Rosa. Wines will be paired with chef-prepared small bites. Advance tickets are $25 ($15 for wine club members) at Catherine.Robison@siduri.com. Participating wineries include Argyle, Soter, Bergström, Bethel Heights, Chehalem, Ponzi, Hammacher, Leah Jorgensen, Eyrie, Troon Trisaetum, Anne Amie, Alexana, Walt, Hawks View, Gran Moraine, J. Christopher, Fiddlehead Cellars, Cristom and Siduri Wines.
Pre-IPNC Events (1) There are still a few spots available for the 35th annual Steamboat Pinot Noir Conference July 19-22, 2015 (winemakers only). Details at www.steamboatpinot.com. (2) Summertime ¡Salud! Pre-IPNC Dinner Thursday, July 23, 5:30 pm at Stoller Family Estate in Dayton, OR. A wine tasting reception featuring 14 acclaimed wineries from Oregon and beyond, followed by a family style alfresco dinner prepared by The Allison Inn & Spa Executive Chef, Sunny Jin. More information on this event and other pre-IPNC dinners can be found at www.ipnc.org/thursday.php. The pre-IPNC dinners may be attended by anyone whether they hold tickets to IPNC or not.
Wine Folly Book on Presale If you have visited the Wine Folly website - www.winefolly.com - you know how helpful the graphics and charts are in understanding wine. Wine Folly: The Essential Guide to Wine by Madaline Puckette and Justin Hammack is a new, visual guidebook to wine that contains 230 pages of never-before-released wine infographics. The book will be released September 22, 2015, but can be preordered for 33% off at various book sellers including Amazon.com ($16.87).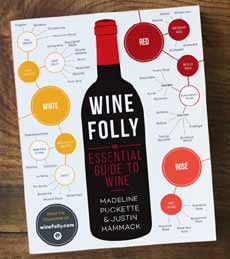 Expansion of Willamette Valley AVA The TTB published a notice of proposed rule making detailing the addition of about 29 square miles to the southwestern edge of the Willamette Valley. King Estate Winery, located in the proposed expansion area, submitted the petition which was supported by both the Oregon Winegrowers Association and the Willamette Valley Wineries Association.
Occidental This is a new Pinot Noir project which is a spin-off from Kistler Vineyards by Steve Kistler. Steve remains CEO of Kistler Vineyards, but he was looking for a small project of his own that he could pass on to his daughters. Two wines are offered: an Occidental Station Cuvée Catherine and Bodega Headlands Cuvée Elizabeth, which are the same wines sold under the Kistler label through the 2010 vintage. Kistler is building a new winery in Bodega where 20 acres of Pinot Noir (Calera clone) are planted and another 60 acres are in development. The Occidental Pinot Noirs were initially marketed through the kistler mailing list, but will become an independent winery focused solely on Pinot Noir. (Source - Antonio Gallioni's Reviews).