Shea Vineyard & Shea Wine Cellars
Dick Shea worked for years on Wall Street in New York City. He decided to move his family out West, and while searching for an appropriate setting, had his wine epiphany: an Adelsheim Oregon Pinot Noir. Oregon soon became his chosen spot, and with two east coast partners, he planted Shea Vineyard in 1989. Concurrently, nearby Beaux Freres Vineyard (Robert Parker and his brother-in-law Mike Etzel share ownership of the property) was being planted. At the time, the Yamhill-Carlton District was largely untested for Pinot Noir. The Willakenzie soils were considered by some to be inferior for viticulture compared to the popular Jory soils found in the nearby Dundee Hills Now the Shea Vineyard is surrounded by several other premier Pinot Noir vineyards including those owned by Willakenzie, Patricia Green, and Penner-Ash.
The Yamhill-Carlton District, north of McMinnville, is centered around the small towns of Carlton and Yamhill. There are now more than 1,200 acres of vineyards in this appellation which offers unique growing conditions. The Coast Range of mountains to the west shelters the region and creates a rain shadow over the district. Additional protection is provided by the Chehalem Mountains to the north and the Dundee Hills to the east. The ancient marine sediments in the area are some of the oldest soils in the Willamette Valley and drain quickly creating a natural deficit-irrigation effect.
In the early 1990s, Dick bought out his partners and remains the sole owner today. This large vineyard consists of 200 hillside acres, of which 140 acres are planted to Pinot Noir, and 5 acres to Chardonnay. The vineyard faces south at an elevation of 320-625 feet and is divided into two hills, named East and West, separated by a valley containing native plants and trees. The Pinot Noir planting is divided into multiple blocks. Vineyard manager, Javier Marin, has been at Shea Vineyard since it was initially planted. Shea Vineyard has been chosen one of only 32 vineyards out of 500 in the Yamhill River basin by the US Department of Agriculture as having the highest level of stewardship of the land.
The original vines of Pommard and Wädenswil clones were planted on their own roots. Inevitably, phylloxera afflicted the vineyard and planned replanting progressed over time, reaching completion in 2005. The newer plantings include Dijon clones 114, 115, 777 and 828. The vineyard has never been irrigated (new plantings are watered the first year). Dick told me he us dug up five-year-old vines and their roots go down 8 feet.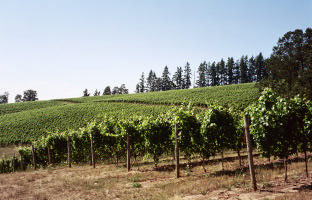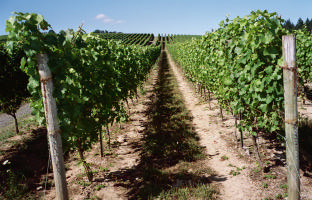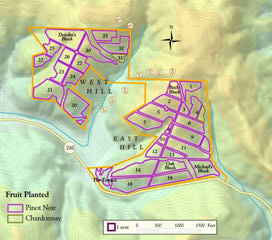 Grapes from this impeccably maintained site are highly-sought after by many of Oregon's top wineries including: Andres's Vat, Antica Terra, Beaux Freres, Bergstrom, Broadley, Elk Cove, Francis Tannahill, J.K. Carrier, Ken Wright Cellars, Panther Creek Cellars, Penner-Ash, Raptor Ridge, Revana, Stevenson- Barrie, Scott Paul Wines, St. Innocent and Torri Mor. In the past, grapes were sent to Manfred Krankl at Sine Qua Non in California (last vintage 2003), but now grapes headed to California go to Loring Wine Co, Pali Wine Co, and Auteur.
Since 1996, Dick has had his own label, Shea Wine Cellars. Several winemakers were involved during the early years of the program, but since 2004, Chris Mazepink (previously at Willamette Valley Vineyards and Lemelson) has been the full-time winemaker. Experienced tasters have talked about a certain "Shea-ness" that seems to be expressed in the wines from this vineyard. A consistent floral aroma and a dark red fruit character with spice seems unusually clear and unique to this vineyard. The Pinot Noirs are designated as Estate (a blend of several blocks), block or clone designates which vary from year to year, and a special reserve wine labeled "Homer." Dick Shea is a baseball fan, but bears no relation to Shea Stadium in New York. Dick's wife and business partner, Deirdre, often compares Dick to Homer Simpson, so the name "Homer" has dual meaning. The Homer cuvee is from the best barrels and is the most voluptuous of the lineup, needing several years to reach its prime drinking window. The Shea Wine Cellar Pinot Noirs have become a cult-classic collectible, eagerly sought by many Shea aficionados on the winery's mailing list. (Chris, left, and the Sheas, right, pictured below). The 2005 wines, ranging in price from $40 to $75, are sold out.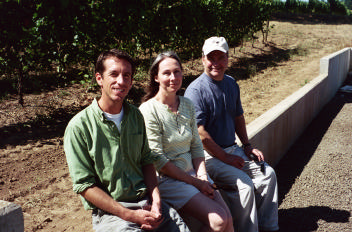 It has become a tradition for me to visit Dick just before the IPNC each year. His 2006 lineup of wines were in stainless blending tanks ready for bottling when I arrived. I spent the afternoon at the Shea's newly constructed state-of-the-art and still unfinished winery on the property (below). The singlelevel winery can comfortably process 8,000 cases, and has a barrel storage room built into the hillside (photo below).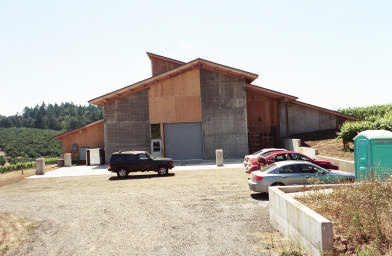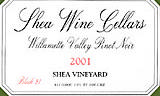 I tasted through samples of each of the 2006 wines but I can only share general impressions as I was pre-occupied with filming a feature for Grape Radio on Shea Vineyard. The 2006 lineup of five Pinot Noirs includes the
Estate, East Hill, Pommard, Wädenswil, and Homer.
One unique technique that Chris uses in his winemaking is fermentation in neutral oak fermentors (as opposed to plastic bins or stainless containers). He feels this is advantageous because it curtails the tannins and produces a soft texture and a long finish that is revealed earlier in the wine's evolution than one would normally anticipate. The finished wines are quite approachable early on as a result, but probably best enjoyed after a year or two in the cellar, and will comfortably age for 5 years or more. The Homer is definitely a wine to lay down. Those considering purchasing Shea Wine Cellar Pinot Noirs, should try to acquire a few bottles of each and follow the evolution over time.
All of the Shea wines are fruit-driven and lush in style, with impressive oak integration and substantial, but tame, tannins. They are not flabby, however, with plentiful acidity to buffer the fruit. They show the whole spectrum of red and black Pinot fruits, with maybe reds predominating.. Spice, cola and anise are evident as well as a meaty and earthy component. For me, the Pommard bottling (replaces Block 23 which had to be replanted) was the most flashy at this stage, loaded with rich, Pinot fabulosity.
It is easy to slough off the Shea Chardonnay, but I must warn you, you would be missing a great wine. Dick and Chris take Chardonnay seriously. Sure, up until the last few years, there were not many great Chardonnays from Oregon. But once the proper clones were planted, and once wines were not subjected to excessive oak, great Oregon Chardonnay began to emerge and surprise the wine cognoscenti. Chris makes a very appealing Chardonnay that walks the middle ground between the heavily oaked, full-malo, buttery Chardonnays, and the austere, acidic Chablis-styled ones. He both barrelferments and tank ferments the Chardonnay in separate lots and mixes the two together. The Chardonnay vines are cropped at two tons per acre like the Pinot Noir, resulting in Chardonnay with fine concentration and quality. Plans are to increase production to 600 cases a year. I tasted the 2006 Chardonnay prior to bottling and admired its crispness, pear and citrus notes, and restrained but attractive vanilla oak highlights.
Look for a future program on Grape Radio where taped interviews with Dick and Dierdre Shea, Chris Mazepink, and Javier Marin will be presented along with a tasting of the 1995 vintage of Shea Wine Cellars Pinot Noirs.
Most of the Shea Wine Cellars wines are sold through a mailing list at www.sheawinecellars.com. Production numbers are about 3,000 cases of the Estate and 900 cases of the other Pinot Noirs. 80% of the fruit from Shea Vineyard is sold to other wineries. The Corvallis, Oregon fine wine retailer, www.avalonwine.com, is also a good source for Shea wines. These are benchmark Pinot Noirs for the Yamhill-Carlton AVA, and worthy of any pinoaficionado's cellar. The words "Shea Vineyard" on any Oregon Pinot Noir is pretty much a guarantee of a Pinot Noir with plenty of charisma.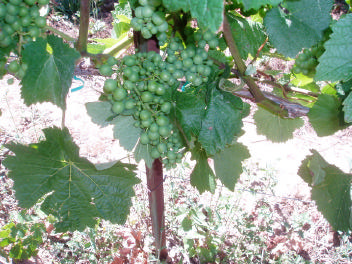 Shea Pinot Noir July 26,2007