Fathers & Daughters Cellars: Inaugural Releases from Ferrington Vineyard
The inaugural 2012 Fathers & Daughters Cellars Ferrington Vineyard Anderson Valley Pinot Noir and 2013 Fathers & Daughters Cellars Ferrington Vineyard Anderson Valley Sauvignon Blanc were released on Father's Day, June 21, 2015.
Bay area builder Kurt Schoeneman and his daughter Sarah began a search in 1996 for appropriate land to grow wine grapes. The search ended in the discovery of Ferrington Vineyard, a parcel in the Anderson Valley just outside the town of Boonville that had been allowed to go fallow. The vineyard was first planted in 1969 by Balvern Vineyards who acquired the property when it was part of the much larger Rankin sheep ranch. Dr. Richard Ferrington bought the property in the 1980s and turned it over to the Schoenemans.
Since acquiring Ferrington Vineyard the Schoenemans brought the vineyard into prominence, gathering a reputation for producing premium quality grapes used by many highly lauded wineries including Arista, Breggo Cellars, FEL, Flowers, Harmonique, Londer Vineyards, MacPhail, Schramsberg, Twomey, and Williams Selyem.
The Schoeneman family had never bottled wine for sale under their own label until now. Fathers & Daughters Cellars is a multi-generational effort of the "fathers and daughters" in the family: patriarch Kurt Schoeneman, his daughter Sarah, Sarah's husband Guy Pacurar, their daughter Ella, and Guy's older daughter, Taylor. The family's goal is to produce small quantities of ultra-premium wine and create a legacy business that can be passed down through generations.
The harvest of the first vintage in 2012 coincided with the birth of Guy and Sarah's daughter, Ella. At just 2 months of age and awake at 4:00 am, Ella joined her parents in the vineyard as they sorted the harvested Pinot Noir grapes. Reference to Ella Mac Pacurar is made on the back label.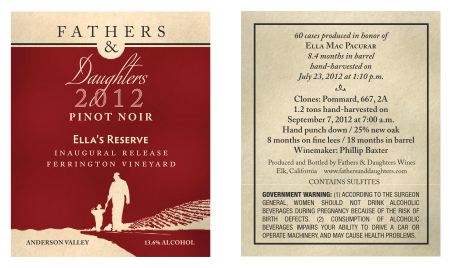 To mark this event, the family approached noted winemaker Phil Baxter of Baxter Wines to oversee the production of the wines for the new label.
The wine was first poured at this year's Anderson Valley Pinot Noir Festival and then at the Los Angeles Winefest. Guy Pacurar found that fathers and daughters were drawn to the table because of the name and the memories of their relationships that it triggered.
The first two releases are available primarily through a mailing list that will be capped at 500 members, but may also be purchased by contacting the winery direct at 707-813-1137 or at pacurar.guy@gmail.com. Subsequent releases will include a 2014 Chardonnay and a 2015 Gewürztraminer, also sourced from the Ferrington Vineyard. The website is www.FandDCellars.com.
2012 Fathers & Daughters Ella's Reserve Ferrington Vineyard Anderson Valley Pinot Noir
13.6% alc., pH 3.19, TA 0.82, 62 cases, $42. Harvest Brix 22.9º. Clones 667, Pommard and Wädenswil 2A. 25% whole cluster inclusion. Native yeast fermentation, twice daily punch downs for 21 days. Gently pressed in a small basket press and transferred to barrel where it was aged 16 months in 25% new French oak barrels. · Moderately light crimson color in the glass. Enticing aromas of cherry pie glaze, red raspberry and earthy flora. Crisp and lively on the palate, with a bright array of deliciously fresh red and blueberry fruits in a light to mid weight style characterized by supple tannins. A thread of citrus-imbued acidity runs in the background and lifts the finish. A very stylistic wine that shows winemaker Phil Baxter's fingerprint. Score: 91