Airlie Winery: Sweet Spot Pinot Noir
I am frequently asked to recommend a really good Pinot Noir under $30, the so-called sweet spot. Most consumers are not willing to pay over $30 for a wine they want to drink on a daily basis. I was pleasantly surprised with my first tasting of Airlie Winery Pinot Noirs and I can highly recommend them for their high quality at surprisingly reasonable prices.
The name of this winery is derived from the town name of Airlie that has a rich background dating back to the early 1800s. Once a Christmas tree farm, the original owners established and began planting Dunn Forest Vineyard in 1983 and founded Airlie Winery in 1986. Mary Olson bought Arlie Winery and the estate vineyard in 1997. Winemaker Elizabeth Clark joined the Airlie family in 2005.
The winery is nestled in the coastal mountain range on the western edge of the Willamette Valley, just a short distance from Corvallis and Monmouth. Thirty acres of estate vineyards are planted to 8 varieties: Pinot Noir, Pinot Gris, Pinot Blanc, Chardonnay, Riesling, Müller-Thurgau, Gewürztraminer, Maréchal Foch and Muscat Ottonel and varietal wines are made from each. Estate grapes make up 65 percent of the grapes used in Airlie wines. The remaining grapes are sourced from BeckenRidge Vineyard, located 20 miles away west of Dallas, Oregon. The vineyards are certified sustainable by LIVE and Salmon Safe.
The Airlie wines are sold online through the website at www.airliewinery.com. A new label will appear on the release of the 2012 Airlie Pinot Noir in the fall of 2015. All the wines reviewed below are still available from the winery.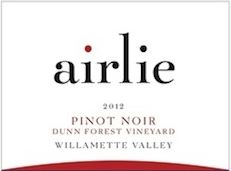 2011 Airlie Willamette Valley Pinot Noir
12.6% alc., pH 3.58, TA 0.68, 571 cases, $25. 87% BeckenRidge Vineyard and 13% Lavender Hill Vineyard. Pommard and 115 clones. Harvest Brix 22.1º. Gently de-stemmed into 1.5-ton fermenters. 3 to 6-day cold soak, inoculated primary and secondary fermentations. Aged 10 months in 13% new French oak barrels. Unfined and unfiltered. · Moderately dark reddish purple color in the glass. A little more richness and finish compared to the 2010 vintage. The nose leads with aromas of black cherry, underbrush and new oak. Intense attack of blueberry, black cherry and pomegranate fruits with pleasant oak seasoning. Nicely balanced with soft tannins, bright acidity and an assertive citrus-cranberry fueled finish. Score: 92

2010 Airlie Willamette Valley Pinot Noir
12% alc., pH 3.60, TA 0.75, 371 cases, $25. Pommard clone from BeckenRidge Vineyard planted in 1978. Harvest Brix 21.9º. 100% de-stemmed into 1.5- ton fermenters with a high whole berry count. 2-day cold soak, inoculated yeasts fermentation and malolactic fermentation. Aged 11 months in 12% new French oak barrels. Unfined and unfiltered. · Moderate reddish purple color in the glass. Complex nose featuring aromas of black cherry, dark rose petal, bark, baking spice and white pepper. Bright and crisp, with mid weight flavors of fresh blueberry, black cherry and blackberry and a hint of dried herbs. Lovely balance, with peach skin tannins, a perfect touch of oak, and a persistent finish. Score: 91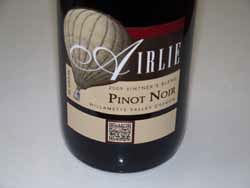 2009 Airlie Vintner's Blend Willamette Valley Pinot Noir
13.1% alc., pH 3.55, TA 0.75, 186 cases, $32. A barrel selection. Sourced from estate Dunn Forest Vineyard (70%) planted in 1983 and 1991, and BeckenRidge Vineyard (30%) planted in 1978. Pommard clone. Harvest Brix 23.2º. Gently destemmed into 1.5-ton fermenters, 3-day cold soak, inoculated primary and secondary fermentations, aged 23 months in French oak barrels. Unfined and unfiltered. · Moderate reddish purple color in the glass. Lovely aromatic mix of darker red cherries and berries. Very suave on the palate with a mid weight charge of black cherry fruit accented by a savory herb note. Wonderful balance with felt-like tannins folded in, juicy acidity, and a noticeably long finish. This wine has benefited from additional bottle age, but will drink well for many years. Score: 93-94