Kingston Family Vineyards
Carl John Kingston left Michigan in the early 1900s for Chile in search of gold and copper. He never struck gold, but did find a large cattle ranch 12 miles from the Pacific Ocean in the hills of Chile's Casablanca Valley. A number of years later, Courtney Kingston, while attending graduate school at Stanford University, decided to plant a vineyard on the property and started in 1998. The Kingstons betted on Pinot Noir and Syrah in a valley that was known exclusively for white wines. In 2003, they produced 300 cases of Pinot Noir and Syrah under the Kingston Family label implicitly to show the potential of coastal Chile for these varietals.
Today, Kingston Family Vineyards is recognized as one the best wineries in Chile and known for making some of Chile's best Pinot Noirs. The winery has been one of the chosen participating wineries at the world-renown International Pinot Noir Celebration in McMinnville, Oregon, where I first met up with the wines.
The Kingston Family Pinot Noirs are crafted by consulting American winemaker Byron Kosuge (Miura, McIntyre and B. Kosuge Wines in California) and Chilean winemaker Amael Orrego. The Pinot Noirs at Kingston Family receive a 5-day + cold soak, native fermentation in small open top fermenters and undergo malolactic fermentation in barrel using indigenous bacteria. The wines are aged in French oak barrels with new oak varying from 15% (Tobiano) to 30% (Alazan).
Kingston Family produced three Pinot Noirs in 2012 from 80 acres of different blocks and different lots that are barrel selected in the winery. Alazan is a product of the finest lots, while Tobiano is the next, more affordable tier. The planted clones are Dijon 777 and Kingston "Grande" and "Chico," which are the winery's own selections, as well as Valdivieso and Conco y Toro. 95% of the vines are own-rooted, planted in red clay loam with decomposed granite.
The wines are exported to the United States and worth seeking out. Visit the website at www.kingstonvineyards.com where the wines are also sold online.
2013 Kingston Family Vineyards Tobiano Casablanca Valley Chile Pinot Noir
13.5% alc., 550 cases, $20. Released October 2014. Aged 10 months in French oak barrels. · Moderate reddish purple color in the glass. The nose, even two days after opening, offers only a hint of purple fruits and displays primarily scents of briar, stem and oak. Much better on the palate, with mid weight flavors of black cherry, pomegranate and plum with an overlay of toasty oak. Very soft and suave in the mouth with a welcome finish of some length. Score: 88
2013 Kingston Family Vineyards "CJ's" Barrel Casablanca Valley Chile Pinot Noir
13.5% alc., 45 cases, $38 (wine club and direct from winery). Named after CJ Kingston who came to Casablanca in the early 1900s. Aged 10 months in 100% French oak barrels. · Moderate reddish purple color in the glass. Darker fruits are featured on the nose, with plenty of savory stem and oak embellishment. Very polished and soft on the palate with a juicy core of black raspberry, boysenberry and blackberry fruits that really pop. An herbal oak thread runs through the background. The finish is noticeable intense and long-lasting. Score: 89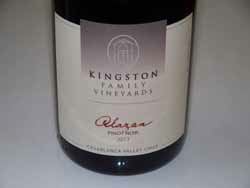 2013 Kingston Family Vineyards Alazan Casablanca Valley Chile Pinot Noir
13.5% alc., 115 cases, $32. The flagship Pinot Noir named after Peter Kingston's horse in the 1950s. A limited, reserve bottling. Aged 10 months in 100% French oak barrels. · Moderate reddish purple color in the glass. Clearly the most classy wine in the lineup with a highly appealing nose of penetrating fragrances including dark red stone and berry fruits and spice. Impeccably balanced and velvety in the mouth with well-managed oak seasoning and a memorable, lip smacking finish. This wine was still pumping out the goodness two days later from a previously opening and re-corked bottle. Score: 92