Update on Happenings at Soliste
Soliste was my Winery of the Year in 2013 and those of you on the mailing list know how special these wines are. Co-proprietor and winemaker Claude Koberle is fanatical about quality. He knows that Pinot Noir requires total commitment. As he says, "You can't cheat with Pinot Noir." He feels that you met with great Pinot Noir when the wine is just getting better as you drain the bottle, and want a second bottle. Claude's ultimate goal is to hold back his Pinot Noirs 3 to 4 years before release, acknowledging that the wines are not great until they have spent that time in bottle.
Claude's latest project is two rows of Swan selection rooted vines at Van der Kamp Vineyard on Sonoma Mountain which Claude reveres and considers a spiritual vineyard. Claude is also heavily involved in the restaurant industry, and recently opened a second restaurant in San Francisco named Octavia which is in the former Quince and Baker & Bankerspace. Chef Melissa Perello, who is heads the kitchen at Claude's other San Francisco restaurant, Frances, serves market-driven food that changes daily. Octavia is 2 miles north of Frances.
I recently dined with Claude at the Cannery Restaurant in Newport Beach where he poured his latest releases. My notes are brief as I enjoyed Claude's banter, but the quality of the wines was unquestionable.
The 2012 Soliste Sonoma Coast Solitaire (13.5%, 39 cases, $100) is a single barrel wine vinified in a large 600 liter barrel from a specific forest and tonnellerie, inspired by the vinification method used by Francois Bertheau in Chambolle Musigny. The wine has 50% whole cluster and is a single vineyard, single clone and single barrel Pinot Noir (MonoClone®) that undergoes extended barrel aging (28 months). Only 39 cases of 750 ml bottles and 144 magnums. This is truly a Grand Cru quality wine. The nose is exotic with profuse scents of red stone fruit, herbs, pepper, and sous-bois. Wonderful balance, with perfect integration of oak, and a silky palate of juicy fruit. Expect perfection in another 2 to 3 years.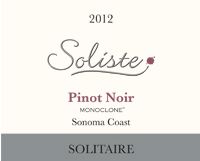 The 2012 Soliste St. Andelain Lake County Sauvignon Blanc (12.9% alc., 212 cases, $55) is a special wine.100% whole cluster, fermented in cigar-shaped barrel made famous by Didier Dagueneau and aged for 16 months. A stunning wine that offers aromas of grassy meadow and lime zest with a brilliant fruit core that lights up the palate with citrus, spice and nutty notes.
The 2014 Soliste Sonoma Coast Soleil Rouge Rosé de Pinot Noir (12.5%, $22) is the best rosé yet from Soliste. Lovely aromas and flavors of strawberry, grilled peach, melon and brown sugar. Less nervy, with better acid integration in this vintage.
The 2012 Soliste L'Age D'Or Russian River Chardonnay (12.1%, $50). To be released November 2015. Made from the Rued clone of Chardonnay grown at Lynmar. Aged on the primary lees for 16 months. Still tight, but opens over time in the glass to reveal a sleek, round and citrus-infused wine that holds tremendous promise.
2011 Soliste L'Ambroise Sonoma Coast Pinot Noir (12.8% alc., 25 cases). "828" Arcus estate clone. This is a celestial wine with aromas of forest floor and raw beef, and a silky palate of bright cherry fruit with good backing tannins.
1970 Van der Kamp Sonoma Mountain Pinot Noir (clean skin). A bottle vinified by 85-year-old vineyard owner, Martin Van Der Kamp, and gifted to Claude. Martin's son, Ulysses, is primarily managing the vineyard on a daily vasis now. The wine was re-corked in 1980. Brownish red in color with a light yellow rim. Unbelievable enjoyment from a very silky wine with flavors of black cherry, pomegranate, fig and fruit leather.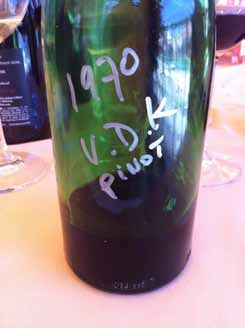 Soliste wines are sold by allocation to a mailing list. Visit the website at www.soliste.com. A special 2.0 dinner featuring Claude Koeberle of Soliste wines will be held at Playground Restaurant in Santa Ana, California, at the restaurant's 17-seat culinary theater, on August 13, 2015. For tickets, visit www.playgrounddtsa.com.